What to Expect With a Telehealth Appointment for Uterine Fibroids
Was this helpful?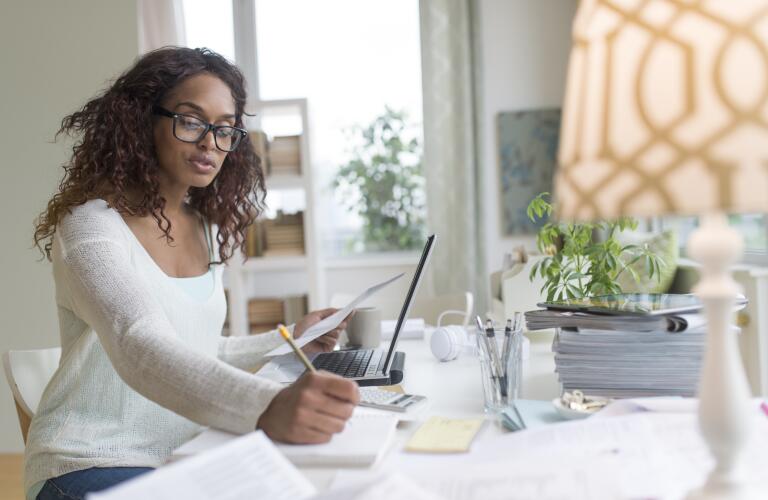 You may have heard a lot about telehealth, which is also called telemedicine. Telehealth uses modern telecommunications technology, like your computer or smartphone, to connect you with your doctor via video or phone. This approach to healthcare blossomed during the COVID-19 pandemic, and it'll probably stick around well after the worst of the virus passes.
Doctors in all kinds of specialties, including women's health, now offer telehealth appointments. If you live with uterine fibroids, talking with your Ob/Gyn online between regular office visits can help you stick to your treatment plan and better manage potential symptoms. Still, you may wonder what to expect, especially if you've never had a telehealth appointment before.
Fortunately, there's not a lot to worry about. If you're interested in telehealth for uterine fibroids, let your doctor know—it might be easier than you think to add this follow-up method to your existing treatment plan.
Compared to a traditional office appointment, using telehealth for uterine fibroids has certain advantages. First, there's obviously no need to travel to see your doctor—in most cases, women attend telehealth appointments from the comfort and privacy of their own homes, but you can really visit with your doctor anywhere you can use your smartphone. Since you're not going to your doctor's office, you don't have to worry about the possibility of coming into contact with someone who has COVID-19 or any other infectious disease. Also, because you're not traveling, you don't have to deal with putting gas in the car or spending your hard-earned dollars on public transportation.
Speaking of money, a growing number of health insurance providers are expanding their services to cover some or all of the cost of a telehealth visit. And even if you don't have health insurance, the average cost of a telehealth appointment is about $79, while in-person doctor's visits cost around $146. It's easy to see that most telehealth visits cost significantly less.
An appointment with an online gynecologist–your own or a new one–may be available in as little as 24 hours after you request to see a doctor. In most cases, doctors offer many of the same services via women's health telemedicine as they would if you were in their office. But even though your online Ob/Gyn can't perform all their normal duties over a video or phone connection, virtual visits are still a great way to help determine if you need a higher level of care quickly, such as emergency care for extremely heavy bleeding.
Your telehealth appointment will probably follow the same format as an office visit. You should expect to:
Check your prescriptions. If you're concerned your prescription medications aren't working as well as they should, a telehealth appointment is the perfect opportunity to share your concerns and get advice about other drugs you could try. Your doctor can also refill existing prescriptions if needed.
Review your information and health. Your doctor will likely verify your insurance information, medical history, and any symptoms you may be experiencing. This information helps your doctor make the best treatment decisions to help you manage fibroids.
Talk about new problems. Have you experienced heavier than normal bleeding? Lower back pain? What if you've noticed your lower abdomen getting bigger? It's important to share any new information with your doctor as soon as possible, since handling these types of issues quickly can prevent other complications later.
Telehealth for uterine fibroids can be a great way to help you stay healthy, even if you can't see your doctor in person. Telehealth visits help keep you safe during the COVID-19 pandemic while also offering a convenient and (usually) less expensive way to get treatment. If you're interested in using telehealth to help manage uterine fibroids, ask your doctor if they offer this service. It's very likely you'll be able to receive most of the care you need using video conferencing or over the phone.
Was this helpful?