What Is Female Hypoactive Sexual Desire Disorder?
Was this helpful?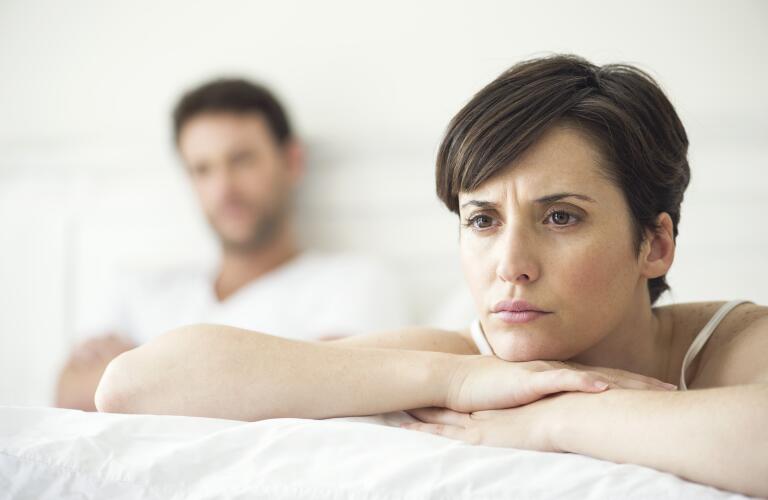 Over the course of all intimate relationships, it's normal for sexual desire to ebb and flow, due to a variety of different biological and psychological factors. Many relationships weather these periodic changes with relative ease, but some women seem to lose total interest in sexual intercourse. When this happens, it can have profoundly negative effects on your relationship and self-confidence.
In some cases, low sex drive in women may actually be considered a medical condition known as hypoactive sexual desire disorder (HSDD). But it isn't impossible to treat HSDD. If you find yourself saying no to sex more often than you'd like, ask your doctor about possible treatment options. Your doctor can help you figure out the factors playing into HSDD and help you reconnect intimately with your partner.
HSDD is a medical condition characterized by a persistently low sex drive. But HSDD is more than just low libido; women with this condition experience significant distress or difficulty in intimate relationships due to that low libido. While some women with low sexual desire still enjoy fulfilling relationships, if you feel like you're losing the bond you once had with your partner, or if for any other reason you feel dissatisfied with your sex drive, you may fit the criteria for HSDD.
For most women, HSDD is a chronic, or long-term, condition, usually resulting in dissatisfaction in the relationship for both partners. And this condition is relatively common. According to the Society for Women's Health Research, as many as one in every 10 women may live with HSDD.
Human sexuality is a complicated issue. Research shows your sexual preferences and drive are influenced by hormonal and neurological factors. However, doctors haven't pinpointed the exact changes within your brain's structure or function that may result in HSDD.
Instead, experts have identified several potential causes of HSDD that may relate to your physical health and emotional wellbeing. These causes include:
Imbalance of brain chemicals: Inside your brain, certain chemicals called neurotransmitters work to boost or inhibit sexual desire. An imbalance of these neurotransmitters may be responsible for HSDD.

Lifestyle factors: Certain substances, such as alcohol, illegal drugs, or cigarettes may reduce your desire for sex and ultimately contribute to HSDD.

Physical conditions: Doctors link HSDD to several nonsexual medical conditions, including arthritis, diabetes, cancer, hormonal changes, thyroid problems, and certain neurological diseases like multiple sclerosis.

Psychological conditions: Anxiety, depression, and low self-esteem all place women at higher risk for HSDD.

Medications: Some medications may actually result in HSDD. Drugs used to treat anxiety, depression, high blood pressure, or pain may be especially likely to lower your sex drive. Hormonal birth control pills also can inhibit sex drive.

Relationship problems: Your relationship with your intimate partner may also factor into HSDD. Conflict, lack of trust, or poor communication may cause significant strain on your relationship and reduce your desire for intimacy.

Sexual problems: For some women, sexual intercourse is a painful and unpleasant experience, which could be caused by several different factors, including past unresolved trauma, vaginismus (when vaginal muscles tighten involuntarily), infections, endometriosis, and others. HSDD may develop as a result.
Fortunately, HSDD is manageable with your doctor's help. HSDD treatment usually begins with a thorough evaluation to rule out physical conditions or emotional problems which may contribute to low sex drive. During this evaluation, your doctor may ask you to complete the Decreased Sexual Desire Screener test. This test includes just five questions and helps your doctor diagnose and narrow down the possible causes of HSDD.
Your treatment will likely depend on which factors play into HSDD. Your doctor may recommend:
Counseling: For some women, counseling for psychological issues helps spark the desire for intimacy with a partner.

Hormone therapy: If HSDD relates to certain physical changes, your doctor may prescribe hormones like estrogen to help make sex a more comfortable and pleasurable experience.

Medications: Recently, the U.S. Food and Drug Administration (FDA) approved two medications to help boost libido: flibanserin (Addyi) and bremelanotide (Vyleesi). Your doctor may recommend these as treatment for HSDD.
HSDD can cause distress in your life and relationship, but keep in mind the condition is manageable. It's important to work with your doctor to determine the most likely causes of HSDD. Knowing these factors helps guide treatment decisions and may make it easier for you to enjoy new levels of intimacy with your partner.

Was this helpful?