What Black Women Should Know About Fibroids
Was this helpful?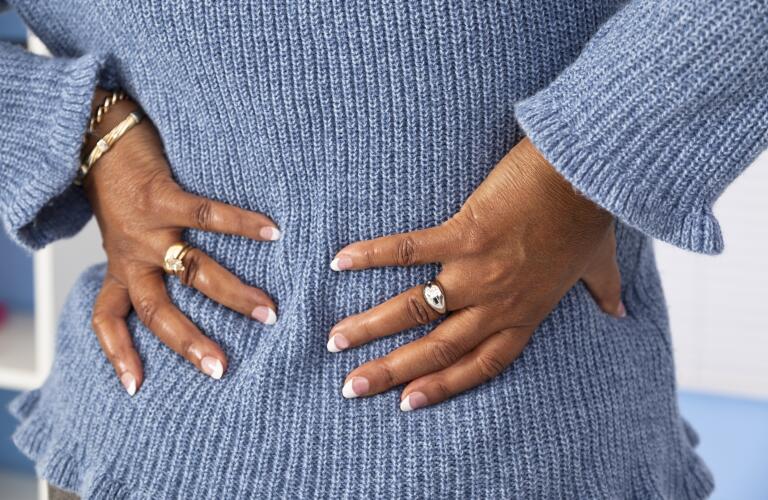 Black women are diagnosed with uterine fibroids at three times the rate of white women and often at younger ages. What's more, fibroids in Black women tend to be larger and more numerous, cause more severe symptoms, and are treated more invasively. Learn about the disproportionate risks of fibroids to Black women and what you can do to find treatment you need.
Uterine fibroids are growths in the uterus that aren't cancerous. You may also hear them referred to by the medical terms, leiomyomas and myomas. Fibroids may or may not cause symptoms, depending on how large and numerous they are. If you do have symptoms, they're most likely to include:
Heavy, long-lasting, or painful menstrual periods
Spotting between periods
Anemia
Fatigue
Pain or pressure in the pelvis
Pain during sex
Frequent urination or difficulty emptying your bladder
Constipation
Backache
Leg pain
In addition to causing uncomfortable symptoms, fibroids can create fertility problems and pregnancy complications. Tell your doctor as soon as you experience any symptoms of uterine fibroids. Like many women, you may believe heavy or painful periods are par for the course, but it's better for your health to err on the side of caution.
Most women will develop uterine fibroids by the time they're 50; they're found in 80% of Black women and 70% of white women. However, they're not always symptomatic. When they are, fibroids often appear earlier, with more severe symptoms, in Black women. We don't know exactly why this is, but we know women of African descent are more likely to have risk factors for fibroids, like obesity, chronic stress, and low levels of vitamin D.
Additionally, Black women are more likely to not receive a quick diagnosis or minimally invasive treatment. Research has uncovered many possible reasons for these racial disparities. Doctors may be less likely to recognize fibroids in Black women due to data that underrepresents them in medical literature. Also, research suggests doctors historically don't take pain reported by women–especially Black women–as seriously as that of men.
African American women may not believe their fibroids symptoms are outside the norm, since it's more common for their mothers, sisters, and aunts to experience the same severe pain or bleeding during menstruation. They may not seek a doctor's care if they don't think anything is wrong. Plus, healthcare can be more difficult to access for people of color due to numerous factors, including challenges securing accessible, adequate insurance coverage.
These possible reasons for the racial disparities associated with fibroids are just theories, but don't wait for the science to catch up to talk with your doctor on your own behalf. One national survey revealed that Black women waited more than a year longer than white women to seek treatment for fibroids. But treating fibroids earlier means improving your quality of life and overall health before your everyday routine is impacted. The relationship between the medical field and the Black community is historically a complicated one. However, things are changing, and doctors are more aware than ever about these disparities. Black women deserve appropriate and effective fibroids treatment, and the first step is finding a healthcare provider you trust.
Knowing your treatment options is crucial, because they all have pros and cons. We know Black women are more than two to three times as likely as white women to have a hysterectomy (removal of the uterus) to treat uterine fibroids, but it's not the only option. Ask your doctor about these less invasive alternatives:
Birth control and other medications to reduce heavy bleeding
Medication to reduce the size of fibroids
Minimally invasive surgery that can preserve your ability to have children
It's worth your effort to find a doctor who will provide you with the care you need. Keep searching until you identify a good fit and receive appropriate treatment for your fibroids. Then, spread the word to other women.
Was this helpful?