Hysterectomy for Uterine Fibroids: It's Not Your Only Option
Was this helpful?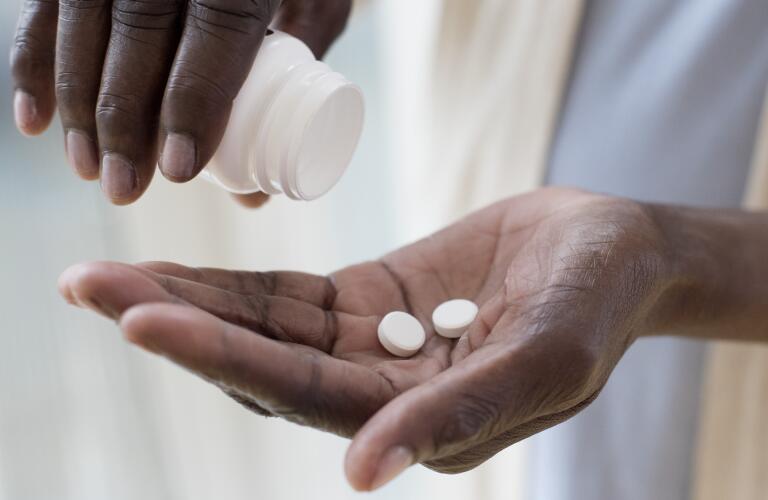 Uterine fibroids are noncancerous growths in the uterus. They can grow large enough to be uncomfortable and to cause heavy, painful periods. A hysterectomy—removing your entire uterus and its contents—is one way of treating fibroids. A hysterectomy is the only permanent solution to fibroids, but it's also major surgery that can cause side effects and will prevent you from conceiving and giving birth to a child in the future.
You don't necessarily need to treat fibroids, unless their symptoms bother you. And if you do want to pursue treatment, several hysterectomy alternatives exist, from medications to less-invasive procedures. These uterine fibroids treatment options may be worth considering when you talk to your doctor.
Most types of medication for uterine fibroids relieve symptoms, but they won't shrink the fibroids.
Over-the-counter pain relievers. Nonsteroidal anti-inflammatory drugs (NSAIDs) such as ibuprofen (Advil, Motrin) or naproxen sodium (Aleve) relieve pain from fibroids, although they won't help much with bleeding.
Hormonal birth control. The same medications you take to prevent pregnancy, including birth control pills, injections, and progestin-releasing intrauterine devices (IUDs), also reduce bleeding and relieve period pain from fibroids.
Tranexamic acid (Cyklokapron, Lysteda). This non-hormonal medication reduces menstrual bleeding when you take it on your heaviest period days.
Two types of medication for uterine fibroids can reduce the size of these growths:
Gonadotropin-releasing hormone (GnRH) agonists (Lupron). This blocks your body's production of the hormones estrogen and progesterone, which shrinks fibroids and stops your periods. Because GnRH agonists put your body into temporary menopause, they can cause side effects like hot flashes and vaginal dryness. That's why doctors recommend taking them for less than six months, either when you're close to menopause or to shrink your fibroids before you have surgery.
Elagolix, estradiol, and norethindrone acetate (Oriahnn). This new medication reduces heavy bleeding from fibroids. It works by suppressing estrogen and progesterone. You can take it for up to two years.
Other uterine fibroids treatment options involve surgery, but these procedures are either noninvasive or minimally invasive, and they preserve your fertility. If you decide to go the surgical route, the size and location of your fibroids will determine which of these procedures your doctor recommends:
Focused ultrasound surgery (FUS). This noninvasive procedure doesn't use any incisions, and you can go home on the same day. It's done while you lie inside a magnetic resonance imaging (MRI) scanner, which shows your doctor the location of your fibroids. Then the doctor uses an ultrasound to target the fibroids with sound waves, which heat and destroy tissue.
Uterine artery embolization. This alternative to hysterectomy is performed in a radiology suite instead of an operating room. Using a thin tube called a catheter, the doctor injects tiny particles into the arteries that feed your uterus. The beads block the blood supply to your fibroids, causing them to shrink and die. You'll have a shorter hospital stay and less bleeding after this procedure compared to hysterectomy or myomectomy, and you can get back to your normal activities sooner.
During this procedure, your surgeon removes the fibroids without taking out your uterus. If you have very few fibroids, the surgery may be done through a few small incisions in your belly—a procedure called laparoscopy. Another way to perform this surgery is by inserting a scope through the vagina and removing the fibroids without any incisions. Larger fibroids may need to be removed through a bigger incision in your belly.
Radiofrequency ablation. This procedure uses heat, which your doctor will deliver through an instrument placed into your uterus through your vagina, to burn off the fibroids.
If you want to avoid major surgery, many hysterectomy alternatives are available. The right one for you depends on the number and size of fibroids you have, as well as your personal preferences. Keep in mind that medications and less-invasive surgeries can also cause side effects. Discuss these risks as well as the possible benefits of each of the uterine fibroids treatment options with your doctor before making your decision.
Was this helpful?