How to Get the Most Out of a Virtual Doctor Visit for Fibroids
Was this helpful?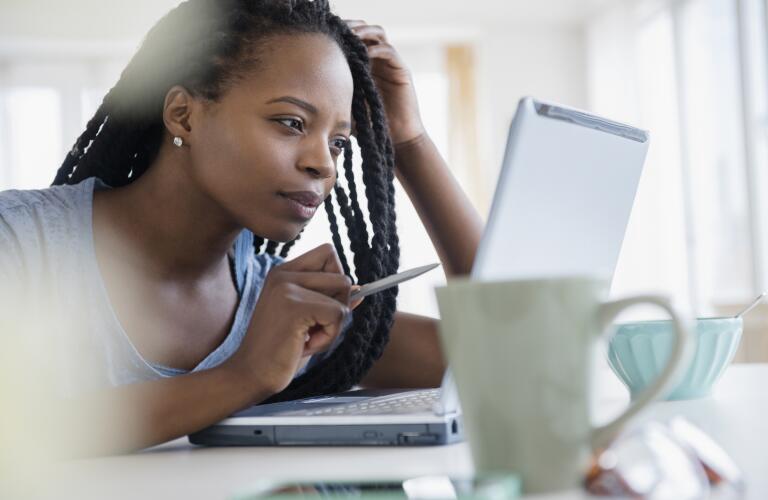 Women who live with uterine fibroids often need to follow up with their doctors regularly, especially if symptoms such as a swollen lower abdomen or pain occur. For many, this involves frequent trips to their doctor's office, but technology is helping to make some of those trips less necessary. A growing number of women who have uterine fibroids are turning to telehealth, also called telemedicine, to see online gynecologists for help managing their condition.
Telemedicine for fibroids has come a long way—instead of a simple phone call, many online Ob/Gyns use video conferencing technology to check in with their patients between regularly scheduled office visits. A virtual doctor visit for uterine fibroids can also help doctors determine whether or not a woman needs more immediate care, especially if she's having concerning symptoms like heavy bleeding.
If you're interested in telehealth for treating uterine fibroids, first ask your doctor whether this option could be incorporated into your current treatment plan. Then, you can take steps to prepare for your telehealth appointment and get the most out of your visit.
Advantages of Using Telemedicine for Fibroids
Compared to traditional office visits, treating uterine fibroids online offers solid benefits such as:
Cost savings: Generally speaking, telehealth appointments are less expensive than office visits with your doctor. And many insurance companies now pay for at least a portion of telehealth visits.
Greater convenience: You don't even have to leave your house to see your Ob/Gyn online. There's no need to worry about childcare, and you don't have to spend time traveling to and from your doctor's office.
Improved access to care: For many women, telehealth offers the opportunity to connect with specialty women's health providers, even if they live in very rural or remote areas located away from specialists.
Protection from illness: Virtual doctors' visits drastically reduce your risk of exposure to infectious diseases like COVID-19.
Triage services: Using telehealth, your doctor can determine whether your condition requires treatment at home, at an urgent care center, or even at a hospital.
Preparing for Your Virtual Visit
With a little preparation, it's easy to make the most out of your time online with your doctor. Before your visit, be sure to:
Check your equipment. It's likely your doctor will use telecommunications technology to connect with you using the i If this is the case, check your internet connection before your appointment and be sure your computer or smartphone is fully charged or plugged in to a power source. That way, you won't be interrupted during your visit.
Choose a quiet location. Speaking of interruptions, it's a good idea to pick a quiet spot in your house where you can talk openly with your doctor. If other family members are home, let them know you have a doctor's appointment and won't be able to help them with anything for a little while.
Have your paperwork filled out. Just like with office visits, your doctor may need you to complete some paperwork before your appointment. Have this paperwork done before your virtual visit for uterine fibroids so you don't have to waste time going over this type of information.
Make a symptoms list. Uterine fibroids may cause a variety of symptoms, and some may get worse over time. Making a symptoms list and updating it regularly is a great way for your doctor to know exactly what you're experiencing and whether the problem is becoming more severe.
Write down questions and concerns. It can be easy to forget to ask a question or bring up a concern during a doctor's If you write those thoughts down before your appointment, you're much less likely to miss out on important information.
Treating uterine fibroids by working with an online gynecologist can be a great way to help manage symptoms and avoid potential long-term complications of the condition. Your doctor can help you decide whether telemedicine for fibroids would be a beneficial addition to your current treatment plan.
Was this helpful?