How Doctors Diagnose Uterine Fibroids
Was this helpful?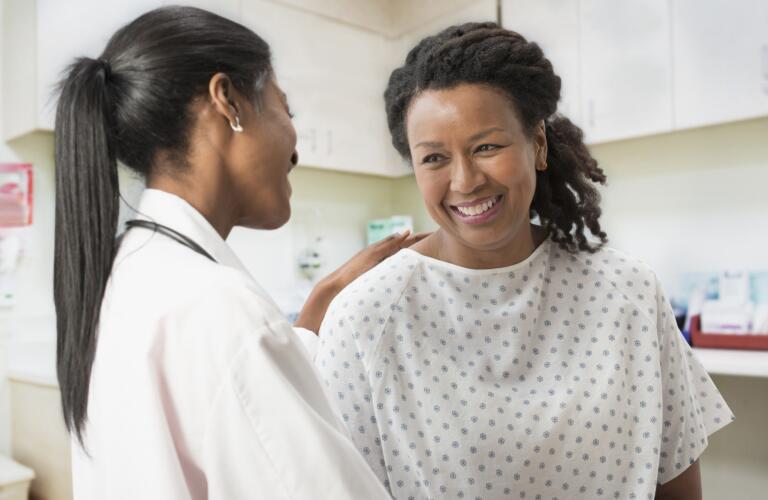 Fibroids can be as small as a marble and don't cause symptoms. If your fibroids are small, you might not even know you have them. But, if your fibroids do cause symptoms, no matter what size they are, getting a diagnosis becomes important. That's because fibroids can also cause complications.
Fibroids are an overgrowth of muscular tissue in the uterus. They can cause loss of blood, leading to anemia. They can make it hard to get pregnant and can cause problems while you're pregnant. Severe pain along with fever can occur if a fibroid becomes twisted and loses its blood supply.
Your doctor has three main ways to diagnose fibroids: a physical exam, imaging studies, and diagnostic procedures.
Your doctor may detect fibroids during a routine pelvic exam. The doctor might feel them or feel that your uterus is larger than normal or has an abnormal shape. It's possible to estimate the size of the fibroids by comparing the size of the uterus to what it would be during different stages of pregnancy.
Your doctor may order an imaging study to confirm a diagnosis of fibroids or to learn more about them. These tests help your doctor visualize the fibroids. You might have:
Ultrasound, an image of your uterus made with sound waves
Sonohysterogram, an ultrasound taken after water is injected into your uterus
Hysterosalpingogram, an X-ray of your uterus taken after a special dye is injected into your uterus
MRI, a scan that uses radio waves and a computer to make images of your uterus
CT scan, a type of scan that uses multiple X-rays and a computer to create images of your uterus
Fibroids may grow inside the uterus, outside the uterus, or within the wall of the uterus. Laparoscopy is a procedure to look at the outside of your uterus. Hysteroscopy is a procedure to look at the inside of your uterus. Similar to imaging studies, you might have these procedures to help your doctor confirm a diagnosis of fibroids or to learn more about them.
For a laparoscopy, your doctor inserts a long, thin telescope through a small incision in your belly. The scope has a light and a camera.
For a hysteroscopy, your doctor inserts a scope through your vagina into your uterus without making an incision.
The results of these tests can reveal the size of your fibroids and how many you have. This helps your doctor decide when and how to treat them. You may need to repeat these tests over time to see if your fibroids are changing or growing, or if you develop new or worsening symptoms related to fibroids.
Was this helpful?