Fact Check: Does Vaginal Steaming Work?
Was this helpful?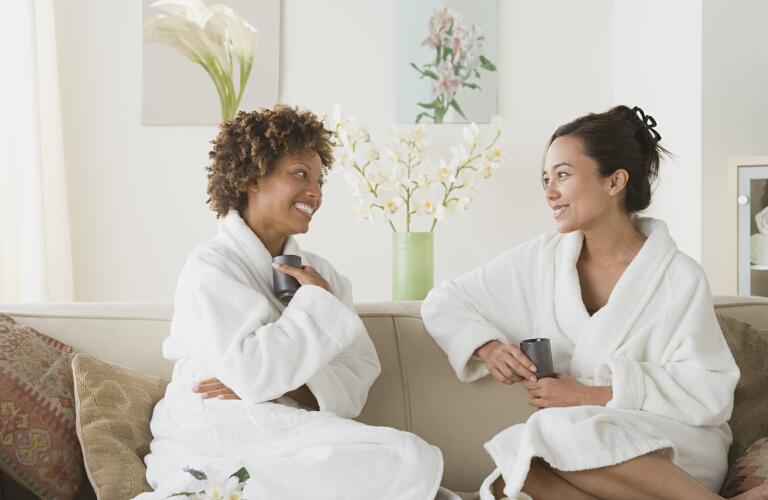 Steam cleaning is a good option for dirty drapes or carpets. But your vagina? Yes, some spas and self-proclaimed 'vaginal steam facilitators' are selling 'v-steaming' (also known as 'Yoni steaming') to women, claiming it can relieve menstrual pain, spark fertility, quell headaches, and provide other benefits. Actress Gwyneth Paltrow has promoted the practice on her lifestyle blog, Goop, while supermodel Chrissie Teigen posted an Instagram picture of herself in mid-steam. But what do gynecological experts say? Is this a therapy you should consider—or a fad to forget?
For the uninitiated, vaginal steaming involves a woman sitting on a stool or other type of seat with a hole in the middle. Below the stool, there is a bowl or other container containing steaming hot water and a combination of herbs, such as mugwort (similar to ragweed), rosemary, wormwood and basil. The woman being steamed wears no underwear, though usually is covered with a dress, skirt or towel. Typically, she sits atop the vaginal steaming seat for about 20 minutes per session.
Vaginal steaming promoters claim the herbal-infused steam not only softens and opens pores in vaginal and vulvar skin, but also allows the herbs to be absorbed into the uterus. They claim vaginal steaming has been around for centuries in Asia and Africa and that this ancient practice benefits women by providing:
Relief from period complaints, including cramps, heavy flow, bloating, and irregular periods

Increased fertility

Relief from menopause symptoms

Treatment of stress and depression

Faster healing after childbirth

Hemorrhoid relief

Treatment of fatigue and headaches

A "cleansed" or "refreshed" uterus, cervix and vagina.
However, experts claim that vaginal steaming doesn't work and can, in fact, cause harm. A 62-year-old Canadian woman experienced second-degree burns to her cervix and vaginal membranes after sitting over boiling water for 20 minutes two days in a row. The woman had vaginal prolapse, a condition in which organs like the cervix and vagina slip out of position. She had been planning reconstructive surgery, which had to be delayed while she healed from her steam-caused burns.
Whether you have vaginal prolapse or not, vaginal steaming can cause burns or scalding to the delicate skin in and around the vagina, doctors warn. Other risks of using herb-infused, steaming water include:
Upsetting the bacterial and pH balance in the vagina, which can lead to irritation and infections, such as yeast infection, bacterial vaginosis, and thrush.

Potential miscarriage if a woman is pregnant. Researchers warn that some herbs can cause miscarriage, and point out they don't know how steaming could affect either the pregnant woman or her baby.
Another risk is losing money for worthless treatments. Experts say proponents overstate vaginal steaming's potential benefits, noting that herbal steam cannot penetrate vaginal tissues and or reach the uterus. Claims that steaming would promote fertility, for example, are not borne out because the steam could not affect the hormones that regulate this process.
Doctors often recommend heat to help ease menstrual cramps, but they suggest hot baths or heating pads—not vaginal steaming. While steaming may increase blood flow to the vagina, its benefits have not been well researched. In fact, not one of the supposed reasons for steaming your vagina has been proven by medical evidence.
Vaginal steaming has "no benefit, promotes a serious misunderstanding about anatomy and physiology, and has the potential to harm," writes gynecologist Jennifer Gunter in her recent book, The Vagina Bible. "In short, it's a scam."
If you are interested in trying vaginal steaming, first talk with your gynecologist or primary care provider before proceeding further with the practice. Most likely, there are safer, less potentially harmful therapies or treatments for symptoms (such as menstrual cramps) you are experiencing.
Was this helpful?