Black Women: Tips for Talking to Your Doctor About Your Fibroids
Was this helpful?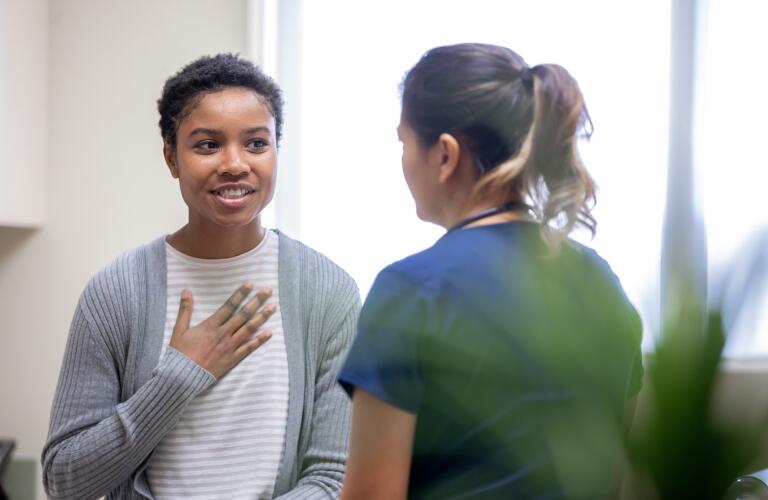 As many as 80% of all women develop uterine fibroids by the time they are 50 years old. Uterine fibroids are muscular tumors that form inside the uterus—in most cases, these tumors are benign, or non-cancerous. It's possible for fibroids to grow almost anywhere inside the uterus, and there may be more than one fibroid that forms at a time.
Some women seem to be more likely to develop fibroids compared to others. Research shows that women of African descent are at higher risk for developing fibroids compared to Caucasian women. Black women develop fibroids earlier in life and typically live with larger and more numerous fibroids–along with more severe and disruptive symptoms. You might think your symptoms like heavy menstrual bleeding or pelvic pain are normal, but they may not be, and it's important to seek treatment and know how to communicate your experience. Research shows Black women wait substantially longer than their white counterparts before seeking treatment for fibroids, but early treatment can improve symptoms and help you avoid more invasive treatment options like hysterectomy.
Regular visits with your gynecologist is the best way to find fibroids early and manage them effectively. Following some simple tips can help you get the most out of your doctor's appointment so you can live as healthfully as possible.
Uterine Fibroids in African-American Women
While the exact causes of uterine fibroids are unknown, it's thought that genetic differences may play a role in fibroid development in African-American women. You may be more likely to develop fibroids if you have a mother or sister with the condition. Other known risk factors for uterine fibroids include:
Drinking alcohol
Having a diet low in green vegetables and high in red meat
Obesity
Onset of menstruation at an early age
Vitamin D deficiency
In many cases, uterine fibroids don't cause noticeable symptoms. But for some women, uterine fibroid symptoms may include backache, heavy menstrual bleeding, pelvic pain or pressure, frequent urination, or constipation. Gynecologists usually diagnose uterine fibroids with an ultrasound.
If your doctor diagnoses you with fibroids, your treatment may include watchful waiting, medications to shrink fibroids or treat specific symptoms like heavy bleeding, or surgery to remove the fibroids. Your specific treatment plan is tailored to your particular needs.
Talking to Your Doctor About Fibroids
It's important to be able to speak clearly and honestly with your doctor about uterine fibroids and any treatments. You can get the most out of the conversation by following these simple tips:
Bring a friend: It can be extremely beneficial to bring a friend or close relative to your doctor's appointment, especially if it's your first after receiving a diagnosis. Having another person there can help make sure you don't miss anything your doctor says and keep you from forgetting to ask important questions.
Clarify your understanding: It may be helpful to write down the information your doctor shares with you so you can review it again later. You should also be sure to clarify your understanding of what your doctor says—you may want to repeat back what your doctor said in your own words, or ask questions if you're confused about a certain issue. It's important to make sure you understand everything to help you stay as healthy as possible for as long as possible.
Speak up: Many women experience a range of emotions after a uterine fibroid diagnosis. You may be concerned about your fertility options, or you may worry that one day a fibroid could develop into cancer (which is extremely rare). If you have any questions or concerns, be sure to speak up and make your voice heard. Your doctor can help you with family planning, refer you to other sources of information, or explain certain concepts in greater detail. If you feel your doctor isn't taking your concerns seriously, don't be afraid to seek a second opinion.
Write it down: Writing down any questions you have before your appointment is one of the best ways to ensure the visit runs smoothly and that you don't miss anything you'd like to discuss. It can also be helpful to write down thoughts you have during the visit so you can circle back around to the topic before leaving.
Uterine fibroids are a concern for many Black women, but talking with your doctor can help you better understand your risk, determine whether a diagnosis is appropriate, and better manage any symptoms you experience. Four simple tips—bringing a friend, making sure you understand, speaking up, and writing questions down—can help you get the most out of any doctor's visit for uterine fibroids.
Was this helpful?