Your First Week After Weight Loss Surgery: What to Expect
Was this helpful?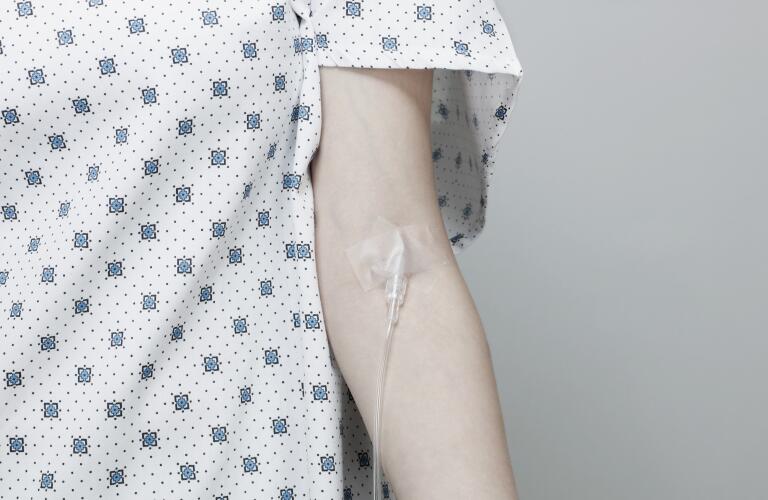 After weight loss surgery, most people stay in the hospital. Stays range from a day or two with laparoscopic surgery to up to five days with traditional bariatric surgery. Sometimes, people have to stay even longer, especially if complications develop. So, it's likely that some, if not most, of your first week after surgery will take place in the hospital. Here is a look at what those first seven days may look like.
Pain is a reality right after bariatric surgery. You will have some kind of pain control to keep you comfortable. Often, it's a PCA (patient-controlled analgesia). It lets you access set amounts of pain medicine with a push of a button. Staying comfortable is important. It makes it easier for you to move and do the breathing exercises necessary to speed your recovery. Once you can take liquids by mouth, your doctor will change your pain medicine to an oral form. You need to be on oral pain medicine before you can go home.
Many people worry about becoming addicted to pain medicines. In the time right after surgery, this risk is very low. These medicines are necessary to help you recover smoothly. Try to stay ahead of your pain. It's easier than trying to chase pain once it's bad. Also, use your pain medicine to prevent pain when you know you will need to move or do some other activity that will intensify your pain.
Believe it or not, you will start moving soon after surgery. Your team will teach you how to do leg exercises in bed. You will also learn deep breathing and coughing exercises. These exercises help prevent complications, such as blood clots and pneumonia.
The night of surgery, your team may help you to a sitting position so you can dangle your feet. That night or the next day, they will help you get out of bed and walk. You will probably need to do this three to four times a day. It will be very tiring at first, but it will get easier as time passes. You will need to be able to get in and out of bed without much help in order to go home.
Once you are home, you need to continue frequent walking exercises. It's one of the best things you can do to ease your recovery. During the first week, these walks will be short, maybe just a few minutes at a time.
Your diet after weight loss surgery will be dramatically different. It is a stepped, or 'staged' diet that starts with nothing by mouth right after surgery. You will get IV fluids to keep you hydrated until you can take liquids by mouth.
The next step is a liquid diet after weight loss surgery. At first, it will be clear liquids like the diet you were on right before surgery. Choices will include things like clear broth, clear juices, sugar-free gelatins, and sugar-free popsicles. Water will also be important to avoid dehydration. Your stomach will not hold a lot, so you will need to take small amounts of liquids frequently. In total, you need about 6 to 8 cups in a day. You need to be able to consume enough liquids to keep yourself hydrated before you can go home.
Depending on your progress, you may move to a full liquid diet in the first week. Protein shakes will likely be part of this step. Other options may include sugar-free pudding, fat-free milk, fruit ice without chunks, and smooth or strained soups. Your diet will continue to progress in the coming weeks.
Before you leave the hospital, your team will give you weight loss surgery post-op instructions. They will cover everything you need to know to care for yourself at home including:
Activities, including what to do and how often to do it, as well as activities to avoid

Complications, including symptoms that should alert you to contact your surgeon immediately

Diet and fluid intake requirements

Follow-up appointments, which usually start after the first week

Medications, including what to take, when to take it, and how to take it if it needs crushing

Side effect management, including nausea, vomiting, bowel problems, hair loss, and thrush or yeast infections

Wound care, including instructions for showering and symptoms to watch for
The first week may pass very quickly. There will be lots of changes in the coming weeks. You will see rapid weight loss during the first couple of months after surgery. You may also see obesity-related conditions improve or resolve quickly. Maintaining these benefits requires a life-long commitment to healthy living. Your team will continue to support you and guide you to success.
Was this helpful?