Gastric Sleeve Surgery vs. Gastric Balloon: What to Know
Was this helpful?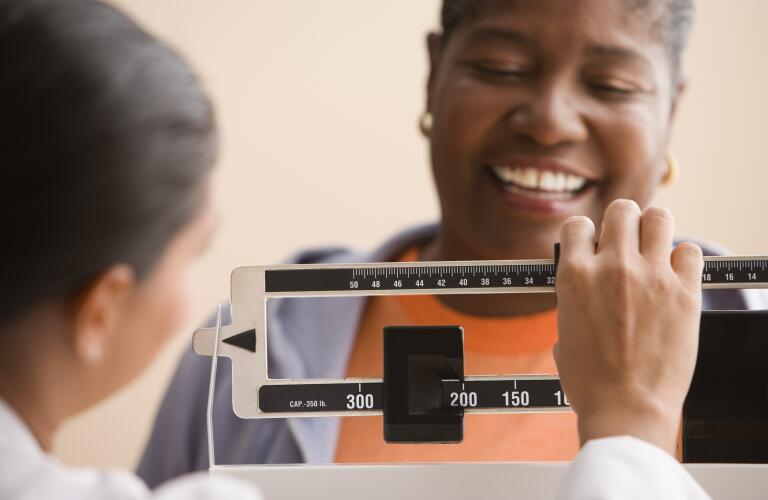 For people whose health is threatened by obesity, and who can't lose weight through diet and exercise, bariatric surgery can often help. The most common weight loss surgery performed today is a gastric sleeve operation. This creates a smaller stomach, making it difficult to overeat. Another common weight loss surgery is the gastric bypass. Both are permanent procedures that make your stomach so small that you feel full faster.
Another type of procedure involves temporarily placing balloons inflated with fluid or gas into the stomach. The goal is to reduce stomach size, though on a more short-term basis (usually about six months). However, intragastric balloon procedures carry warnings from the U.S. Food and Drug Administration (FDA) due to a concerning number of complications, including deaths. If you are considering this or other weight loss surgery, it's important to know the risks as well as benefits.
When people think of weight loss surgery, many think of gastric bypass procedures, which close off—or bypass—part of the stomach. Gastric bypass used to be the most common weight loss surgery in the United States, but in the past decade, its incidence has declined significantly. Today, gastric sleeve operations are far and away the most-performed weight loss surgery.
With gastric sleeve surgery, also known as vertical sleeve gastrectomy, your surgeon removes 75 to 80% percent of your stomach. The remaining, banana-shaped stomach can hold about 20 to 25% of the amount of food you used to consume. The procedure is done laparoscopically, meaning only a few small incisions are made, and recovery is faster than with traditional surgery.
After gastric sleeve surgery, most people lose 60 to 70% of their excess weight within the first year. At five years post-surgery, only about 10% of patients had regained weight to within 5% of their presurgical weight (on average, people maintained a weight loss of 16% of their presurgical weight), according to a Kaiser Permanente study. This weight loss is greater than what is common with usual medical care for obesity. Benefits of gastric sleeve operations include an improvement or even elimination of potentially dangerous obesity-related health conditions, such as type 2 diabetes, hypertension, sleep apnea, fatty liver disease, joint pain, and high cholesterol.
Gastric bypass surgery can also be done laparoscopically, but it is more complex and takes longer—about 2 to 3 hours, compared to 40 to 70 minutes for the gastric sleeve procedure. While the risks associated with either procedure are low, gastric bypass has a higher risk of long-term complications than the gastric sleeve. These complications include bowel obstruction, ulcer, internal hernias, or malabsorption of nutrients.
On the other hand, gastric bypass does provide somewhat better effectiveness than gastric sleeve, with 22% weight loss, on average, after five years and 20% after a decade.
Nearly 60% of the 256,000 weight loss operations performed in the United States in 2019 were gastric sleeve procedures, according to the American Society for Metabolic and Bariatric Surgery. About 17.8% were gastric bypass surgeries.
About 4,600 patients in the U.S. had gastric balloons implanted in 2019, about 1.8% of all bariatric procedures. These balloons are made of silicone and filled with saline or gas. They are placed in your stomach during a half-hour outpatient procedure, using a catheter that threads a deflated balloon down your throat. Most people can go home 1 to 2 hours after the procedure and can start eating regular food about three weeks later.
The balloons are designed to last about for about six months before being removed. You can then have another balloon placed, if needed.
One type of saline-filled balloon, called ReShape, was taken off the market starting January 1, 2019 right after its new owners, Apollo Endosurgery bought the product line in December 2018. Apollo makes a competitor to ReShape, called the Orbera balloon (also filled with saline), as well as a gas-filled version called Obalon.
Proponents of gastric balloons say the procedure is done more quickly and easily than other types of bariatric surgery. While about one-third of people experience pain and nausea after the balloon is inserted, these symptoms pass after a few days and can be managed with medication.
Typical weight loss in the six months after balloons are placed is about 7 to 15% of excess body weight, which can result in improvement of obesity-related health problems. In March 2021, the FDA granted "breakthrough device" status to the Orbera balloon for use in treating a severe form of fatty liver disease: noncirrhotic nonalcoholic steatohepatitis (NASH) with liver fibrosis, which can result in cirrhosis and liver failure.
FDA warns about saline-filled gastric balloons
The FDA also has issued warnings about intragastric balloons, especially those filled with fluid. Its most recent warning, in April 2020, cautioned healthcare providers to be aware of reports of complications and even deaths associated with the use of gastric balloons, based on an FDA "post-approval study" and manufacturer data.
Here is a summary of the deaths associated with the Obera and ReShape balloons and reported to the FDA since the balloons were approved in 2015:
A total of 18 deaths involving fluid-filled balloons. Of these 18 deaths, eight were in the U.S. Five deaths were in Orbera patients and three deaths in ReShape patients. Of eight U.S. deaths, two were not definitively attributed to the balloon therapy.
Gastric perforation—a hole in the stomach—was reported as the cause of three of the U.S. deaths. It remains a risk of the gastric balloon procedure.
Esophageal perforation was the cause of one U.S. death.
Other intragastric balloon complications reported to the FDA include:
Acute pancreatitis: 30 reports worldwide since 2015, more than two-thirds of which occurred in Orbera balloons. The manufacturer, Apollo, reported no events in its follow-up studies for Orbera, but did find two events of pancreatitis in its ReShape balloon follow-up study (two of 159 people, or 1.3% of patients).) The balloons were removed early in these two patients.
Hyperinflation (spontaneous filling of air or liquid while inside the patient's stomach): More than 200 reports received worldwide, 99% of which were for Orbera. Apollo's studies found 2.3% of patients experienced this with Orbera balloons, resulting in early balloon removal for most. (There were no hyperinflation events in the ReShape follow-up report.)
Balloon deflation: Balloons can sometimes deflate and then pass into the intestine, which could cause gastrointestinal obstruction.
The FDA said it had received no reports of death, hyperinflation or acute pancreatitis associated with the Obalon (gas-filled) balloon since its approval in 2016, though it is continuing to monitor these balloons.
Meanwhile, the FDA is continuing to work with manufacturers of liquid-filled balloons to assess possible risk factors and what can be done to prevent them. The FDA is also helping to ensure labels on balloons available in the U.S. are updated with information about possible risks, including potentially life-threatening complications.
Was this helpful?