What to Expect After a Vascular Disease Diagnosis
Was this helpful?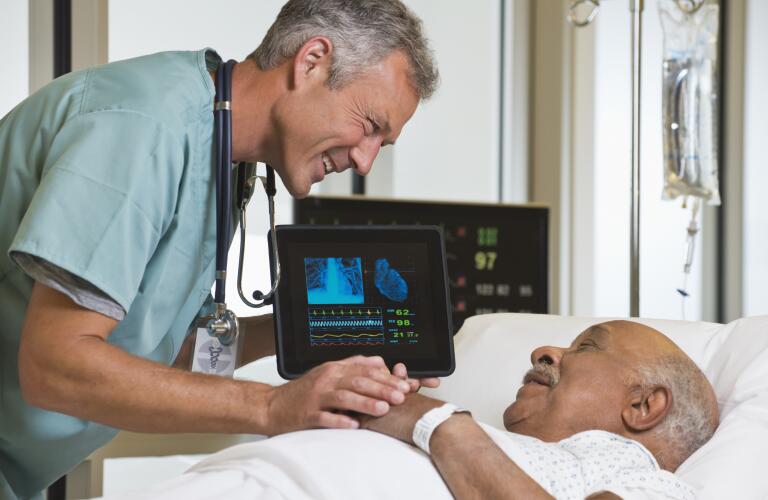 If you have been told you have vascular disease (blood vessel disease), you may wonder what comes next. What type of treatment will you have? What is your prognosis or outcome? What can you do to help slow down the disease progress? Discussing these issues with your doctor helps pinpoint what will be done for your particular case, but here are some issues that may help you discuss your care with your doctor.
Vascular disease is any disorder or condition involving any of the blood vessels (arteries, veins, capillaries) in the body. Vascular disease also includes disorders of the lymphatic vessels.
In medical practice, vascular disease typically refers to vessels outside the heart or brain. Vascular disease directly affecting heart function is cardiovascular disease, such as coronary artery disease; when it affects the brain it is cerebrovascular disease, such as stroke. But there is overlap. Depending on your particular condition, you may have received your diagnosis from a vascular disease specialist—a vascular surgeon.
Treatment for vascular disease can vary from watchful waiting to emergency surgery. It all depends on the type of vascular disease you have and how severe it is. If the diagnosis was made through screening, the condition may still be in the early stages, with minimal damage to your blood vessels. If it's made during an emergency, such as a ruptured abdominal aortic aneurysm, then you likely had emergency surgery to save your life.
At the same time, people who have the same type of vascular disease may not receive the same treatment—or receive treatment at all. Raynaud's phenomenon is a good example. There are medications you can take if it's severe, but treatment may not be necessary at first if the symptoms are not affecting your quality of life.
Doctors treat vascular disease medically or surgically. Medical treatment means you take medications to treat the disease or manage symptoms, such as medicine to prevent or dissolve blood clots, lower your LDL cholesterol (the so-called "bad" cholesterol), or increase blood flow to your limbs.
If you need vascular surgery, there are several procedures your vascular surgeon might consider. Some examples include:
Angioplasty. An angioplasty or stenting procedure is a type of endovascular surgery to open a blocked blood vessel.

Carotid endarterectomy. Rather than minimally invasive endovascular surgery, a carotid endarterectomy is an 'open' surgery where your surgeon makes an incision to access your carotid artery and remove plaque buildup.

Bypass surgery. If a blood vessel is blocked or damaged, your surgeon may perform a bypass, connecting another blood vessel to provide a work around for your blood to flow freely.
Other options for conditions like varicose veins include laser therapy or vein stripping, a procedure where your surgeon removes the affected vein altogether.
Other chronic diseases like diabetes and hypertension increase your risk of developing vascular disease and can worsen it once the condition has begun. If you have a chronic illness, your doctor will likely emphasize how important it is for you to manage the illness as well as possible to limit its effect on the vascular disease.
Many times, this means making lifestyle adjustments, such as losing weight if necessary, eating a healthy diet, exercising regularly, and quitting smoking if you smoke. Medical treatment may include medications to manage blood glucose if you have diabetes or blood pressure if you have hypertension.
Your vascular surgeon may work with your other specialists in a team approach, to cover all aspects of your care. It is important that you communicate with everyone on your team to keep the care as smooth and effective as possible. You also will likely have regularly scheduled follow-up doctor appointments to monitor your health and symptoms.
After undergoing a procedure or surgery for vascular disease, it's best to work towards reducing your risk of the same issue recurring or worsening. If you have atherosclerosis, the plaque could begin to build up again. Uncontrolled high blood pressure can damage arteries and worsen an abdominal aortic aneurysm. If you are having trouble taking your medications or following the recommended lifestyle changes, speak with your doctor about alternatives or ways that can help you achieve better health.
Was this helpful?