Who Will Get the COVID Vaccine First?
Was this helpful?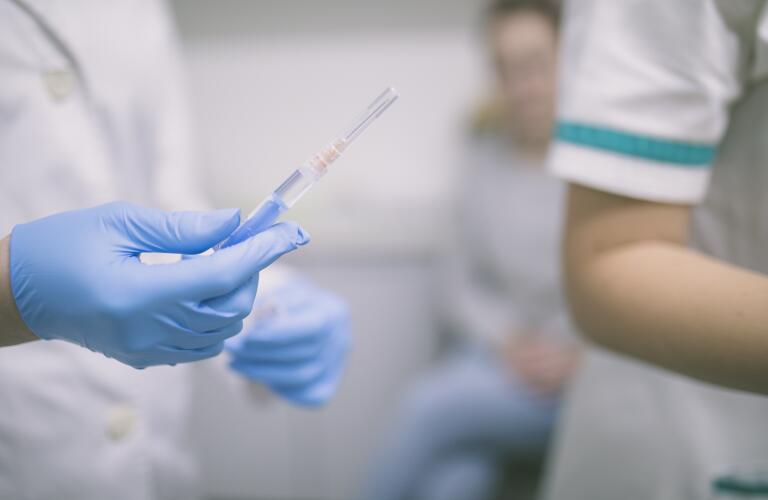 With the first two COVID-19 vaccine approvals in the books, many people want to know when they will be able to receive the vaccine. However, initial COVID vaccine availability will be limited, so the Centers for Disease Control and Prevention has been working with state, tribal, territorial and local jurisdictions as well as private partners and federal agencies to develop a plan for COVID vaccine distribution.
Initial COVID vaccine priority is focused on first responders, medical personnel providing direct care, and anyone at the highest risk of developing severe symptoms of COVID-19.
The first healthcare worker received the COVID-19 vaccine.
On December 11, the U.S. Food and Drug Administration granted emergency use authorization (EUA) for a COVID-19 vaccine developed by Pfizer and BioNTech. Within hours, the first vials of some 3 million vaccine doses were shipped out to American hospitals. Among other firsts, a healthcare worker at a New York hospital received her first dose of the vaccine.
A second COVID-19 vaccine, made by the biotech company Moderna, received an EUA December 18. The Moderna vaccine is made similarly to the Pfizer vaccine and its effectiveness is similar.
Keep in mind an EUA is not the same as an approval, meaning no COVID-19 vaccine can be widely administered unless vaccine recipients meet specific requirements. The Pfizer vaccine EUA is for people 16 and older; the Moderna vaccine is for people 18 and older. Both companies are currently conducting trials with younger participants.
COVID-19 vaccine priority groups fall into four phases.
The Advisory Committee on Immunization Practices (ACIP) continues to review data on who should receive the COVID vaccine first. Their recommendations are based on several factors and vaccination goals including:
Limit death and serious disease from COVID-19.
Preserve the functioning of society.
Reduce the effects of COVID-19 on those already facing disparities.
Increase the opportunity for all to have good health and well-being.
The four broad phases of vaccine distribution, as determined by the ACIP are:
Phase 1a

Residents (and employees) of long-term care facilities
Phase 1b

Essential, non-healthcare personnel
Phase 1c

People 16 to 64 with high-risk medical conditions
Essential workers not included in Phase 1b
Phase 2

Everyone at least 16 not included in the other phases. ACIP is monitoring vaccine clinical trials in children and adolescents, so phase 2 may change in the future.
Keep in mind these are the recommended phases of distribution. Individual states (even individual counties) manage vaccine distribution, so refer to your state's public health department for who qualifies for the vaccine and the expected date, including where to go to get the vaccine.
COVID-19 vaccine priority groups include medical providers.
As medical providers continue to work on the front lines of fighting the spread of COVID-19, the ACIP recommended they receive COVID vaccine priority not only to protect the health of our medical workforce but also to help protect their patients.
Healthcare personnel in this priority group include:
Emergency medical personnel
Nurses and nursing assistants
Therapists who could potentially be exposed to COVID-19 patients or contaminated environmental surfaces or air
Workers not directly involved in patient care but could potentially be exposed
Nursing homes and assisted living facilities receive COVID vaccine priority.
Due to their elevated risk for severe illness or death from COVID-19, residents of long-term care facilities also received an ACIP recommendation for COVID vaccine priority. COVID-19 spread has been much more prevalent in these facilities due to their large numbers of residents in a contained space, as well as the lack of preparation by many long-term care facilities at the onset of the pandemic. According to the CDC, early vaccine access is critical to the protection of this at-risk population.
Second-level COVID vaccine priority includes workers in essential and critical industries.
In an effort to maintain America's critical infrastructure, non-healthcare workers in essential and critical industries are included as a COVID-19 vaccine priority group (Phase 1b) after healthcare workers and nursing home and assisted living residents.
This refers to workers who keep the country's supply chains functioning, operate call centers, staff operations centers and work construction.
Represented industries or personnel include:
Education, including teachers and support staff
First responders, including firefighters and law enforcement
Transportation and logistics
U.S. Postal Service workers
Protecting these workers so they can work safely is necessary to prevent backlogs or work stoppages that could have far-reaching consequences.
Widespread COVID vaccine availability could happen by spring or summer 2021.
Although the United Kingdom just authorized widespread use of the Pfizer-BioNTech COVID-19 vaccine, most U.S. officials are reporting it will be spring or summer 2021 before widespread COVID vaccine distribution in the United States. COVID vaccine availability could be hampered by limited supply as manufacturers ramp up production. The U.S. government purchased a total of 200 million doses of the Moderna vaccine, enough to vaccinate 100 million people. The United States is expecting 100 million doses of the Pfizer-BioNTech vaccine, enough to vaccinate 50 million people.
Some COVID-19 vaccines require storage in extremely low temperatures; distributors have the infrastructure and appropriate equipment to properly transport and store the vaccine. Likewise, medical facilities have or will have in place the proper storage containers for the vaccines as COVID vaccine distribution increases, not only from Pfizer, but from future COVID vaccines.
Contact your state directly or refer to the CDC for vaccine management plans by state.

Was this helpful?