The Most Promising COVID-19 Vaccines
Was this helpful?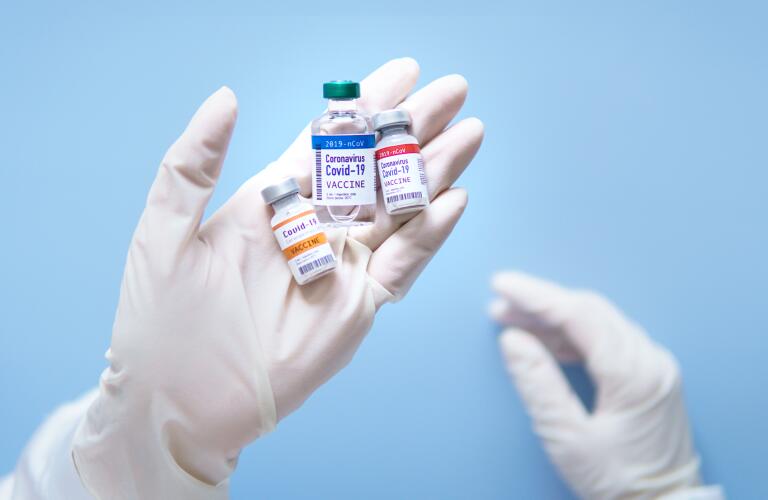 "The light at the end of the tunnel" is a common phrase these days, as the country has three COVID-19 vaccines authorized for emergency use by the FDA (U.S. Food and Drug Administration). Two of the top six vaccines—Pfizer-BioNTech and Moderna—were issued "emergency use authorizations" (EUAs) in December 2020, and a third vaccine from Janssen Pharmaceuticals was authorized in late February 2021. The other three vaccine contenders are close behind.
In November 2020, Pfizer-BioNTech announced the results of an independent analysis of their BNT162b2 vaccine phase III trial that showed it is safe and 95% effective in preventing COVID-19. (In June 2020, the FDA told drug makers the threshold is 50% effectiveness.) The vaccine is 90% effective in "real-world" conditions; that is, in people outside of the clinical trial. It is one of the top COVID-19 vaccines in the country, authorized for people age 12 and older.
The Pfizer-BioNTech vaccine is an mRNA vaccine, which uses genetic material known as messenger RNA (mRNA) encoding the virus's spike protein (S protein) to stimulate the immune system against the novel coronavirus. The two-injection vaccine works in both young and old trial volunteers. The upper limit of how long immunity will last is not clear; however, available research suggests protection from COVID-19 may last a year or longer.
Initially, vials of the mRNA vaccine needed to be stored at subzero temperatures (-112ºF to -76ºF) to remain effective, making transportation and storage an added challenge. However, the FDA recently announced the vaccine can be stored in a standard freezer (0°F) for two weeks.
Moderna also uses mRNA in its vaccine. The vaccine mRNA-1273 is a joint project between Moderna and the NIAID (National Institute of Allergy and Infectious Diseases). It entered phase I trials back in May 2020 and quickly moved through phase II and III trials.
The Moderna mRNA-1273 vaccine was 94.5% effective at preventing COVID-19 in the phase III clinical trial with 30,000 volunteers. Of the 95 cases of COVID-19, 90 occurred in the placebo group and 5 occurred in the mRNA-1273 group. Eleven cases were severe, and all occurred in the placebo group. The Moderna vaccine blocks viral infection as well, and the vaccine is 90% effective in real-world conditions. The U.S. government is paying for 200 million doses of the Moderna vaccine, which is authorized for people age 18 and older.
Like the Pfizer-BioNTech mRNA vaccine, the Moderna vaccine can be stored in a standard freezer, the type available at most medical offices and pharmacies.
Janssen—part of Johnson & Johnson (J&J)—uses the S protein gene in an inactivated cold virus to make their vaccine candidate Ad26.COV2.S. It's the same technology in their Ebola vaccine currently in use in the Democratic Republic of Congo. Unlike the other vaccines, the Janssen vaccine requires only one dose and can be stored in a standard refrigerator.
Janssen started phase I/II trials in June 2020 and began a large phase III trial with 40,000 participants in September 2020. Phase III clinical trials in humans showed the vaccine is safe and, overall, 66% effective in preventing moderate to severe COVID-19 after the single-dose vaccination. The vaccine is 85% effective in preventing severe COVID-19 and complications requiring hospitalization.
FDA authorized the vaccine in February 2021 for people age 18 and older. Janssen will supply 100 million doses.
Some people who received the J&J vaccine developed a rare but serious type of blood clot, combined with low platelet count, within three weeks of vaccination. The CDC and FDA paused J&J vaccinations April 13, 2021. After a thorough review, they lifted the pause. The J&J vaccine now comes with a warning about the remote chance of developing blood clots and low platelet count 1 to 2 weeks after vaccination. Most people who developed blood clots and low platelet count were females between ages 18 and 49 years.
The AZD1222 vaccine (Vaxzevria) also uses the coronavirus S protein gene in an inactivated common cold virus to stimulate the immune system. Based on its U.S. phase III clinical trial, the vaccine is 76% effective.
The U.K. authorized the vaccine for emergency use based on prior phase III trials in the U.K. and other countries. Dozens of other countries are also administering the AstraZeneca vaccine, but the U.S. has not authorized it for emergency use. Similar to the Janssen/J&J COVID-19 vaccine, there is a link between life-threatening blood clots occurring within two weeks of AZD1222 vaccination, as reported by the European Medicines Agency (equivalent to the U.S. FDA). This adverse event is very rare—222 cases reported out of 34 million people vaccinated across Europe and the U.K.—but some cases have been fatal.
The company is equipped to manufacture 2 billion doses. The AstraZeneca/Oxford vaccine only requires refrigeration for storage and costs less than other vaccines.
GlaxoSmithKline (GSK) is the world's largest vaccine maker. It teamed up with another vaccine giant, Sanofi, to make a COVID-19 vaccine. They are behind the other top contenders as far as time goes, but they are catching up. Their vaccine candidate triggered a strong immune response in all adult age groups in the phase II trial and is about to begin a global phase III trial. Vaccine authorization may occur by the end of 2021.
What they lack in time compared to the others, they may make up in potency. Their candidate is a viral protein-based vaccine with a vaccine adjuvant, similar to the annual flu shot. The adjuvant essentially enhances the immune response. The idea is to make a stronger vaccine called an adjuvanted vaccine. A stronger immune response could lead to herd immunity sooner.
Importantly, Sanofi-GSK are testing two different vaccine formulations: One vaccine targets the older, more common circulating SARS-CoV-2 strain; the other targets the variant (B.1.351) that originated in South Africa.
Sanofi-GSK have also partnered with the U.S. government and received $2.1 billion for manufacturing funding. Like other such agreements, this one guarantees 100 million doses for the United States. Sanofi has also made deals with the European Union, Canada, and COVAX, an international coalition to provide equitable worldwide distribution of COVID-19 vaccines.
Novavax's vaccine, NVX-CoV2373, is also an adjuvanted protein-based vaccine. Vaccination requires two doses spaced 21 days apart. In Novavax's U.S. and Mexico phase III clinical trial, with about 30,000 participants ages 18 and older, the vaccine was 90% effective against COVID-19 and 100% effective against moderate and severe COVID-19. There were 77 total cases of symptomatic COVID-19: 63 in the placebo group and 14 in the vaccine group, all of which were mild. Common vaccine side effects included injection site pain, headache, muscle pain, and fatigue.
The trial was conducted at a time when the most common circulating SARS-CoV-2 strain in the U.S. was the Alpha variant, initially known as B.1.1.7. January 2021 results from an earlier phase III trial, conducted in the U.K. at a time when Alpha was causing most infections, showed the vaccine was 96% against the original virus strain and 86% against Alpha. The vaccine was about 49% effective against the beta variant, first discovered in South Africa. Its potency against other variants of concern, delta and gamma, is not yet known.
Similar to the other vaccines (except for Pfizer-BioNTech), Novavax has an agreement with the U.S. government to provide 100 million doses upon its EUA, which may come in September 2021. A trial involving younger people is ongoing.
Here are some of the other candidates in the works in the United States and around the world:
Altimmune developed an intranasal COVID vaccine, which is in a phase I trial.

Applied DNA Sciences and Takis Biotech have five potential vaccine candidates, with some entering human clinical trials in 2021.

CureVac is working with GlaxoSmithKline on a "next generation" mRNA vaccine to help combat multiple COVID-19 variants in one vaccine.

Imperial College London is formulating vaccines with the ability to rapidly respond to new and future strains of the COVID-19 virus.

Medicago and GlaxoSmithKline (GSK) began a phase II/III trial of a plant-derived coronavirus vaccine. Early results show the vaccine triggers a good immune response. Antibodies from vaccinated individuals were 10 times stronger than those from people recovering from COVID-19.

Sanofi and GSK started their S-protein vaccine in clinical trials and hope to have a licensed vaccine in the second half of 2021. Sanofi has a second vaccine in clinical trials, in partnership with Translate Bio.

Symvivo is currently in clinical trials of its oral vaccine candidate, which is created with probiotic bacteria.

Vaxart started clinical trials with its oral COVID-19 vaccine. Vaxart's later start to clinical trials has allowed the company to re-engineer their vaccine to potentially make it protective against emerging COVID-19 strains.
Was this helpful?