The J&J Vaccine for COVID-19: What to Know
Was this helpful?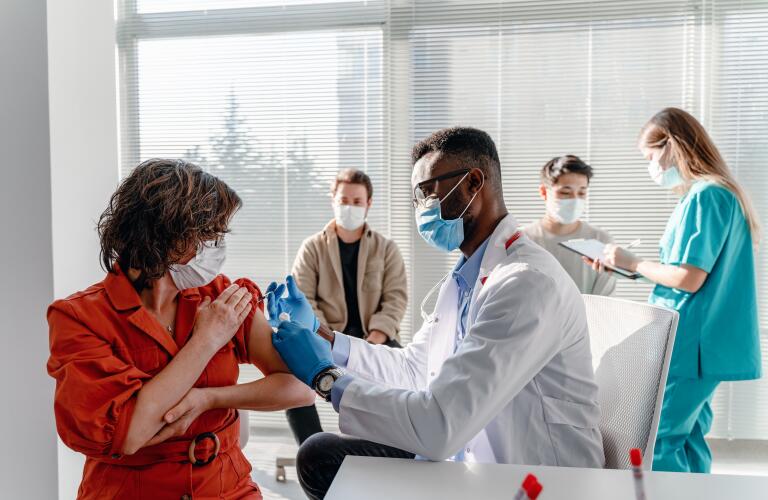 About 15 million people have received the Johnson & Johnson (J&J) COVID-19 vaccine since the U.S. Food and Drug Administration (FDA) first authorized the single-shot vaccine on February 27, 2021. The J&J vaccine (researched and developed by Janssen, a J&J pharmaceutical company) was a huge win because the vaccine was easy to store and you only needed one shot to be fully vaccinated, in contrast to the two-shot regimen for the two other authorized vaccines at the time—Moderna and Pfizer-BioNTech. However, there were significant bumps in the road that slowed its uptake: Only about 8% of the roughly 170 million fully vaccinated individuals in the United States have received the J&J vaccine. Here's what you need to know about the J&J vaccine, including how it's made, J&J vaccine safety and effectiveness, and the J&J booster shot.
The J&J vaccine is a "viral vector vaccine." It delivers a harmless version of a different virus—that's the vector—containing a genetic code that makes part of a COVID-19 virus protein. When injected into your arm, the vaccine teaches your body to recognize and fight the virus if you are exposed to it later. A COVID-19 vaccine made by AstraZeneca, which has been in use in other countries, uses a similar vector approach.
The Moderna and Pfizer-BioNTech vaccines use a different vaccine technology known as mRNA. The vaccines contain the genetic code of the same COVID-19 virus protein, but the code is in mRNA molecules instead of a viral vector. Your body "reads" the mRNA to make the protein and, like with the viral vector, the protein triggers an immune response that protects you from getting COVID.
All vaccines help the body create cells with "memory" of how to fight a particular virus in the future, and none of the vaccines in the U.S. can give you COVID-19.
The initial phase III trial—conducted in the U.S., South Africa, and Brazil—showed the vaccine is safe and, overall, 66% effective in preventing asymptomatic to moderate COVID-19, 85% effective in preventing severe disease, and 100% effective in preventing COVID-19 hospitalization and death. (Efficacy in the U.S. alone was slightly higher (72% vs. 66%).
From more recent, "real-world" data, covering a time when the more infectious Delta variant was dominating U.S. cases, the vaccine is 79% effective against COVID-19 infections and 81% effective against COVID-19-related hospitalization and death. Although the same study determined immunity with the J&J vaccine is strong and long-lasting—up to eight months post-vaccination, Americans are still drawn to the more effective Moderna and Pfizer-BioNTech vaccines: In a different study looking only at COVID-19 Delta-related hospitalizations, the J&J vaccine is 71% effective compared to Pfizer's 88% and Moderna's 93%.
Along with Moderna and Pfizer, J&J/Janssen has investigated whether a booster dose might be necessary. They have presented evidence to the FDA that protection against COVID-19 increases to 96% after J&J vaccine recipients receive a J&J booster shot. On October 20, 2021, the FDA authorized the J&J booster. J&J vaccine recipients are eligible to receive a second dose at least two months after the primary dose.
Another hurdle to adopting the J&J vaccine is its safety profile, although the observed safety events are rare and do not outweigh the benefit of COVID-19 vaccination with the J&J vaccine for most people.
Less than two months after the J&J vaccine was authorized, the FDA and the Centers for Disease Control and Prevention (CDC) announced that six women between the ages of 18 and 48 had a serious blood clotting reaction, likely tied to the J&J vaccine. The FDA and CDC announced a "pause" in administering the J&J COVID-19 vaccine while they researched all blood clot reports. Although J&J vaccinations resumed 10 days later, it's important to know the risk of a serious reaction after receiving the J&J vaccine. The AstraZeneca vaccine is also linked to blood clots, primarily in women under 60. Experts theorize the clots are a reaction to the vector form of vaccine.
Like all vaccines, the J&J COVID-19 vaccine was investigated thoroughly for safety before emergency approval by the FDA. During the trials, experts studied the vaccine's effects in a double-blind, placebo-controlled trial in some 40,000 people. The most common reactions were mild to moderate pain at the injection site, headache, fatigue, and muscle pain, most commonly in people under 60. J&J noted one serious reaction of hypersensitivity, one case of a blood clot in the brain in a 25-year-old man, and one case of another kind of serious clotting disorder in a 59-year-old woman.
After reports of unusual blood clots tied to the J&J vaccine, the CDC and FDA paused J&J vaccinations and a vaccine advisory panel investigated these and other cases. From February 27 through April 21, there were 17 confirmed cases of women who developed unusual blood clots with a low platelet count after receiving the J&J vaccine. The new condition is called thrombosis with thrombocytopenia syndrome (TTS), which occurred in these women 6 to 15 days after being vaccinated. Most of these women developed a cerebral venous sinus thrombosis (CVST), a rare type of blood clot in the brain. Think of the cavernous sinus as a major crossroads inside the brain. If a blood clot forms there can be very serious neurologic consequences. Sadly, three deaths after vaccination have been attributed to CVST.
Each year, typically, about one person in a million develop CVST with low platelets, not related to the vaccine. CVST is a rare form of stroke that occurs when a blood clot (thrombus) prevents blood from draining out of the brain. The blood cells can rupture, leaking blood into the brain tissue. Platelet cells are instrumental in helping blood clot when we cut ourselves or have an injury that bleeds; but, even with a low platelet count, clotting can still occur. (CVST is a possible complication of COVID-19, occurring at a rate of about 5 to 6 cases per million infections.)
In the case of the AstraZeneca vaccine, researchers identified a protein, known as the platelet factor 4 (PF4) antibody, in patients who developed CVST and thrombocytopenia. The antibody was already known to cause an autoimmune clotting disorder in some people who were given the blood thinner heparin and developed a CVST. The symptoms can also occur in people who are not given heparin. The researchers suspect the PF4 antibody is linked to CVST and low platelet counts in the vaccine recipients.
Based on safety monitoring of the J&J vaccine and the potential number of COVID-19 hospitalizations and deaths prevented, its benefits outweigh its potential harm. CDC recommends that every eligible person receive a COVID-19 vaccine, including the J&J COVID-19 vaccine. However, "Women younger than 50 years old should especially be aware of the rare risk of blood clots with low platelets after vaccination." The FDA's Emergency Use Authorization of the J&J vaccine includes a warning about TTS, particularly for women younger than 50.
Heparin is a standard treatment for blood clots to thin the blood and help prevent new clots. However, an important note is that heparin is very dangerous and may be fatal when administered to patients with CVST combined with low platelet count.
Because TTS is so rare, public health officials are working to get the word to physicians and healthcare workers: If they have a patient who received the J&J vaccine and shows TTS or other blood clot symptoms, they should administer blood thinners other than heparin, as well as intravenous immune globulin.
The main symptoms of CVST are:
Other than being female under the age of 50, there are no confirmed risk factors for developing TTS, but experts hypothesize it may be an autoimmune response to the vaccine. If you received the J&J vaccine and develop these symptoms, which typically develop within three weeks after vaccination, you should contact your healthcare provider immediately or seek emergency care.
Adverse events reported after the vaccine was used following the emergency use authorization include Guillain-Barré syndrome (GBS), an autoimmune disorder that affects the nerves. Vaccination in general is a known, although rare risk factor for GBS. There is an increased risk of GBS in the 42 days following vaccination with the J&J vaccine.
Anyone aged 18 or older may receive the single-shot J&J vaccine. It is 71% effective in preventing COVID-19-related hospitalization, including against the highly infectious Delta variant. Many public health experts state the benefits of the J&J vaccine and its role in generating herd immunity outweigh the potential risk of TTS or GBS. If you are interested in getting the J&J vaccine but concerned about its safety profile or effectiveness, talk with your doctor about your personal benefits and risks.
Based on the number of people who received the J&J vaccine, TTS is extremely rare (seven events per million doses administered) but possible. It is also possible that more cases may develop. Any new reports of blood clots tied to the J&J vaccine will be investigated and the public informed.
With virtually any medical treatment, there is some degree of risk of side effects. When the polio vaccine was introduced in the 1950's, saving countless children's lives, there were manufacturing complications that led to children contracting polio from the vaccine. The vaccination drive was paused. The problems were cleared up, the vaccine program continued, and polio was eradicated from the United States as of 1979.
The COVID-19 pandemic can be ended if enough people get vaccinated, protecting your health and the health of your family and community.

Was this helpful?