COVID-19 Vaccines in Kids: Benefits vs. Risks
Was this helpful?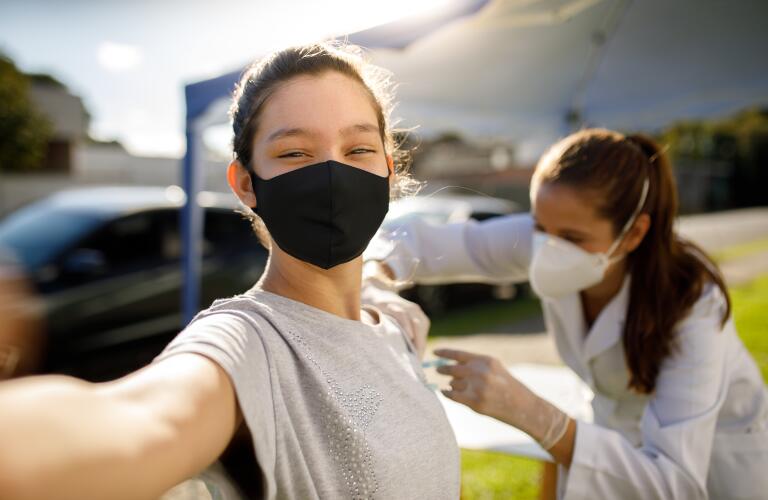 COVID-19 vaccines have been available for children ages 12 to 15 since May 2021, when the U.S. Food and Drug Administration (FDA) granted emergency use authorization (EUA) for the Pfizer-BioNTech COVID-19 vaccine with this age group. The Pfizer-BioNTech vaccine has been available for children ages 16 and older since late 2020.
The safety record for COVID-19 vaccines in children is very good—that's why the FDA authorized the vaccine for kids ages 12 to 15 and is currently considering authorization for younger children. However, reports of heart inflammation after COVID-19 vaccination—mostly in adolescent males—have parents concerned.
Understanding the benefits and risk of COVID-19 vaccination will help you make an informed choice.
In clinical trials, the Pfizer-BioNTech COVID-19 vaccine was 100% effective in preventing infection with SARS-CoV-2 (the virus that causes COVID-19) in children ages 12 to 15.
A lot of people think COVID-19 is a mild illness in children, but that's not necessarily true. Although most kids experience mild cases, others become severely ill. According to the American Academy of Pediatrics, at least 344 children in the United States have died of COVID-19, as of July 8, 2021 (based on 43 states). Globally, more than 4,000 children have been diagnosed with multisystem inflammatory syndrome (MIS-C) related to COVID-19 infection. MIS-C is a serious medical problem characterized by inflammation of the heart, lungs, kidneys, brain, skin, eyes or digestive organs.
Preventing COVID-19 infection via vaccination can prevent MIS-C and post-COVID syndrome (also called "long-haul COVID"), which can cause lingering fatigue, shortness of breath, joint, and chest pain that can interfere with a child's ability to participate in daily activities. COVID-19 vaccination can help children resume and avoid missing activities, such as school and sports, due to COVID-19.
Some places do not require people who are vaccinated to wear masks. And under current CDC guidelines, a fully vaccinated child who encounters someone with COVID-19 does not need to quarantine, so they can continue to attend school, play sports, and socialize (unless they develop symptoms).
All vaccines have side effects. Most are harmless and resolve within a few days. The side effects most often experienced by children who receive the COVID-19 vaccine are:
Pain, redness, or swelling at the injection site

Fatigue

Muscle or joint pain
Some people don't experience any side effects. Some only experience pain or redness at the injection site. Other people feel lousy for a day or so after vaccination. According to the Mayo Clinic, side effects in children typically resolve in 1 to 3 days. Side effects are more likely to occur after the second dose of COVID-19 vaccine than the first. However, some children develop side effects after the first dose, and some people experience side effects after both doses.
Serious health problems following COVID-19 vaccination are rare. A few people have experienced anaphylaxis, or a serious allergic reaction, after vaccination. In the clinical trial that tested the Pfizer-BioNTech vaccine in children ages 12 to 15, there were no reports of anaphylaxis or serious allergic reactions. According to the Asthma and Allergy Network, children who have an allergy to polyethylene glycol (PEG) or any other ingredient in the Pfizer-BioNTech vaccine should not get the vaccine. However, it is safe for children with food, insect, medication, latex and environmental allergies to receive the Pfizer-BioNTech COVID-19 vaccine.
Some people who have previously received dermal filler injections have experienced swelling in the area that received the filler after getting a COVID-19 vaccination. If your child has ever had a filler injected into their face (to treat a scar, for instance), they may experience swelling a day or so after receiving a COVID-19 vaccine. This side effect is rare and can be managed with medicine.
Inflammation of the heart muscle (myocarditis) or the tissue surrounding the heart (pericarditis) is another rare side effect of COVID-19 vaccination.
As of July 1, 2021, approximately 1,000 cases of myocarditis and pericarditis have been reported after COVID-19 vaccination with the Pfizer-BioNTech or Moderna vaccines These cases most commonly occurred in male teenagers and young adults, at a rate that is higher than expected for this age group.
Most of the cases of vaccine-related heart inflammation have been mild; however, some people required hospitalization. To date, there have not been any confirmed deaths due to COVID-19 vaccination.
Healthcare providers note that the risk of heart damage from COVID-19 infection is greater than the risk of heart damage from vaccination.
Your healthcare provider can help you weigh the risks and benefits of COVID-19 vaccination for children.
Was this helpful?