COVID-19 Vaccine Safety in Pregnancy: What to Know
Was this helpful?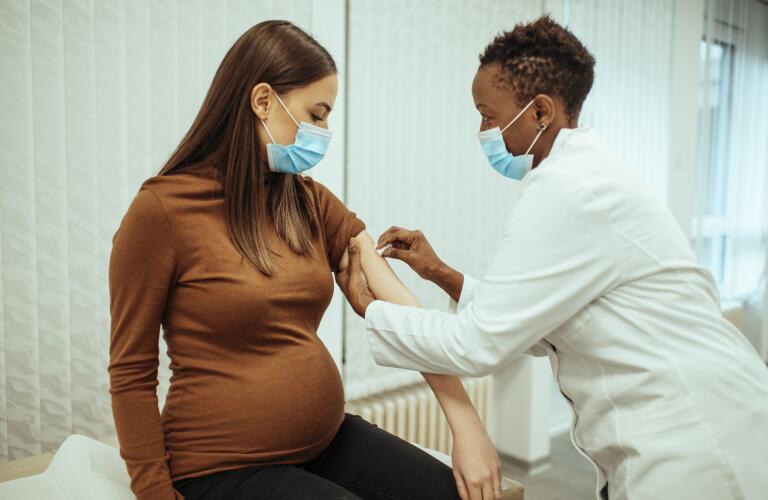 The 2020 COVID-19 vaccine clinical trials did not specifically include pregnant individuals, but women who are pregnant or lactating may receive the COVID-19 under its emergency use authorization (EUA). Immunization advisory groups saw no obvious safety concerns for pregnant and breastfeeding women in receiving the vaccine, based on the trial (some participants were unknowingly pregnant at the time of vaccination), animal studies, and how vaccines work. Combined with the fact that pregnancy was a known risk factor for severe COVID-19, as well as risks of infection to the newborn, pregnant women were encouraged to get the vaccine.
Historically, vaccines have not posed a threat to the pregnancy or the baby. But what is the safety record for the COVID-19 vaccine in pregnant women, and is it effective? Mounting evidence shows that the COVID-19 vaccine safety record in pregnant women is very good, which prompted the American College of Obstetricians and Gynecologists (ACOG) and many other organizations to release a consensus statement strongly urging pregnant and lactating women to get vaccinated. Here's what you need to know to make an informed decision for you and your family.
Pregnancy increases the risk of developing severe COVID-19, which may require hospitalization and a ventilator, and of dying from COVID-19. It also increases the risk of preterm birth. Early on, the Centers for Disease Control and Prevention (CDC), as well as immunization and vaccine safety experts and ACOG stated the vaccines should be available to pregnant women. They advocated for vaccination, while recognizing it is a personal decision to make with your provider's input based on available safety information.
When the mRNA vaccines were authorized for emergency use, thousands of pregnant women—mostly healthcare workers—voluntarily received the COVID-19 vaccine, starting in December 2020. Since then, it's estimated that more than 300,000 pregnant women have received the COVID-19 vaccine. With time, researchers discovered the mRNA vaccines reduced the risk of infection in pregnant women. However, the vaccines are known to be less effective against the Delta variant.
Much of the information about COVID-19 vaccine safety in pregnancy comes from observational, but published studies of women who received the vaccine outside of a trial and who volunteered to register in vaccine pregnancy registry.
V-safe is a voluntary surveillance system that the Centers for Disease Control and Prevention (CDC) initiated for the COVID-19 vaccines. It's a smartphone app that sends text messages to assess the general health status of the vaccinated individual. Any vaccinated person is eligible. If someone is pregnant, the CDC invites them to participate in the v-safe COVID-19 Vaccine Pregnancy Registry. The registry contacts participants several times throughout pregnancy and up to three months after delivery. The CDC analyzed data from the COVID-19 Vaccine Pregnancy Registry and the Vaccine Adverse Event Reporting System (VAERS). Their findings are helping women make informed choices about COVID-19 vaccination and pregnancy.
An early report on v-safe data, when only the Modern and Pfizer-BioNTech mRNA vaccines were available, showed that pregnant women experience similar COVID-19 vaccine side effects as non-pregnant v-safe participants. Pregnant women reported injection site pain more frequently than non-pregnant women. Conversely, fatigue, headache, body aches, and other side effects were reported more frequently among non-pregnant than pregnant women. More recent data confirm the early results on side effects.
The v-safe pregnancy registry connected with about 3,500 participants, most of whom were healthcare personnel (the group prioritized for the vaccine rollout) and non-Hispanic white. The CDC interviewed 827 women with completed pregnancies; these women were vaccinated in the third trimester.
The following pregnancy outcomes are based on interviews and other requested medical information from the 827 women vaccinated in the third trimester. There were:
712 live births (86.1%, of which 98% were vaccinated in the third trimester). Of the 712 live births, 9.4% were preterm, 3.2% were small for gestational age, and 2.2% had major congenital anomalies.
104 miscarriages (12.6%, of which 92% occurred before 13 weeks gestation)
0 neonatal deaths (when a baby dies within 28 days of birth)
The percentages of live births and each adverse outcome (miscarriage, stillbirth, preterm, etc.) are similar, on average, to typical pregnancy outcomes published before the COVID-19 pandemic. The CDC is following the health of the women (and their babies) vaccinated in the second and third trimesters (about 1,040 and 1,700 respectively).
A more recent analysis of 2,500 women who were vaccinated in the first trimester (before 20 weeks of pregnancy) also did not show an increased risk of miscarriage compared to normal miscarriage rates. This information, combined with the earlier data, show no obvious warning signs that COVID-19 mRNA vaccination is harmful during pregnancy or the neonatal period. There is also no evidence that any vaccine, including the COVID-19 vaccines, cause fertility problems in women or men.
If you have received a COVID-19 vaccine and you are pregnant or become pregnant within 30 days of being vaccinated, consider enrolling in v-safe. The information the registry collects is critical to helping people and their healthcare providers make informed decisions about COVID-19 vaccination during pregnancy. Participation is voluntary, and you may opt out at any time.
The Vaccine Adverse Event Reporting System (VAERS) began in 1990 as a "passive" program to detect vaccine safety problems. Healthcare providers, patients, and parents may report any adverse event, including side effects and reactions encountered after receiving a vaccine. Healthcare providers are required (by law) to report certain adverse events, such as a severe allergic reaction, after administering a vaccine.
Alongside the v-safe analysis, 221 events involving COVID-19 vaccinations during pregnancy were entered into VAERS, as of late June. About one-third (29.9%) of the reports involved pregnancy- or neonatal-specific adverse events, including:
46 miscarriages (37 first trimester; 2 second trimester; 7 unknown trimester)
3 premature rupture of membranes
Hospital researchers studied a small number of pregnant or breastfeeding women (as well as a non-pregnant group) after receiving either of the mRNA COVID-19 vaccines (Moderna or Pfizer-BioNTech). The women produced high levels of protective antibodies against the COVID-19 virus (SARS-CoV-2). High antibody levels were also present in breastmilk and umbilical cord blood, showing that the protective antibodies cross the placenta. This suggests that maternal vaccination provides some level of protection to the newborn. Antibody levels induced by COVID-19 vaccination were higher than levels in pregnant women previously infected with SARS-CoV-2.
Healthcare providers recommend certain vaccines during pregnancy to protect the health of the mother and baby. These include the flu vaccine (not the nasal flu vaccine, which is live) and the Tdap vaccine for whooping cough, diphtheria, and tetanus. Studies show these vaccines are safe during pregnancy.
With other vaccines, especially a "live" vaccine like chickenpox or MMR, providers recommend vaccination at least a month before conception or waiting until after delivery. This is because the vaccines contain a live, although inactivated form of the virus, which is a potential risk to the developing fetus. The COVID-19 vaccines authorized for emergency use in the United States do not contain viruses. Rather, they contain a small part of the virus to get the body to generate a protective immune response against COVID-19.
The CDC, ACOG, and other professional organizations released a strong consensus statement urging pregnant and lactating women to get the COVID-19 vaccine. If you are pregnant and have questions or concerns about COVID-19 vaccination, talk with your healthcare provider about your personal risk factors for COVID-19 and the COVID-19 vaccine safety record. Ongoing vaccine trials continue to study COVID-19 vaccine safety and effectiveness in pregnant and lactating women.

Was this helpful?