COVID-19 Vaccine Breakthrough Infections: What to Know
Was this helpful?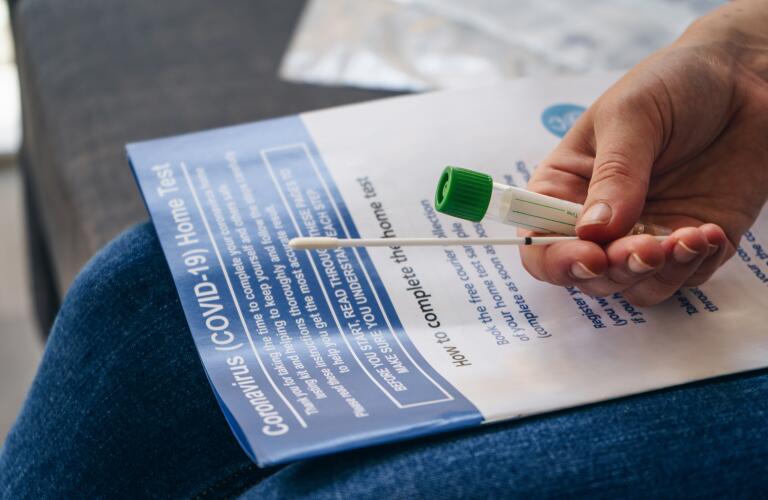 About 470 Massachusetts residents who attended Fourth of July 2021 celebrations in Provincetown, Mass., were later diagnosed with COVID-19—even though 74% of them were fully vaccinated (four with illnesses severe enough to require hospitalization). This is just one example of a rising number of COVID-19 infections in vaccinated people being reported lately. Should you be concerned? And what can you do to prevent so-called COVID-19 "breakthrough" infections?
A breakthrough infection occurs when the coronavirus escapes the anticipated protection afforded by vaccines and causes you to contract COVID-19. Infections after vaccination have always been possible, even expected, in about 5% of vaccinated people, based on clinical trial and post-trial data. However, the newer, more infectious Delta variant of the COVID-19 virus is creating more breakthrough infections than anticipated. (A variant is a slightly different version of the virus, caused by one or more mutations.) Public health officials tabulate the number of new cases based on positive COVID-19 test results, not on symptoms or need for hospitalization. The majority of new breakthrough cases are asymptomatic.
The good news is that, so far, current vaccines still protect most people from getting so sick that they wind up in the hospital or lose their life. But, depending on how broadly COVID-19 is spreading in your area, you may now need to take additional steps to protect yourself and your loved ones from getting infected, such as wearing masks. That's because the Delta variant can cause even vaccinated people to transmit, or spread the virus if they get a breakthrough infection—even if they don't have symptoms, which wasn't likely with previous versions of the virus. Also, breakthrough infections, even if mild, may lead to persistent symptoms ("long Covid") in some people.
How often do breakthrough infections happen in the United States? According to the CDC, during July's high incidence rates, 35,000 symptomatic infections were occurring weekly among 163 million vaccinated individuals (case counts through July 24, 2021). That number may seem high, but it is still eight times lower than the rate among unvaccinated individuals.
Before this information was revealed in late July, the CDC had—starting in May—transitioned from monitoring all breakthrough cases to reporting only serious ones that that resulted in hospitalization and death, not mild or asymptomatic cases (though it continues to analyze trends in state-reported data). The switch in data collection allowed the CDC to focus on cases of most concern.
From December 2020 through August 23, 2021, among 171 million vaccinated people, the CDC has received these reports from 49 U.S. states and territories:
8,987 patients with COVID-19 breakthrough infections hospitalized (25% were asymptomatic or not related to COVID-19, and 70% were 65 or older)

2,063 patients died (21% were asymptomatic or not related to COVID-19, and 87% were 65 or older)

Before the CDC stopped tracking mild and asymptomatic cases in May, they reported, as of April 21, 2021, there had been a total of 10,262 breakthrough infections in 46 U.S. states and territories. Most of these cases were asymptomatic (only 27% of people had symptoms); 10% of these breakthrough patients (995 people) wound up in the hospital, and 2% (160 people) died.
The CDC notes the number of breakthrough infections is an undercount, since many vaccinated, yet infected people did not seek testing for mild or no symptoms. State reporting is also voluntary.
Some states and counties have continued to report known breakthrough infections of all types (mild as well as severe). For example, in Los Angeles County, 20% of new COVID-19 cases reported in June were among vaccinated residents, which officials attribute to the Delta variant. This is a rise from March, when vaccinated people accounted for only 2% of all Los Angeles County infections—and when the Delta variant represented less than 1% of U.S. cases. However, severe illness among vaccinated Los Angeles County residents remains low, health officials say.
From January 1, 2021 through July 2021, breakthrough COVID-19 cases (a case is a COVID-19 diagnosis reported to public health officials), hospitalizations, and deaths have been "extremely rare events," concluded the Kaiser Family Foundation (KFF) in a July 30 article. KFF analyzed COVID-19 cases data from the 25 states that publicly report it. At least 92% of COVID-19 cases, 95% of COVID-19 hospitalizations, and 97% of COVID-19 deaths were among unvaccinated or partially vaccinated individuals. Overall, the rate of breakthrough COVID-19 cases among vaccinated people was less than 1%, and the rate of hospitalization was less than 0.1% (not all hospitalizations and deaths are due to COVID-19, even if the patient tests positive). Keep in mind, these rates do not represent the current rate of breakthrough infections driven by the Delta variant, since the data covers a time when the Delta variant was not yet circulating in the U.S.
The Delta variant, also known as B.1.617.2, was first identified in December 2020 in India. The variant is in more than 100 countries. It hit the U.S. in March and is now the dominant strain.
The Delta variant "is one of the most infectious respiratory viruses we know of, and that I've seen in my 20-year career," CDC director Dr. Rochelle Walensky said in July (2021). The variant causes people who catch it to have about 1,000 times more virus particles in their noses than previous versions, which they may carry for 7 to 10 days (compared to 2 to 3 days with previous versions of the virus). This means they can more quickly and easily infect others.
Delta has been estimated to be 60% more contagious than an earlier variant, called Alpha (also known as B.1.1.7), which itself was 50% more contagious than the original virus that hit the U.S. after being identified in Wuhan, China, in December 2019.
Vaccine effectiveness against Delta
Because the Delta variant is so infectious, a single dose of mRNA vaccine is less effective against it than against previous versions of the virus. A Public Health England study found that one dose of the Pfizer-BioNTech vaccine brought about 33% protection against Delta vs. 50% against Alpha. However, two doses of an mRNA vaccine remained quite effective, preventing Delta infection in about 80% of people, while fighting off symptomatic infections in about 88% of cases and preventing hospitalization in 96%.
Fortunately, vaccinated people who develop a breakthrough Delta infection appear to be infectious for a shorter period of time compared to unvaccinated people. That means vaccination is helping curb the spread as well as prevent illness and death.
Moderna's vaccine, in most studies, is similar to the Pfizer vaccine in effectiveness against the Delta variant, especially against severe illness. Less research is available about the single-shot J&J vaccine, though a recent, non-peer-reviewed study found the J&J vaccine provided less protection against Delta than the Pfizer and Moderna vaccines. J&J said its research shows long-lasting and robust protection vs. the Delta variant.
A recent study from Israel found that some vaccine protection may be waning against Delta. Israeli health officials reported that the Pfizer vaccine was only 39% effective at preventing infection in late June and early July 2021, compared to 95% from January to early April 2021 (before Delta became dominant). However, the vaccine continues to provide strong protection—more than 90%—against severe disease.
Overall, says U.S. Surgeon General Vivek Murthy, vaccines continue to protect Americans from becoming seriously ill. About 97% of those hospitalized are unvaccinated and 99.5% of those who die are unvaccinated. Overall, the risk of hospitalization or death is 10 times lower in vaccinated vs. unvaccinated people, according to the CDC. Vaccination is less protective for at-risk individuals, including nursing home residents and immunocompromised people.
If you have been vaccinated, several strategies can help prevent you from getting a COVID-19 breakthrough infection.
Wear a mask. On July 27, the CDC announced that people who live in areas of high or significant COVID-19 transmission should return to wearing masks in public, indoor places—even if they are vaccinated. (To find out if your area has such high transmission rates, you can view a color-coded CDC map at Covid.cdc.gov.) The CDC notes that people who are vaccinated and become sick can still transmit the virus to others, so it's important to wear a mask to protect not just yourself but those around you, especially if you are in an area with low vaccination and high transmission rates. The CDC also recommends schoolchildren wear masks.

Avoid crowded, indoor spaces. An alternative to wearing a mask in public, indoor places is to avoid them in the first place. Mass gatherings are more likely than smaller venues to include people from across the country with variable vaccination rates.

Get your second shot. If you've had only one shot of the Pfizer or Moderna COVID-19 vaccine and have been putting off getting your second dose, now's the time to get back in and get fully vaccinated. A single dose of the vaccine does not stop the Delta variant very well, unlike previous versions of the SARS-CoV-2 virus.

Get a booster shot. The CDC recommends a third shot of either the Pfizer or Moderna mRNA vaccine for immunocompromised people. These people may not build the same level of protection after two shots of the vaccine, compared to non-immunocompromised people. (Studies show that immunocompromised people make up a significant proportion of breakthrough cases.) The U.S. Food and Drug Administration also authorized a third dose for other vaccinated people, to be administered at least eight months after they receive their second dose. (Booster shot availability is slated to begin in late September.) The FDA has not yet authorized a booster shot of the Johnson & Johnson vaccine.

The COVID-19 situation can be confusing, with new variants emerging, along with apparently conflicting advice from experts. But, that reflects the "moving target" of COVID-19. The bottom line with breakthrough infections is:
They remain relatively uncommon, compared to the number of people fully vaccinated.

They are unlikely to put you in the hospital, or be fatal.

They are more likely in people who are immunocompromised, including people who take medication that suppresses their immune system. If you are immunocompromised, the CDC recommends getting a third shot of the mRNA vaccine you received initially.

Your best protection against COVID-19, even with the possibility of a breakthrough infection, is to get vaccinated. There is a remote chance of an adverse event from the vaccine, but there is higher risk of a serious health event from COVID-19. If you have questions about vaccines, including which is best for you, consult with your physician or local health department.

Was this helpful?