What Causes Thyroid Disease?
Was this helpful?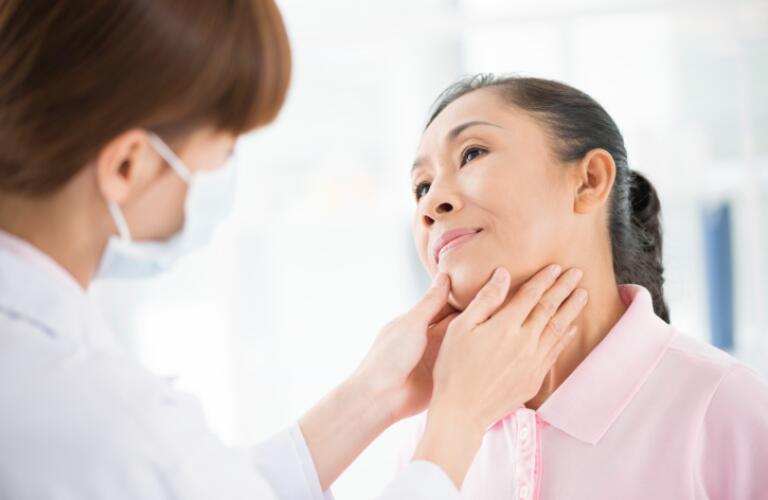 Your thyroid gland is a small gland, maybe two inches in diameter, that spans your windpipe, just below your voicebox. Given its size, perhaps you might think such a small gland couldn't have that much impact on your body.
Nope. Your thyroid affects pretty much all the organ systems in your body. It affects everything from your breathing to your body temperature.
When it's functioning normally, it produces thyroid hormone in adequate levels to regulate your body's metabolism. That is, it helps your body break down the food you eat and then store or use the energy.
But of course, things can go wrong.
When your thyroid gland produces too much thyroid hormone, it causes a condition called hyperthyroidism. Hyperthyroidism speeds up your metabolism, so you might lose weight—but you might also find yourself eating more than usual. Other common symptoms include nervousness or anxiety, trouble sleeping, diarrhea, sweating, getting hot more easily, and irritability. Some people with an overactive thyroid gland also report feeling that their heart is racing.
The primary causes of hyperthyroidism are Graves's disease, which occurs when your immune system makes antibodies that attack your thyroid, and thyroid nodules. However, if you take a dose of thyroid hormone medication that's too large, it can also cause symptoms of hyperthyroidism.
If your thyroid isn't producing enough thyroid hormone and sending it out into your body, you may have what's called hypothyroidism. An underactive thyroid can cause symptoms like muscle pain or weakness, joint pain, depression, dry skin, thinning hair and fatigue. It can also cause you to gain weight and to sweat less than you'd normally do.
Your hypothyroidism could be the result of any of the following causes:
Hashimoto's disease. This autoimmune disorder develops when your immune system attacks your thyroid, causing it to become inflamed.

Inflammation of the thyroid. When your thyroid becomes inflamed, the inflammation can interfere with its ability to produce an adequate amount of thyroid hormone.

Pituitary gland dysfunction. Your pituitary gland directs your thyroid to produce thyroid hormone, so a malfunction can result in lower-than-usual levels.

Certain treatments for hyperthyroidism. If you take too much medicine to address an overactive thyroid gland, you might wind up with the opposite problem.
Thyroiditis develops when your immune system attacks your thyroid, which gets inflamed. As a result, you might experience symptoms similar to either hypothyroidism or hyperthyroidism. A virus or bacterial infection can cause thyroiditis. Radiation and certain types of drugs, notably interferon and amiodarone, can also damage thyroid cells, leading to thyroiditis, according to the American Thyroid Association. Thyroiditis can also develop after a woman has been pregnant, a condition called postpartum thyroiditis
Thyroid nodules are pretty common and can be caused by a fluid-filled cyst or growth of your thyroid tissue. You might have a small thyroid nodule and not even realize it. But if it starts growing, you'll probably be able to feel a lump or swelling near your throat. The good news: more than 90% of thyroid nodules are benign—that is, they're not cancerous or harmful to you.
If you're experiencing symptoms or have other risk factors—age is a risk factor for hypothyroidism, for example—your doctor may want to run some diagnostic tests.
The first step is often a blood test to gauge how well your thyroid is functioning. Several kinds of blood tests are available, but perhaps the most common one is the TSH test, or thyroid-stimulating hormone test. Other tests directly measure your serum levels of the two hormones produced by your thyroid: thyroxine (T4) and triiodothyronine (T3).
Other types of tests that might be useful in determining a specific diagnosis, depending on your symptoms:
Ultrasound: a test that uses sound waves to create an image of the thyroid

CT scan: an imaging test using x-rays and computer technology

Thyroid scan: a type of nuclear medicine imaging test that will provide information about your thyroid's size and position

Radioactive iodine uptake test: a test that evaluates your thyroid's function by measuring how much radioactive iodine your thyroid takes up in a certain amount of time

Fine-needle aspiration biopsy: a test using a needle to remove a sample of cells or fluid to help determine if a nodule is cancerous
It's important to get the right diagnosis, since that can determine the best treatment. For example, if you have an underactive thyroid gland, you may need to take artificial thyroid hormone, while someone with hyperthyroidism would benefit from a medication that reduces the high level of hormones produced by the thyroid.
If you're experiencing symptoms that trouble you, and they're not going away, contact your doctor—especially if you're female or have a family history of thyroid disease, since both are risk factors. A test or two may help determine whether you do, in fact, have one of these types of thyroid disease. And once you have a proper diagnosis, you and your doctor can chart the best course forward.
Was this helpful?