SOCIAL VOICES

The Emotional Side of Thyroid Eye Disease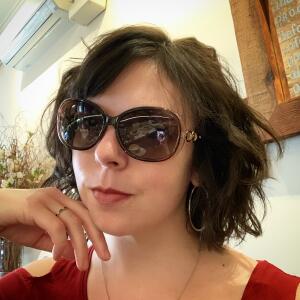 Do you know what it's like to wake up and not recognize yourself in the mirror? To have this happen so often that you forget what you looked like before? Unfortunately, that is the scary reality for many people suffering from thyroid eye disease – like me.
When my thyroid eye disease (TED) symptoms were at their worst, my eyes were dry, red, watery, and painful. On the outside, I experienced eyelid retraction – my upper eyelids had pulled backwards, making my eyes look unusually wide – and the muscles behind my eyes swelled, which pushed my eyes unnaturally and alarmingly forward.
I constantly woke up in the middle of the night, aching with pain from the extreme dryness. Fatigued and walking to work, I looked like I was crying as I constantly dabbed my watering eyes and tried to salvage my nearly-destroyed makeup. I'd show up every morning with the whites of my eyes unnaturally red. However, by far the worst parts of my experience were the changes to the shape of my eyes.
I used to love my eyes, but when thyroid eye disease took control of my life, I couldn't bear to look at myself in the mirror. My already large eyes were huge. It looked like they were going to pop out of my face. I remember my husband holding me while I fell asleep one night crying because my eyes were further forward than my eyebrows. The lid retraction only made it worse. The crease of my eyelids pulled back, leaving me looking like I was staring intently all the time. One eye was affected more than the other, so my face was uneven. I felt like my body was completely out of control, and there was nothing I could do to stop it.
I no longer recognized myself in the mirror. Who was that person whose eyes looked so strained and painful? I stopped using mirrors as much as possible. Photos became incredibly triggering. I untagged myself in several alarming-looking pictures on social media, then began dodging cameras altogether. The more time passed, the more I forgot what I had looked like before my diagnosis, and seeing old photos pop up on my screen became just as triggering as looking in the mirror. It was like pouring salt on a wound when I realized that my phone's facial recognition software thought I was two different people: the me before diagnosis and the stranger after.
Some may read this and think, "But everyone's face changes over time. Why is she being so dramatic?" This is different. I remember reading an article that specifically said TED causes facial disfigurement. Disfigurement. As much as it hurt to read that word, it validated the true trauma I was experiencing on a daily basis.
My face and voice got less expressive as time went on. I realized the more animated my facial expressions were, the more alarming my eyes looked. I found that if I focused on constantly relaxing my eyelids, things didn't appear to be quite as bad. These tricks may have helped me feel a tiny bit better about navigating social interactions, but as an actor and singer, I felt less expressive. I felt grounded and stuck, like a bird that couldn't fly.
I'm happy to say that I'm finally on the other side of multiple surgeries that helped address the pain and physical changes to my eyes. However, contrary to what some may assume, surgery doesn't fix everything. It doesn't reverse the damage. Instead, it helps to make adjustments and create more space for the eyes after the damage has been done. Things are definitely better post-surgery. Thankfully, I'm triggered less frequently, but every day is still difficult. My eyes are still farther forward than they were before TED, and thus the shape of my eye and eyelid have changed. It's surprising how much the eyes can change one's face. I may catch a glimpse of the old me in the mirror occasionally – and dare I say I'm sometimes happy about how I look – but this person staring back at me is still very much a stranger. I'm working on getting to know her.
The emotional journey isn't over. Will I always examine photos and question if my eyes look normal enough? Will I ever be carefree, smiling for the camera with my friends, and not wonder if my eyes look scary? Will I ever feel like me again? As I'm working on getting acquainted with the new me, in the back of my mind there will always be a twinge of anxiety. Thyroid eye disease is a lifelong condition, and there is so much that is unknown. Though I'm currently in the "inactive" phase, my symptoms could resume at any time. Would surgery even be an option again? While there are some risk factors I can avoid, I am largely powerless. Every day I analyze my expression in the mirror, holding my breath and desperately hoping that the person I see in the mirror – the woman I am trying to open my heart to – will stick around.
Was this helpful?