PHYSICIAN VOICES

Meet the Ophthalmologist: Thyroid Eye Disease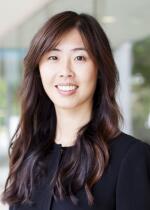 Catherine Y. Liu, MD, is a board-certified ophthalmologist specializing in ophthalmic plastic and reconstructive surgery at UC San Diego's Shiley Eye Institute. In our "Meet the Specialist" series, we highlight the unique perspectives of various medical specialists on the types of patients they see and what they find rewarding and challenging in their daily practice.
We rely so much on our eyes and vision. If you struggle with cataracts, or thyroid eye disease, or even if you've accidentally scratched your eye, you know how loss of normal vision can really slow you down or even prevent you from doing what you need to do every day. I decided to become an ophthalmologist–a doctor who treats diseases affecting the eyes and vision–because the eyes are so important to our everyday functioning. Helping people regain or retain their vision is extremely rewarding and I feel lucky to be able to make a big difference in someone's life.
Ophthalmologists are different from other eye health professionals like optometrists, as we are medical doctors who also perform eye surgery. And as an ophthalmologist with a subspecialty in ophthalmic plastic and reconstructive surgery, I deal primarily with problems affecting the soft tissue and bones surrounding the eye. When I see patients with thyroid eye disease, a condition in which inflammation causes structural changes, pain, and discomfort in the tissues around the eyes, they often have bulging eyes and other symptoms, and it's rewarding to be able to help them with medical and surgical treatment. I've been practicing ophthalmology now for about six years, and I love what I do.
During my time as an undergraduate, I did a lot of biomedical research, which I really enjoyed. One doctor in the lab I worked in was a physician and a PhD research scientist. As I worked closely with him, it became clear that he had the best of both worlds: he could see patients and help them directly every day, while also work on the back-end to do research and make discoveries that improve the way we treat diseases. That really appealed to me, so I decided to pursue the same joint degree, and it was definitely the right fit.
In medical school, we did lots of different rotations so we could explore a variety of specialties. Once I had my ophthalmology rotation, the choice was obvious to me. I knew right away helping people restore their sight was what I wanted to do, and I still look forward to coming in to the clinic every day. Ophthalmology fascinates me because the shape and structure of everyone's eyelids are so unique, so every patient is different. And I love that I can treat a diverse group of people, from kids to seniors, dealing with a wide variety of conditions.
My days vary because I play many roles; I treat patients medically, perform surgeries, and conduct research, on top of teaching medical students, ophthalmology residents, and fellows. I'll usually start my day at 7:30am and see between 20 and 30 patients by mid-day. I'll also spend time consulting with other members of our eye health care team and other specialists such as our radiologists, so we're all on the same page and able to give each patient the best care possible. And I'll take time to make patient phone calls throughout the day as well. Towards the end of the day, I'll sit and review the patient cases I have and take time to teach the ophthalmology residents and fellows in the clinic. I really loved this aspect of learning during my training, so I try to do the same thing now that I'm in the educator's role. Some days of the week I'll perform surgeries and others I'll spend in the lab doing research. I'm definitely busy, but I have a lot of help and most of the time, my job is really fun.
It can be challenging sometimes to find the right doctor, and friends and family often ask me what characteristics they should look for in a potential healthcare provider. I tell them the most important thing, in my opinion, is finding someone you connect with. Ophthalmology is a very specialized field, and a lot of terminology is going to sound foreign and complicated. If your doctor isn't explaining the details to you in ways you can understand, then it's going to be hard to follow their recommendations and treatment plan. Yes, it's important for doctors to be knowledgeable and skilled, but being able to trust and communicate with them is important too, so find someone with whom you can develop a strong relationship.
Was this helpful?