How Telehealth Can Help People With Thyroid Eye Disease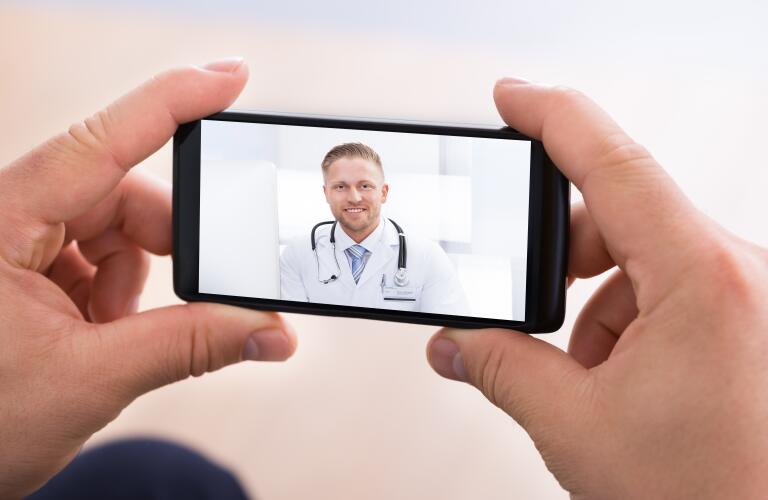 Every year, a million people in the United States are diagnosed with thyroid eye disease, also called TED or Graves' eye disease. It's an autoimmune disorder, usually related to a thyroid problem, that causes your immune cells to attack healthy tissue around your eyes and makes them bulge uncomfortably. Eyelids tend to not close as they should, even during sleep, leading to dry eyes. Telehealth, also called telemedicine or virtual doctor visits, helps people with TED by making access to specialists easier for earlier diagnosis and treatment and support for quitting smoking, a key to symptom control.
The Association of American Medical Colleges predicts a shortage of ophthalmologists (specialists in eye diseases) within the next five years due to the growing number of aging baby boomers needing care. Telehealth gives more people convenient access to increasingly limited resources. It bridges physical distance with online ophthalmologists, so care isn't dependent on location.
Wherever you live, there may also be times when it's not safe for you to visit a healthcare facility due to the risk of infection from other people. During the coronavirus disease 2019 (COVID-19) pandemic, for example, telehealth has made it possible for many people with TED to see specialists from a healthy distance.
Your telehealth appointment will be similar to an in-person appointment; you'll go over your symptoms and treatment plan with your doctor, and be able to ask any questions that have come up since you last connected.Your doctor will also be able to visually examine your facial appearance and any visible eyelid and eyeball changes related to TED. It's helpful to prepare in advance by writing questions down beforehand, as well as downloading any software you need depending on your doctor's preferences. Your doctor may decide that, based on your telehealth visit, you need to come in to the office for imaging or a physical exam, but in many cases, a video or phone call can suffice and keep you in control of your TED symptoms.
If you smoke and are diagnosed with TED, you can expect quitting to be at the top of the agenda. Smoking causes more severe TED symptoms that last longer, and it increases the risk of eye damage and vision loss. TED treatments also tend to be less effective for smokers.
Any smoker knows how difficult it is to quit, but more virtual help from tobacco treatment specialists is available than ever before. Phone, video, and text support is available as part of a holistic treatment plan. It can span both counseling and smoking cessation medication, including nonprescription and prescription options. In fact, every state in the U.S. has a Quitline, and these telephone services have been proven to increase the odds of quitting successfully. The federal government offers a SmokefreeTXT program, too. It sends you three to five texts a day for six to eight weeks with tips to stay motivated.
The availability of telehealth has increased over the last few years for many conditions, including TED, and most insurance plans now cover it to some extent. Talk with your insurance company and ask your primary healthcare provider or ophthalmologist about your options.
Was this helpful?