SOCIAL VOICES

Graves' Disease: My Search for the Right Doctor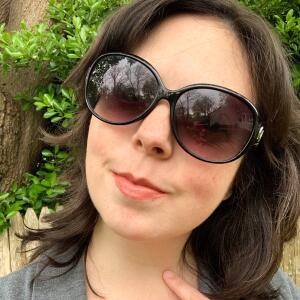 Looking back, my experience with Graves' disease and thyroid eye disease has been a very long and bumpy road. The thing I'm most grateful for is having a team of truly extraordinary doctors.
Unfortunately, it didn't start off that way. Most of my doctors today were the second specialists I saw in their field. Connecting with the right doctors for my needs was a process and a story that I hope will help others.
I was diagnosed with celiac disease over a decade ago. I was well aware of the link between celiac disease and thyroid disorders like Graves' disease, and when someone has one autoimmune condition, there's a high probability of being diagnosed with another someday.
I was experiencing a fair amount of fatigue. My primary care doctor was reluctant to run a full thyroid panel, but after finally agreeing to my request, I received a sheepish call from their office with a referral for an endocrinologist. I found an endocrinologist with decent reviews in a convenient location. After running a few more tests, she casually looked over the results and said she didn't think I had a thyroid problem, but perhaps my thyroid was a little sluggish and we'd try a small dose of thyroid replacement medication. Did I love this doctor? No, something didn't vibe well. But I knew I wasn't feeling well, and at least she gave me something to try.
A few weeks later, it happened: one night, I was lying in bed and my heart was racing. It felt like my heart was pounding out of my chest. Something was very, very wrong. I called my endocrinologist's office first thing in the morning. They scheduled an appointment and told me to stop taking the medication. As I sat in her office with my heart banging out of my chest and my hands shaking, she smiled to herself and said, "Maybe you didn't need medication in the first place." I was shocked. I was in clear distress, and my doctor was smiling like she had won a prize.
In order to warn others, I later went online to leave a less-than-positive review about my experience with her, and I found that several other people on one website had distressing stories, as well. The doctor had taken the time to aggressively reply to each, denying their experiences and saying that they were the problem, not her. Yikes. Though I had looked up several reviews earlier, I wished I had stumbled upon that particular set sooner. I would have sought out a different specialist and may have gotten the help I needed faster.
I immediately started looking for a new endocrinologist. After reading several reviews and bios, I found her. Her bio described not only what she specialized in but also the communities she aimed to help and what she was passionate about. Glowing reviews were everywhere. I had a good feeling and booked the next available appointment. I remember the moment she walked into the room. I must have looked like a scared little mouse; my whole body was practically vibrating between my rapid heart rate and shakiness. At that point, I had been off of the thyroid medication for a few weeks and was still experiencing problems. The new endocrinologist looked at my blood tests in surprise and said that I clearly had Graves' disease – the opposite of a sluggish thyroid. In fact, my thyroid hormone levels were too high. We ran one more test, and my diagnosis was confirmed.
Over the course of the next two years, to make a long story short, I didn't respond well to the new thyroid-blocking medication. Every dosage was too high or too low. I wildly swung from having too much thyroid hormone to not enough, and I was never able to settle in the middle. Eventually, I walked into what I knew would be a life-changing appointment. My Graves' disease hadn't gone into remission, the medication wasn't working, radioactive iodine therapy wasn't an option because I was already experiencing thyroid eye disease symptoms, and I was left with little choice but to have a thyroidectomy – to have my thyroid removed.
I was very concerned about the procedure because I'm a singer, and the nerves that control the vocal cords are extremely close to the thyroid. Statistically, about 1% of people who undergo a thyroidectomy are left with permanent vocal damage. It was my worst fear, and the stress had been torturously piling up over the previous few months as I wrestled with the idea of surgery.
But my endocrinologist and I agreed it was time to take that step. I had struggled and suffered enough. It was an emotional appointment, but her words and kindness felt like a warm hug. It was the end of the day, and she sat with me for at least an extra half hour as we discussed the process. She recommended a few surgeons, printed out a dozen referrals, told me what to look for and what questions to ask. She assured me that I would connect with the right surgeon, the one who all the professional singers in NYC go to. I left feeling like if I had to go down this road, I at least was going to have the best team to help me.
My voice teacher and other friends in the theatre community reached out to their networks on social media asking for recommendations; I couldn't be the only singer in NYC who needed a thyroidectomy. I pondered over the recommendations and made appointments with two promising surgeons.
My first consultation went well. He was clearly knowledgeable about the vocal cords, plus he was kind and a good listener. But there was something cold about his office and waiting room. If he had ended up being my surgeon, I'm sure I wouldn't have been disappointed, but I looked forward to seeing the second doctor who had mentioned in her bio that she specialized in vocal preservation during thyroid surgeries.
She entered the room like a ball of light and energy. She radiated warmth. We both laughed at the awkward jokes I cracked as I explained my history. She listened as I expressed my concern about my voice. She just got me, and she said, "It's time for you to feel better." I made the decision right then – "Let's do it."
I was directed to speak with the office manager in charge of scheduling surgeries. As I sat, I overheard her on the phone speaking with a pharmacy that had clearly done something wrong. Wow – the way she was advocating for patients! She was someone who got things done. This would be the person I communicated with about almost everything – scheduling, insurance, pre-surgery instructions – and I realized that finding a surgeon with a stellar team was nearly as important as finding the best doctor. I knew I was in the right place.
In the end, surgery was a success. Upon waking up from the anesthesia, I immediately knew something was better. Deep down there was a sense of calm. A wave of relief, yes, but also a sense that my body wasn't struggling anymore. I was easily able to balance my thyroid levels with a new medication, and I now have a picture of my healthy vocal cords on my fridge. While it wasn't the easiest process, I'm happy I sought out a new endocrinologist and took the time to connect with the right surgeon for my needs.
Was this helpful?