Graves' Disease and Women
Was this helpful?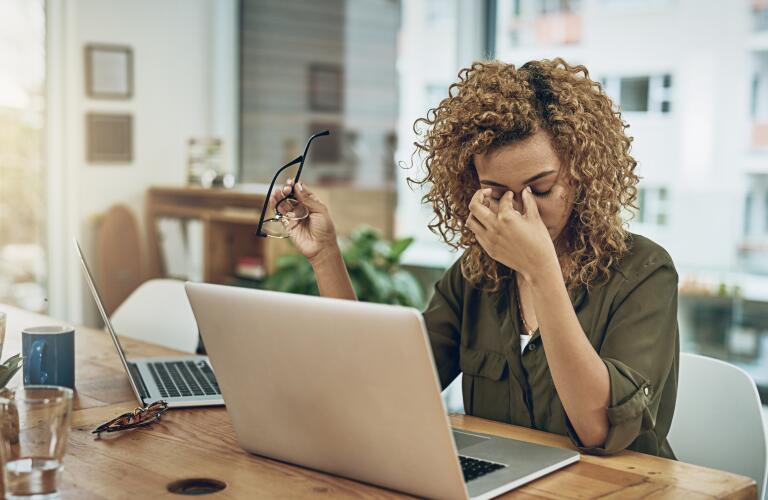 If you have hyperthyroidism, or overactive thyroid, your body produces too much thyroid hormone. This, in turn, affects how your body uses energy. There are several causes of hyperthyroidism, including nodules on the thyroid, inflammation of the thyroid, and too much iodine. Graves' disease is perhaps the most common cause of hyperthyroidism. And if you're a woman, it's worth taking the time to learn about this autoimmune disease, because it disproportionately affects women, especially those between the ages of 30 and 60. Learn more about the symptoms of this type of hyperthyroidism in women and why you should seek treatment if you develop those symptoms.
Normally, your body's thyroid gland produces the right amount of thyroid hormone to help regulate your metabolism and how you burn calories. But when you have Graves' disease, your body's immune system attacks your thyroid gland, which responds by churning out extra thyroid hormone. As a result, you can expect to experience certain symptoms. Graves' disease symptoms can include:
Bulging eyes (called Graves' ophthalmopathy or thyroid eye disease)
Thickening and reddening of your skin (especially on your upper feet and shins)
Irritability or anxiety
Sensitivity to heat
Sleep problems
Rapid or irregular heartbeat
Fatigue
Muscle weakness
Tremors in your hands
Goiter, which is enlargement of your thyroid gland
Unexplained weight loss.
The symptoms can vary from person to person, so your experience of Graves' disease might be different from another person's.
We know women are already at greater risk for developing this type of hyperthyroidism. But even among women, there are additional factors that can drive up your likelihood of developing Graves' disease.
Family history. It seems to run in families, although scientists are still trying to determine the exact genetic cause.
Other autoimmune conditions. If you have another type of autoimmune disease, especially lupus, pernicious anemia, type 1 diabetes, Addison's disease, celiac disease, or rheumatoid arthritis, you may be at increased risk for developing Graves' disease.
Chronic stress and trauma have been linked to triggering the onset of Graves' disease.
If you're pregnant or recently gave birth, your risk may be greater, especially if you already have a genetic predisposition.
Smoking can trigger Graves' disease, and it can also increase your risk for inflammation and swelling in your eye sockets that can lead to bulging eyes.
If you have ever looked at yourself in the mirror and wondered if your eyes seem to be more prominent than they used to be, that could very well be a sign that you have Graves' disease, especially if you have any of the other symptoms on the list. But those bulging eyes are not just a symptom of Graves' disease. They're also a sign of Graves' ophthalmopathy, also referred to as Graves' orbitopathy, Graves' eye disease, or thyroid eye disease. It can develop around the same type that the hyperthyroidism emerges–or even before or afterward.
Here's what's happening: your body's immune system has begun attacking the tissues and muscles around your eyes. This activity causes inflammation and swelling behind your eye sockets, which causes your eyeballs to push forward. It can last for a year or two, and often, it improves by itself.
About a third of the people who have Graves' disease develop Graves ophthalmopathy, according to the National Institute of Diabetes and Digestive and Kidney Diseases (NIDDK). But it's mild for the vast majority of them. Only about 5% develop a severe form in which the inflammation compresses the optic nerve and actually causes vision loss. A doctor can suggest possible treatment options to help decrease the swelling from Graves' ophthalmopathy; this typically includes a corticosteroid drug or other medications specifically developed to reduce symptoms, along with surgery and other treatments.
It's important to see a doctor if you notice you're developing some of the symptoms of Graves' disease. Left untreated, it can cause numerous problems for women, including:
Irregular menstrual cycles
Trouble getting pregnant
Thyroid storm, which is a life-threatening condition caused by too much thyroid hormone that increases your temperature, heart rate, and blood pressure to dangerous levels
Bone loss
Arrhythmia or other heart issues
Untreated Graves' disease can also cause problems during pregnancy, such as preeclampsia and problems with the placenta and possibly even miscarriage. Your unborn baby is more vulnerable to low birth weight, fast heart rate and some kinds of birth defects.
Fortunately, there are treatments available for Graves' disease. Your doctor can prescribe a medication to stop your thyroid gland from producing too much thyroid hormone and keep your thyroid blood levels within normal range. You should be able to safely take antithyroid medicine during pregnancy and while breastfeeding.
If the medication doesn't successfully address your condition, though, and you're not pregnant or breastfeeding, your doctor may suggest radioactive iodine (RAI) that will destroy some of the cells that produce all that excess thyroid hormone, but it does have a downside: you may actually have to start taking thyroid hormone and continue to do so for the rest of your life. Surgery can achieve much of the same result–with the same need for taking the thyroid hormone afterward.
Was this helpful?