Bulging Eyes and Your Immune System
Was this helpful?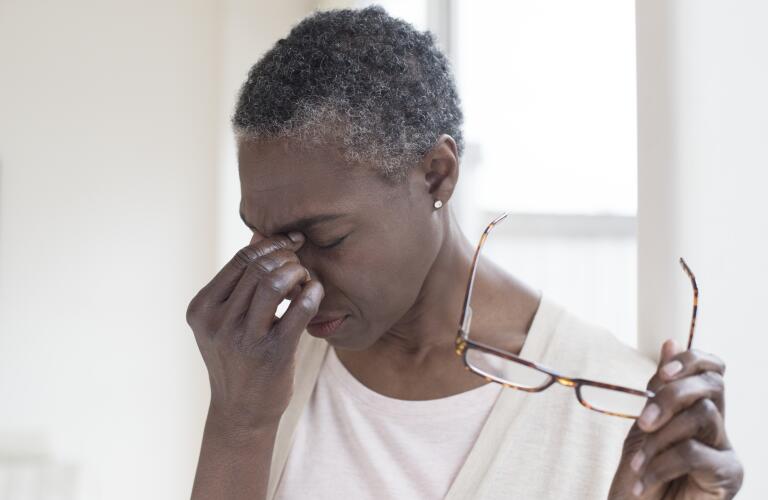 Typically, your immune system notices when intruders, like viruses or bacteria, enter your system. Fighter cells will be sent to battle these foreign cells, which creates inflammation. In most cases, your immune system will successfully fight off any invaders after a period of time, and once the battle is won, return to functioning as normal. However, sometimes, your immune system mistakenly perceives your own tissue to be a foreign entity that needs to be destroyed. Fighter cells will keep battling parts of your own body and inflammation will continue without stopping, which can cause serious problems.
When this happens, it's called an autoimmune disorder. People whose immune systems mistakenly fight with their joints have rheumatoid arthritis. People whose immune systems create inflammation in their skin have psoriasis. And people whose immune systems keep attacking their thyroid gland and the area around their eyes have Graves' eye disease, also referred to as thyroid eye disease (TED) or Graves' ophthalmopathy.
Graves' eye disease is typically found in people with thyroid disorders like hypothyroidism or hyperthyroidism, in which the immune system attacks the thyroid gland, causing it to produce too little or too much thyroid hormone. Because receptors on the cells of the tissues around the eyes are similar to those found on the cells of thyroid tissue, the immune system can attack the eye area as well. The constant inflammation can cause physical changes to the nearby eyes, and people with thyroid eye disease may be left with eyes that appear to bulge out of their sockets, along with other symptoms. Bulging eyes can make you feel embarrassed or depressed. Don't let that stop you from talking with your doctor. For many people, there's a solution to this problem, and new treatments target the immune system so inflammation is curtailed. Get up to speed on your options.
First, are your eyes really bulging? Take a close look at your eyes in a mirror. Do you see any white above your iris in one or both eyes? That's a sign your eyes are bulging. Other signs are not blinking very often or looking like you're constantly staring. Swipe through your recent photos to see if you can tell when the changes started. You may also experience symptoms like a feeling of grittiness in your eye, eye pain or pressure, puffy eyelids or eyelids that look pulled back (retracted), or vision problems like sensitivity to light or seeing double. Some people feel anxious, irritable, or overly tired. Tell your doctor about the signs, symptoms, and timeframe, especially if you have pain or a fever.
If your doctor diagnoses you with thyroid eye disease, they'll likely explain how your immune system is involved. We don't yet understand why someone's immune system starts mistakenly attacking their own tissue, but we do have treatments that interfere in the immune system's processes to prevent it from malfunctioning.
Some people get relief from bulging eyes by simply using non-prescription artificial tears and lubricating gels. Others benefit from short-term use of corticosteroids to reduce inflammation. Still others need to address the signs and symptoms at the immune system level. New biologic medications–drugs derived from living organisms–block certain parts of the immune system from continuing the attack on your thyroid and eye tissue. Teprotumumab (Tepezza) is the first type of this medication approved by the U.S. Food and Drug Administration (FDA), and research and clinical trials for other similar medications are ongoing. This medication can prevent eye bulging from occurring, and can lessen eye bulging that's already developed, because it disrupts the pathway of inflammation causing these physical changes. Until recently, people with bulging eyes could only treat the problem with surgery or immunosuppressive medication. Now, biologics are an alternative option that can be used earlier in the disease process.
If you're worried or self-conscious about bulging eyes, you don't necessarily need to be. Take the first step to addressing the condition by talking with your doctor.
Was this helpful?