Autoimmune Disease and Your Eyes
Was this helpful?
Your body's immune system is critically important for fighting off infections and other foreign materials to keep you as healthy as possible. But when your immune system doesn't work properly, serious consequences can occur, including problems with your vision, like thyroid eye disease.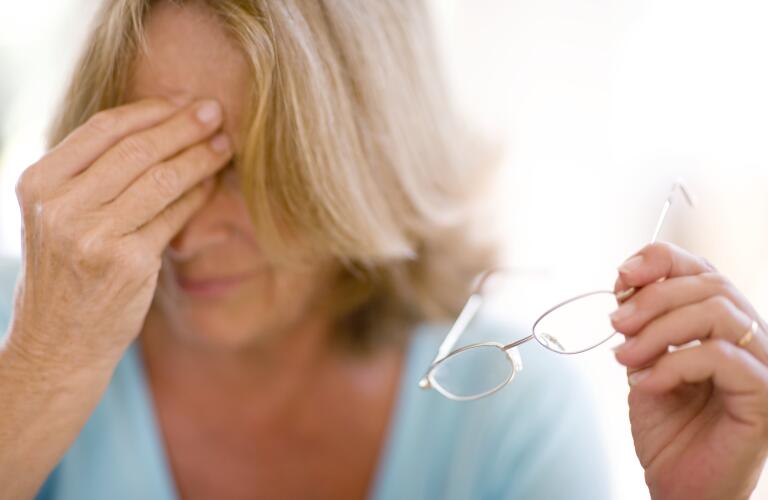 If you have an autoimmune disease, your immune system mistakenly attacks healthy cells and tissues. This can affect any part of your body, including your eyes. If you notice any changes to your vision, it's best to let your doctor know. Then, your doctor can help you determine whether an autoimmune disease could be responsible and what you should do to protect your eye health.
Doctors have identified over 80 autoimmune diseases, such as type 1 diabetes, rheumatoid arthritis, lupus, and multiple sclerosis. Unfortunately, many can affect eye health. Research shows that every part of the eye — from interior tissues like the retina to exterior structures like muscles — can be impacted by the effects of autoimmune disease.
Autoimmune diseases are linked to inflammation within the body. This inflammation may affect delicate structures that are necessary for clear vision, such as the retina, optic nerve, and cranial nerves. As a result, a wide variety of autoimmune eye disease symptoms are possible, such as:
blind spots
blurred vision
conjunctivitis (inflammation of the conjunctiva which covers the white part of your eyes)
double vision
eye floaters or flashers
headaches
pain with eye movement
sudden decline in vision
It's important to keep in mind that one particular autoimmune disease will probably not cause all possible symptoms. However, if you're experiencing any changes to your vision, you should have your doctor perform an eye exam.
Autoimmune diseases affecting the thyroid gland are among the most common forms of autoimmune disorders. The thyroid gland, which is located just below your jawline at the front of your neck, produces two important hormones that are necessary for your body to function normally: tetraiodothyronine (thyroxine, or T4), and triiodothyronine (T3). Almost every cell in your body uses T3 and T4 in some way to help regulate protein, carbohydrate, and fat metabolism.
Autoimmune diseases which attack the thyroid gland cause it to over- or under-produce T3 and T4. This results in various symptoms, depending on which autoimmune disease you have. The same autoantibodies that stimulate abnormal thyroid hormone secretion also bind to soft tissues within the bony orbit, leading to swelling and inflammation of eye muscles and neighboring structures. Thyroid eye disease symptoms, such as redness, dryness, and irritation, can be mild. Other symptoms, like eyelid retraction and bulging eyes, are much more noticeable and more vision threatening.
In severe cases, thyroid eye disease may cause damage to your optic nerve, which greatly impacts your ability to see clearly. As affected eyes bulge forward, the exposed cornea, the clear, outside layer of your eyes, can also be damaged by dryness and severe inflammation. The longer these symptoms go without treatment, the greater the likelihood of permanent vision loss.
Fortunately, there are several effective treatments for thyroid eye disease and other autoimmune diseases. There is no cure for these types of disorders, but treatment can help manage symptoms and prevent permanent harm to your eyes.
Treatment goals will likely focus on controlling the abnormal autoimmune response while reducing symptoms and preserving your body's ability to fight off infections. Your doctor may first suggest anti-inflammatory medications, such as steroids, to help relieve swelling and prevent damage to delicate eye structures.
You may also need to try a medication that reduces your immune system's inappropriate response. These medications, known as immunosuppressants, help keep your body's immune system in check. They prevent your immune system from attacking healthy cells and tissues. If you have thyroid eye disease, your doctor may also recommend an infusion medication that lowers inflammation to reduce eye bulging, redness, and double vision, among other symptoms.
Depending on your symptoms, your doctor may also suggest:
drugs to manage problems like depression or anxiety
ocular lubricants
pain medications
sleeping medications
For some people, surgery may be necessary to stop the progression of severe symptoms. Your doctor will let you know if this could be a good option for you.
Autoimmune diseases have no cure, and even though they can affect your eyes, it's still possible to keep your eyes healthy. The sooner you start treatment for vision problems, the less likely you are to experience lasting changes in your sight.
Was this helpful?