5 Quit Smoking Tips With Thyroid Eye Disease
Was this helpful?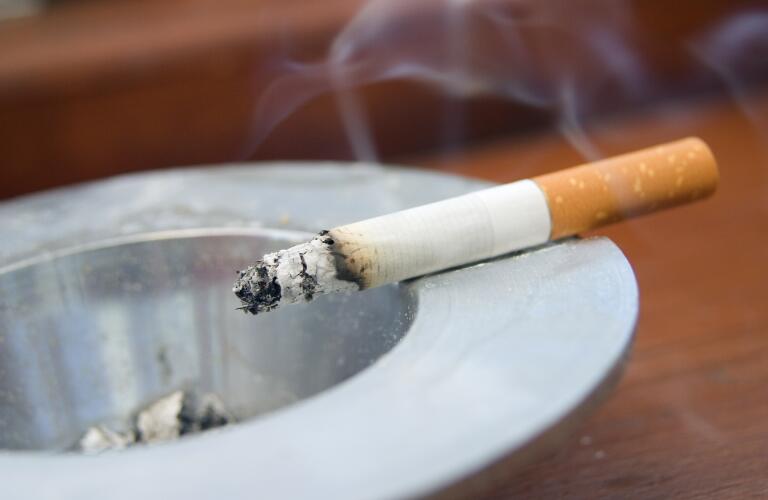 People who have the autoimmune condition known as Graves' disease have an overactive thyroid gland. Many of them–the estimates range from one-quarter to one-half–develop a condition called Graves' ophthalmopathy, also known as thyroid eye disease (TED). Thyroid eye disease develops when your body's immune system attacks the tissues and muscles in the area behind your eye. It can inflame your eye and eyelids, making them red and swollen, and you may notice that your eyeballs begin to bulge forward.
Here's some sobering news: smokers are more likely to develop Graves' disease--and Graves' eye disease--than smokers. If you take any medications like steroids for your eyes, the treatment will not work as effectively if you keep smoking. Some research even suggests your condition may be more likely to progress if you're a smoker. That means quitting should be a priority for you if you smoke. Learn more about how to pursue smoking cessation to give yourself the best chance at kicking this habit once and for all.
The incentive to avoid developing this uncomfortable eye condition could be reason enough for some people to throw themselves into quitting. You may have other reasons, too. For example, if you don't quit smoking, you may develop a more severe form of Graves's ophthalmopathy, and you may develop trouble with your vision as a result. Plus, your treatments may not work as well. But the American Lung Association notes that quitting is also good for:
Your overall health. It reduces your chances of developing life-threatening conditions like cardiovascular disease and lung cancer.
Your quality of life. Wheezing and coughing won't slow you down any longer, and food will taste better if you can kick this habit.
Your bank account. Think how much money you'll save when you're not buying cigarettes.
Your family and friends. When you quit smoking, you'll no longer be exposing your loved ones to harmful secondhand smoke.
It might help you to remind yourself on a regular basis of your reasons for quitting. Make a list and display it somewhere prominent where you can easily see it, like your bathroom mirror or the refrigerator in your kitchen.
No one's denying it: quitting smoking is a big challenge. Sometimes, it can be daunting to confront such a large goal. But if you make a plan with small, achievable steps, it can seem a lot less intimidating. Experts urge smokers to develop a quit plan. Essentially, a puit plan will give you a roadmap to follow. It will address any potential stumbling blocks that you might encounter, too.
First, pick a day that you plan to quit smoking. Then develop a detailed list of all the steps you'll take on the day you finally toss the cigarettes in the trash. Notify your friends and family that you plan to quit, so they can help hold you accountable. The Centers for Disease Control and Prevention (CDC) also suggest removing reminders of smoking from your environment. Get rid of the ashtrays and the lighters, and don't save any cigarettes "just in case."
A strong social support system is a key ally in your fight to declare yourself smoke-free. And conversely, a friend or relative who doesn't take your smoking cessation efforts seriously can undermine or even sabotage them. Tell your loved ones you are quitting and ask if they will support you in your efforts. You could even give them specific examples of ways they could help you, and ways they can avoid tempting you into smoking again.
When you stop smoking, your body will object. Your thyroid eye disease will improve, but you'll experience physical cravings for cigarettes that will be hard to ignore. A few strategies for managing your cravings:
Identify the times when your cravings are the strongest, so you can be prepared in advance. You can even track your cravings with a smartphone app.
Keep your mouth busy. Drink water or chew sugarless gum.
Get moving. When you're feeling the urge to smoke, stand up and move around. A few ideas: go for a quick walk, jog in place, or do some other type of physical activity for a short period of time to interrupt the feeling.
Call a counselor. Need someone to coach you through a craving? Consider connecting with the National Cancer Institute's LiveHelp online chat.
You may also need to reconfigure your schedule to help you manage cravings. For example, if you used to smoke a cigarette while drinking a cup of coffee at your kitchen table first thing in the morning, you might want to start your morning with a different routine, to head off the potential for a craving to hit you.
If you know you will need assistance in taking this huge step, consider joining a smoking cessation program. Local hospitals and community organizations sometimes offer their own programs, or you could join the American Lung Association's Freedom From Smoking program. The program includes eight sessions, plus access to a helpline and an online support community. And some programs offer medication that can be a big help. Having the structure of a program that's organized by experts can give you the support that you need to stop smoking.
Quitting isn't easy, even if you're really motivated. Research suggests it can take as many as 30 attempts for some people to quit smoking for good. Don't give up if it's harder than you realized--or if you backslide and smoke again. Just resolve to try, try again.
Was this helpful?