PHYSICIAN VOICES

5 Ophthalmologist Tips for People With Thyroid Eye Disease

Was this helpful?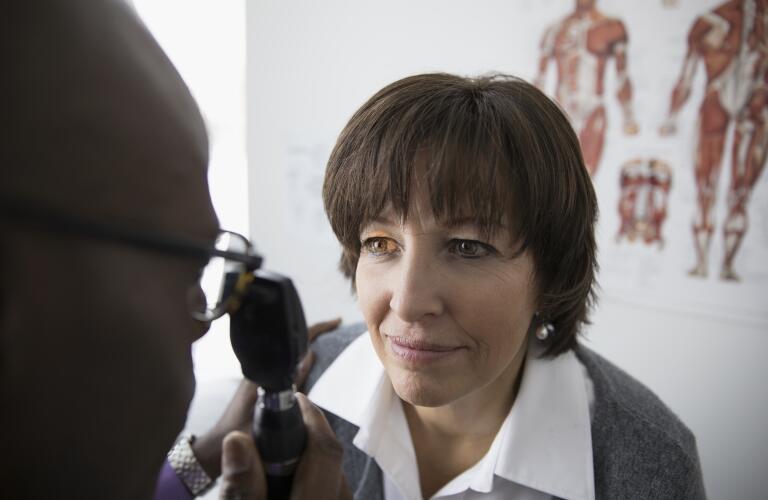 Thyroid eye disease is a condition in which the immune system mistakenly attacks the tissues and muscles around the eyes, which can lead to challenging symptoms including bulging eyes, difficulty closing eyes, dry eye, eye redness and irritation, eye pain, double vision, and in some severe cases, vision loss.
This disease can be really frustrating, not only because it's painful, but also because it can change your appearance. As an ophthalmologist who treats many patients with thyroid eye disease, there's a lot I want my patients to know about treating and living with it.
If you smoke and have thyroid eye disease, it's important to kick the habit. Thyroid eye disease is closely associated with a condition called Graves' disease, in which the immune system attacks the thyroid, causing the thyroid to produce too much thyroid hormone. People who smoke are twice as likely to develop Graves' disease, and smokers who have Graves' disease are about seven times more likely to develop thyroid eye disease. If you've already been diagnosed with thyroid eye disease, smoking can cause your condition to be more severe, last longer, and prevent you from responding well to treatment. If you smoke and are trying to quit, talk to your doctor; you don't have to do it alone! There are many effective strategies for quitting, and your eyes–and the rest of your body–will thank you.
When you're dealing with symptoms that threaten your vision, it's important to turn to others for help. Having family and friends around that understand what you're going through can be a big benefit, whether they give you a ride to doctor's appointments, help you keep track of your medications, or show up with a home-cooked meal when your double vision prevents you from preparing dinner yourself. I also recommend my patients turn to thyroid eye disease support groups, where they can meet patients like them and learn from each other's experiences. There are in-person support groups as well as many groups online, including onegravesvoice.com, a website that many of my patients have found to be invaluable.
Often, patients come to me feeling desperate, because they don't know a lot about thyroid eye disease and are unsure of treatment options. Fortunately, we have effective treatments that can help you get your life back to normal. In fact, the first medication indicated to treat thyroid eye disease, teprotumumab (Tepezza), was recently approved by the U.S. Food and Drug Administration (FDA). Prior to this approval, we would typically treat specific symptoms and a portion of patients would need surgery. Now, the drug can change the treatment plan for some patients. However, these treatments take commitment. Often, patients are intimidated and frightened when I explain that multiple surgeries are typically necessary to restore the eye shape. Setting the eye back into the socket doesn't always correct double vision, and realigning the eye surgically doesn't always fix the position of the eyelids themselves. Although this can be scary, I try to reassure my patients that these procedures are standard and we do them often. Ophthalmic plastic and reconstructive surgeons like me have been trained extensively in these surgeries and we take the safest measures possible to balance your vision and improve your outcomes. And we're always here for you throughout the process and after the surgery to make sure you're taken care of and all your questions are addressed.
It's also important for patients to regularly take their medications as well as any eye drops as prescribed. Eye drops in particular can be challenging to remember, so I instruct my patients to associate the drops with something they do every day. If you need to put an eye drop in four times a day, I'll suggest you take one with each meal–breakfast, lunch, dinner, and a bedtime snack. When you're consistent with medications, your symptoms will be much easier to manage and your quality of life will be a lot better.
Thyroid eye disease can be particularly stressful because it changes your physical appearance. This can have challenging emotional and psychological side effects for patients. I want patients to know we have a plan. Your ophthalmologist and the rest of your care team are here to guide you through treatment and minimize your symptoms as much as possible. We have many effective treatments, and new ones are showing promising results in clinical trials, so it's possible that soon, patients won't need surgery as often or as early. It can be hard to be optimistic when your face looks different than it used to, and when symptoms are causing you problems, but if you work closely with your ophthalmologist, together you will find solutions.
It can be hard to find the best doctor sometimes. I think the most important thing is to find a doctor you connect with, who explains everything clearly and communicates well with you. I believe it's the doctor's job to figure out what the patient is saying and trying to convey, so if you feel like your ophthalmologist doesn't listen to you or isn't understanding your needs, turn to someone else with whom you can develop a better rapport. You know your body best, so find a doctor who you trust and feel comfortable with. Your vision and eye health are crucial to your everyday life, and your ophthalmologist should partner with you in managing thyroid eye disease and helping you get back to normal.
Was this helpful?