Talking With Your Doctor About Colectomy
Was this helpful?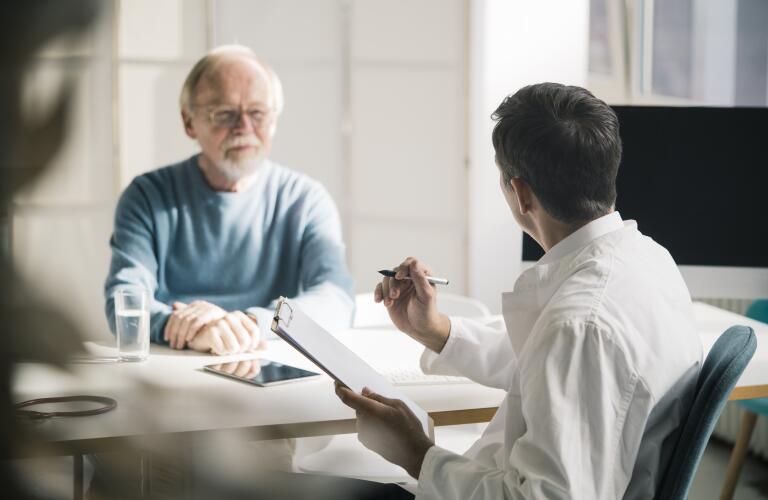 If you are faced with a colectomy for colon cancer or another serious medical condition, talking with your doctor about it (except for emergency colectomy) is one of the most important aspects of the journey. Your doctor is the best person to advise you on the short- and long-term consequences of the procedure, why it's necessary for you, the surgical details, and more. To get that information, you need to start with the right questions. Here are some suggested questions to ask when you talk with your doctor about colectomy.
Questions About Your Colectomy Surgery
You know that a colectomy is a surgery that involves your colon, but what is actually involved with colectomy surgery?
Why do I need the surgery and how much of my colon do you plan on removing?
What risks do I face with this surgery, and what can we do to reduce those risks? Ask yourself if you are comfortable with those risks considering the surgery's benefits.
Will I have a colostomy and, if yes, will it be temporary or permanent?
What are the chances that a temporary colostomy will become a permanent one?
Will you be performing an open surgery or a laparoscopic procedure, and why?
How should I prepare for the surgery?
What medications should I stop and for how long?
Do I need to perform a colon prep before surgery?
How long will I be in the hospital?
How long will it be before I can return to my normal activities?
How much help will I need at home?
Questions About the Type of Colectomy
The type of colectomy depends on what part and how much of the colon is damaged or diseased. Ask which procedure you will have, why, and how it affects the possibility of having a colostomy. Types of colectomy include:
Sigmoid colectomy: The surgeon removes the sigmoid colon, which is the part of the large intestine closest to the rectum.
Partial colectomy: Also called a subtotal colectomy, the surgeon removes just a part of the colon, along with a bit of healthy tissue on each end.
Total colectomy: The surgeon removes the entire colon.
Hemicolectomy: The surgeon removes the right part or the left part of the colon.
Questions About Life After Your Colectomy
Recovery after surgery can take several weeks, so you will need to know how to proceed during this time. Ask what you can and cannot do, such as lifting heavy objects, driving, and so on. Your care team will give you detailed instructions about restrictions, but there some aspects you may want to cover with your surgeon directly.
You may also have to adjust to a new diet with a shorter colon, especially if you have a colostomy. Some other questions you might ask include:
When can I start eating solid food again?
What complications should I watch for, and when (and whom) should I call if I have any concerns?
I don't have support at home. Can we set up home health visits now?
Is it possible I will need to stay in a surgical rehabilitation facility prior to going home?
If your doctor says you will have a colostomy, some other questions may be:
Who will teach me how to care for my colostomy and how do I reach them?
Where will I get my colostomy supplies?
Is the colostomy temporary? If so, how long do you anticipate I will have it?
Are there any complications, like a blockage, that I should be aware of and whom should I contact?
Is there an in-hospital or community support group I can join to help me during this new phase of life?
Will my clothes fit properly?
How do I shower or take a bath?
Even if you have been suffering with colon problems for a long time, it can be a difficult decision to move ahead with colectomy surgery. Addressing any concerns now will help you feel more at ease with your decision.
Here are some tips:
Prepare your list of questions and bring the list with you. Submit your questions electronically if the surgeon offers email communication.
Bring someone with you to your appointment to act as a second pair of ears and to support you as you get the information you need.
If you have a smartphone or tablet, record your meeting and listen to it later.
If you don't understand something, ask for clarification.
Ask whom to contact if you think of other questions or concerns before the surgery date.

Was this helpful?