7 Common Robotic Surgeries
Was this helpful?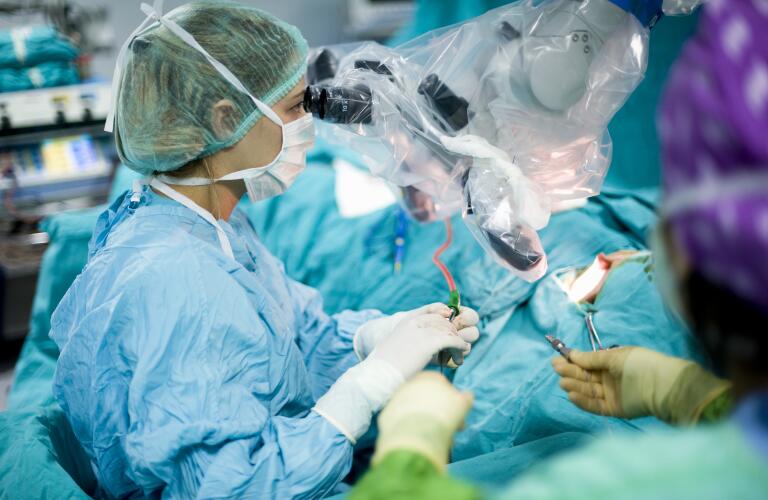 Originally designed to assist in battlefield procedures, surgical robots have now arrived at civilian hospitals worldwide. Like other types of minimally invasive surgery, robotic surgeries, such as those using the da Vinci® Surgery system, involve several small cuts instead of one large incision, meaning you may heal faster and have less pain and scarring. Many types of operations—from oral surgery to rectal procedures—can now safely and effectively be performed with robotic help.
In most robotic surgeries, surgeons sit at a console and control robotic arms that hold surgical tools. The system has some advantages over other minimally invasive surgeries, which involve a lighted camera called a laparoscope. For instance, a laparoscope provides flat video images, but robotic systems come equipped with 3D cameras. And robotic surgery tools are smaller and move more freely, which helps in tight spaces. Robot-assisted surgery is transforming many areas of healthcare.
Surgeons have been using robots to assist with female reproductive surgeries since 2005. Hysterectomies, or surgeries to remove the uterus, can be done this way. So can procedures to treat pelvic organ prolapse, fibroids, and problems with ovaries or fallopian tubes. One recent study of robotic hysterectomy found it may shorten hospital stays, but has few other benefits. And each procedure costs more than $2,000 extra compared with laparoscopic surgery.
In many men with prostate cancer, doctors remove the prostate using the robotic surgery system. This may mean less pain, less blood loss, and a faster recovery than with open surgery. Traditional laparoscopic prostate surgery and robotic prostate surgery seem similar in these regards. Men seem just as likely to develop side effects, such as incontinence or erectile dysfunction, regardless of technique. Other operations on the urinary tract can also be done robotically.
Surgeons often have difficulty reaching some areas of the mouth and throat with typical minimally invasive techniques. The robot's smaller, more flexible instruments can help. Doctors now use techniques, such as transoral robotic surgery—performed through the mouth using three robotic arms—to treat cancer and other conditions. Though results of robot-assisted head and neck surgery are promising, more studies—and even tinier instruments—are needed, experts say.
Surgery can help patients with many conditions in the colon and rectum, including colorectal cancer, inflammatory bowel disease, and hemorrhoids. Robotic assistance proves particularly valuable for rectal operations, performed within the tight confines of the pelvis. If your procedure involves larger sections of your colon, however, your surgeon may use a robotic assistance for only one portion. That's because the system works in only one small area at a time and is difficult to reposition.
Gallbladder surgery was one of the first to be performed with a laparoscope—and it is now commonly done with robotic assistance. Robots may help surgeons treating people with gastrointestinal cancers remove lymph nodes, cut out large tumors, or reconstruct organs and tissues. Eventually, this could allow more patients with advanced stomach cancers to have minimally invasive surgery. Right now, though, doctors don't know if this would improve patients' health in the long run.
Since the late 1990s, robots have helped treat a wide range of cardiovascular conditions, including heart defects, blood vessel diseases, and aneurysms. The robot's steady arms may help surgeons navigate small, narrow blood vessels in the chest cavity with less damage. And the system acts as a stable platform when a procedure involves implanting a device, such as a catheter or stent. This improves precision with thoracic surgery and reduces the amount of imaging required in advance, reducing a patient's radiation exposure.
Two slightly different surgical systems have been developed to perform hip and knee replacements. In some cases, they perform specific tasks that a surgeon would otherwise do by hand, including making a space in the bone to insert part of an artificial joint. In others, they help the surgeon do this work more precisely. This may result in better alignment, although it is not yet clear how much robotic assistance improves the joint's function later on.
As with any treatment, robotic surgery does have downsides. Surgeons need time to learn the new system, and each procedure takes longer, even for experienced doctors. And then there's the expense—da Vinci and other robotic surgery machines cost millions, and robotic surgeries result in bigger hospital bills for patients. Some experts say there isn't yet proof the benefits outweigh the costs. If you're considering robotic surgery, make sure you discuss both sides with your doctor. You can search Healthgrades.com for a surgeon experienced in specific robotic-assisted surgeries.
Was this helpful?