Potassium Supplements: What to Know
Was this helpful?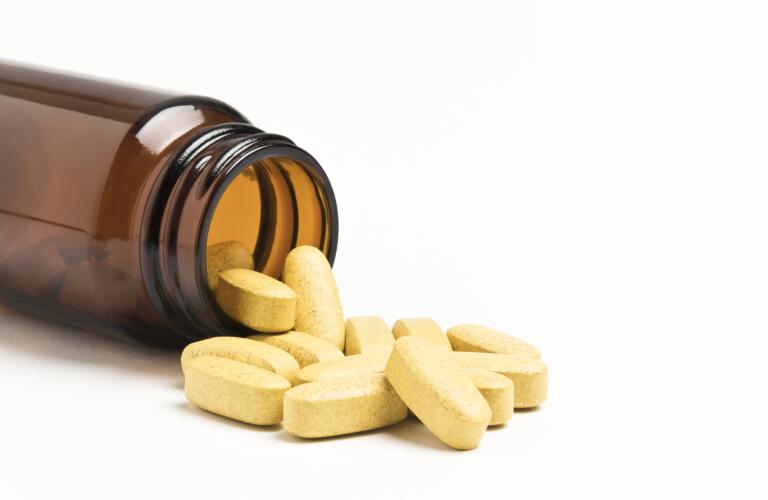 Potassium plays an important role in heart health, so it's important your body maintains adequate stores of this vital mineral. Thankfully, most people consume enough potassium in their diet that they would not benefit from taking a potassium supplement. Taking a potassium supplement can cause hyperkalemia, which is too much potassium in the bloodstream. Here's what you need to know about potassium pills, the risk of hyperkalemia, and other ways to treat low potassium.
Who Should Consider a Potassium Supplement?
Most adults and children do not need potassium supplements. In fact, no one—especially not children—should take this mineral without a doctor's supervision, aside from the small amount included in common multivitamin products.
Some people who take certain medications to treat high blood pressure, heart failure, or kidney disease may develop low potassium levels (hypokalemia). However, their doctor will monitor the condition and prescribe a treatment plan for hypokalemia, which may or may not include a supplement.
People with hypertension, heart disease, or kidney disease should never take potassium supplements without their doctor's knowledge because excessive potassium levels can make their condition worse.
Potassium Supplement Benefits in People With Hypokalemia
If you have been diagnosed with clinical hypokalemia (that is, your blood potassium reading falls below 3.6 millimoles per liter of blood), your doctor will likely recommend boosting your potassium levels with food or dietary supplements. For mild hypokalemia, food represents the best way to obtain more potassium. For more severe hypokalemia, supplements offer a quick, easy way to increase the level of potassium in your bloodstream. Intravenous infusions of potassium in a hospital are necessary in some cases.
Eating potassium-rich foods helps avoid the most common potassium pill side effect, which is hyperkalemia. Consuming foods high in potassium provides a slow infusion of the mineral to your bloodstream. That is because the foods must undergo digestion to release the potassium. Potassium-rich foods you can eat every day to boost low potassium or maintain normal potassium levels include:
Acorn squash

Baked potato

Bananas

Canned kidney beans

Cooked lentils

Dried apricots

Grilled chicken breast or beef sirloin

Low-fat (1%) milk
If your doctor recommends potassium supplements to increase your potassium levels, you can choose between pills or capsules and liquid potassium supplements. Consult your doctor about which type of potassium supplement is best for you.
Because of the danger of hyperkalemia, potassium supplement dosage is limited by the U.S. Food and Drug Administration to 100 milligrams (mg) per serving. You should ask your doctor what dosage of over-the-counter potassium supplement to take. You may also inquire about how often you should have your blood potassium level checked while taking supplements. You should discontinue taking potassium supplements when your lab results show a normal potassium level, or when your doctor tells you to stop.
Symptoms of Potassium Supplement Side Effects
The real danger in taking a potassium supplement lies in developing hyperkalemia. This side effect can cause a heart attack and kidney damage, which is why people should not take potassium supplements without medical supervision. Hyperkalemia often does not exhibit any symptoms, but when signs of too much potassium occur, they may include:
Heart attack symptoms, such as crushing chest pain, back pain, and shortness of breath

Irregular and/or weak pulse

Sudden collapse or loss of consciousness

Tingling sensation, particularly in the fingers and toes
Bottom line: Eat plenty of potassium-rich foods to supply your body with adequate amounts of potassium. Save the potassium supplements for your doctor to prescribe.

Was this helpful?