Medical Devices to Assist With Difficulty Walking
Was this helpful?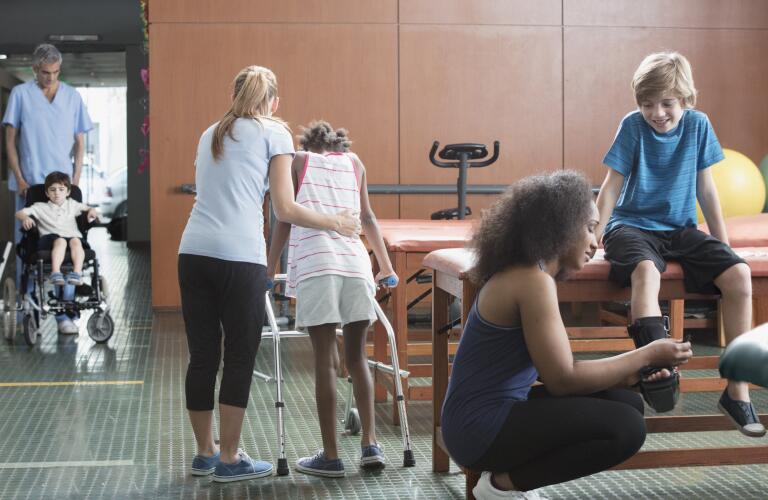 Most people, including those with a medical disorder or condition that causes difficulty walking, should be encouraged to keep walking for as long as they can. Physical therapy can be helpful in maintaining muscle strength and coordination required to walk and should be a first line treatment for any type of walking difficulty. Eventually, though, it may become unsafe for a person to ambulate unassisted. At that point, many medical devices, including rollator walkers, canes and mobility scooters can help a person live independently and safely. Learn which type of mobility aid is appropriate for various types of walking difficulties.

Canes

A cane provides stability when walking and can also offer a point of leverage to aid in rising from a chair. People with mild balance problems may benefit from using a cane. Today's canes come in a variety of types. Single-point canes offer a modest level of stability, while a quad cane with four feet contacting the walking surface provides great stability to help offset serious balance issues. Some canes fold up for easy stowage, and you can choose the type of handle that suits your grip and your specific stability needs.


Standard Medical Walkers

A standard medical walker is constructed of lightweight aluminum, with four feet capped with rubber tips. These walkers are usually used for walking problems related to rehabilitation, such as after surgery. It provides great stability and allows the user to support most of their body weight when the leg cannot bear the full load. Since standard walkers don't roll, you must lift the device with each step, which is unwieldy and slows walking considerably. For extended use, most people use a rolling walker instead.


Two-Wheeled Rolling Walkers

They look almost identical to the standard medical walker, but two-wheeled walkers have wheels on the front legs. Two-wheeled walkers need not be lifted with each step, which allows for faster ambulation. However, they should not be used by anyone who requires a load-bearing walker, as the rolling walker is not designed for that purpose. Two-wheeled walkers provide excellent stability for people with balance problems who can bear full weight on their own legs.


Rollator Walker

A rollator walker has four wheels, a seat, hand brakes, backrest and sometimes a basket for carrying items. These walkers are designed for people who have balance issues and do not need a load-bearing walker. Rollators roll easily, but they can easily roll away and pull the user over, causing a fall. This type of walker requires adequate cognitive ability to apply and lock the brakes, as well. However, a rollator's easy foldability and built-in seat for resting make them a good choice for people with moderate balance issues, adequate strength and good cognition.


Mobility Scooter

Powered mobility scooters make a good choice for people with severe leg weakness who cannot walk even short distances. Mobility scooters come in a range of styles. Three-wheeled scooters offer less stability over uneven terrain and can tip more easily than a four-wheeled scooter. Smaller wheels offer less stability than larger ones, so consider the surfaces where you'll most often be driving your scooter. Before buying a mobility scooter, ask about its weight capacity, battery life, and range per charge, as well as accessories like a horn, cup holder or backup beeper.


Wheelchairs

Wheelchairs may be appropriate for people with severe leg weakness or balance issues who cannot operate a mobility scooter or do not want one. Wheelchairs come in many shapes and styles, with large rear wheels that the person can turn to propel themselves. Transport chairs (a subset of wheelchairs) often look like a traditional wheelchair but have smaller rear wheels and therefore require someone else to do the pushing. Motorized wheelchairs offer independence to people with severe motor disabilities but good cognitive function. Ask your doctor, rehabilitative specialist, or occupational therapist what type of wheelchair best suits your needs.

Was this helpful?