Cough: Cold or Allergy?
Was this helpful?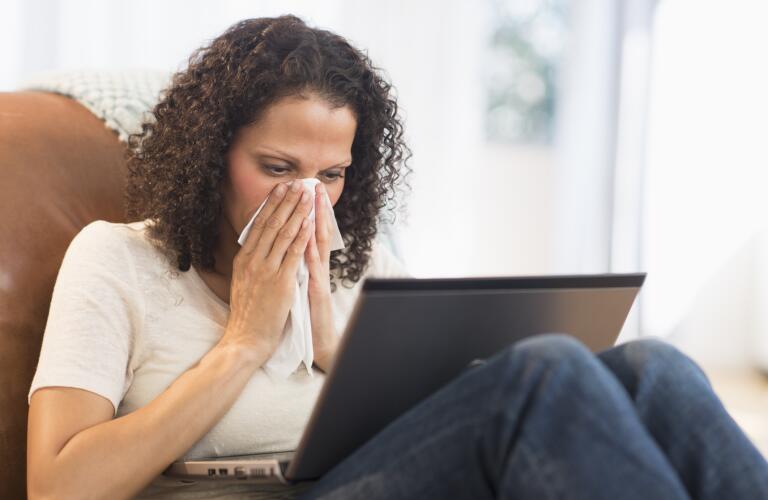 An irritating cough is often the first symptom of a cold but it's also a symptom of allergies. How do you know whether your cough is caused by a cold or an allergy? There are key differences and other facts you should know to best soothe your cough.

What Happens When You Cough?
Coughing is a reflex that helps protects your lungs from irritating or dangerous substances. These include allergens, viruses, bacteria, and smoke. Coughing also helps clear your airways of excess mucus produced due to a cold, allergies, or other diseases, such as the flu.
What Is the Difference Between a Cold and an Allergy?
Cold and allergies have many similar symptoms, such as coughing, runny nose, and sneezing. If you have asthma, both conditions can also cause wheezing and shortness of breath. However, colds and allergies are different conditions with distinct causes.
Allergies:
Colds:
How Does Your Doctor Distinguish Between a Cold vs. Allergy?
The best way to determine whether you or your child has a respiratory infection or an allergy is to schedule a visit with your doctor or pediatrician. He or she will look at your symptoms and how long the symptoms last. A cough due to allergies tends to be associated with watery, itchy eyes, and clear, watery discharge from the nose. In addition, many people suffering from allergies have dark circles under their eyes.
A cough due to cold will usually go away after 14 days. If you have a cold, you may also have body aches or a low-grade fever, which do not occur with allergies.
You can help your doctor diagnose your symptoms by keeping track of when and how often the symptoms occur, and what activities you or your child were involved in when the cough started.
The most important way to tackle a cough is to first determine its cause. For an unexplained cough, see your doctor for a diagnosis and to figure out the best treatment for you.
The FDA discourages the use of any over-the-counter cold and cough remedies for children under the age of 2 years [source: FDA].
There is no cure for either colds or allergies but some treatments are similar. They may include:
To treat a cough due to known allergies your doctor may also prescribe:
To treat a cough due to a cold try:

Was this helpful?