Achenbach Syndrome
Was this helpful?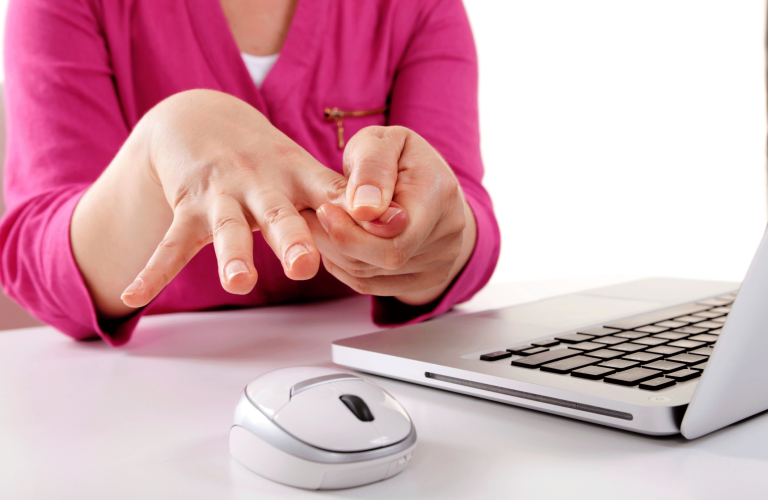 Fewer than 100 cases of this medical condition have been reported in the medical literature since Achenbach syndrome was first identified in 1958. Also called 'paroxysmal finger hematoma' and 'blue finger,' Achenbach syndrome causes spontaneous bruising of one or more fingers.
What is Achenbach syndrome?
Achenbach syndrome refers to sudden, unexplained bruising of one or more fingers. These characteristically blue bruises appear for no known reason, such as trauma to the finger. The condition seems to occur more often in middle-aged women than in any other age group. It affects fingers on the left hand more often than those on the right, and it seems to occur more often in the index finger. Achenbach syndrome usually recurs after the first episode and may continue to occur over the person's lifetime.
What are the symptoms of Achenbach syndrome?
The primary symptom of Achenbach syndrome is 'blue finger,' which refers to a bruised finger with no known cause. People with Achenbach syndrome often report to their doctor or the emergency room with significant bluish bruising and swelling in one or more fingers that cannot be explained. Additional symptoms may include pain, burning, tingling, numbness, or reduced range of motion in the affected finger.
What are the causes of Achenbach syndrome?
Normally, a finger becomes bruised due to trauma. However, with Achenbach syndrome, the bruising appears to be caused by a spontaneous rupture of blood vessels for no known reason. The exact causes of Achenbach syndrome are not yet known. Doctors think it's possible people who develop blue finger may have more fragile blood vessels than other people. These fragile vessels may be more likely to rupture due to everyday activities, like gripping an object tightly.
What are the treatments for Achenbach syndrome?
There is no treatment for Achenbach syndrome because it is "self-limiting," a term medical professionals use to mean the condition gets better on its own. Before confirming an Achenbach syndrome diagnosis, doctors will rule out other potential causes of the blue finger, such as:
Vasospasm (spasm of the blood vessels)
Was this helpful?