Opioid Use Disorder: Focus on Recovery, Not Shame
Was this helpful?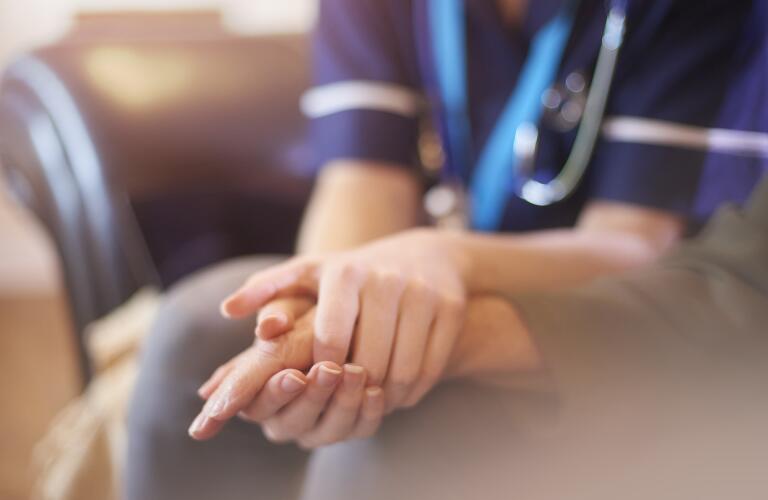 It's no secret the opioid epidemic continues to concern healthcare providers, patients, families, and communities across the United States. According to the most recent research, over 2 million Americans struggle with opioid use disorder. Clinically, this disorder is defined as the problematic use of opioid medications which eventually leads to distress or significant impairment. Put simply, you may have opioid use disorder if you continue to use opioids even though they cause substantial suffering or hardship in your life. But if you're dealing with opioid abuse, you shouldn't feel ashamed; research shows most people in your situation would like to stop–but there are many obstacles preventing them from doing so successfully.
When it comes to treating opioid use disorder, you may hesitate to reach out for help. You may worry about the stigma of seeking help for opioid use, you may feel it's shameful to ask for help from friends or family, or you may think there aren't any effective treatments that can help you break the addiction cycle. However, this simply isn't true. Recovering from opioid addiction isn't easy, but it can be done. With help from your doctor and loved ones, you can make a plan to stop using opioids and deal with any opioid withdrawal symptoms you may experience.
Opioid use disorder isn't always in your control, and although you may feel shame, it's not your fault. The addictive nature of the drugs themselves, as well as the pain symptoms the drugs can effectively mask, may cause you to rely on opioids and eventually start abusing them. There are many reasons why getting off opioids can be extremely difficult.
First, opioids change how your brain functions. Opioids are commonly prescribed to treat many types of acute or chronic pain issues, such as pain from cancer or pain during recovery from surgery. Opioid medications work by activating specific receptors on cells inside your brain. This reduces the amount of pain you may feel—and may also increase pleasurable feelings. However, when taken repeatedly, your brain may become unable to produce normal chemicals to make you feel the way opioids do. Over time, excess opioid use may change the way your brain's reward system works, making you physically dependent on these types of medications. These brain changes interfere with your natural behaviors, placing overwhelming obstacles in the way of your recovery.
Additionally, many people on opioids begin to develop a tolerance, meaning they require higher doses for the same level of pain relief. You might have started out taking your opioids as prescribed, but as your tolerance and pain increased, you began taking more than your treatment plan called for. This can begin a cycle of opioid reliance and abuse, and it's one of the main reasons why more than 2 million Americans suffer from opioid addiction every year. People of all walks of life can be drawn into this cycle, and it has nothing to do with your self-control or willpower.
Plus, opioid withdrawal symptoms can be very challenging to fight through, which makes getting off the drugs even harder. Recent research shows most people who abuse opioids are not chasing the "high" like traditional drug addicts. In fact, the majority want to stop taking opioids–but they relapse due to difficult-to-tolerate withdrawal symptoms. To combat this, more recovery programs are starting to focus on helping people get through the withdrawal period successfully.
Even if you are addicted to the "high" of opioids, it's not a personal or moral failure. If you have opioid use disorder, it doesn't mean you're a bad person, or that you don't have the willpower to stop. Your brain and body are working against you in these cases–which is why it's so important to ask for help.
Recovering from opioid addiction can be a long and often unpleasant process. That's why it's best to work with your doctor while you stop using opioids. Remember–your doctor is here to help you. He or she likely treats plenty of people with opioid addiction and understands the nuances of the problem, so there's no need to let shame prevent you from taking action.
Treatment for opioid use disorder usually includes counseling and the use of certain medications. Some of these medications block the effects of opioids in your brain, preventing the high that comes with excessive use. Other medications help relieve cravings and prevent withdrawal symptoms. Your doctor may recommend different levels of treatment depending on your personal needs, including:
Behavioral interventions from medical professionals

Coordinated care to manage addiction and other health issues

Intensive in-patient treatment at a treatment center

Long-term outpatient care

Support services such as community support groups
Keep in mind that abruptly stopping opioids can have severe consequences, including intense cravings, nausea and vomiting, and pain. For this reason, it's best to work with your doctor to create a plan for reducing your use of opioids safely.
In addition to your doctor, it's important to turn to loved ones for support as you go through withdrawal from opioids. There's no need to endure the frustrating symptoms alone–and enlisting the help of family and friends makes it much more likely your efforts to stop the drugs are successful.
It's not impossible to stop using opioids, but it does take dedication and a willingness to work with your doctor over the long-term. Speaking with your doctor about any opioid use issues you may have is the first step toward a life free from opioids. Do your best to push the shame aside and start on the path towards sobriety.
Was this helpful?