How to Get the Most Out of a Virtual Doctor Visit for Opioid Addiction Recovery
Was this helpful?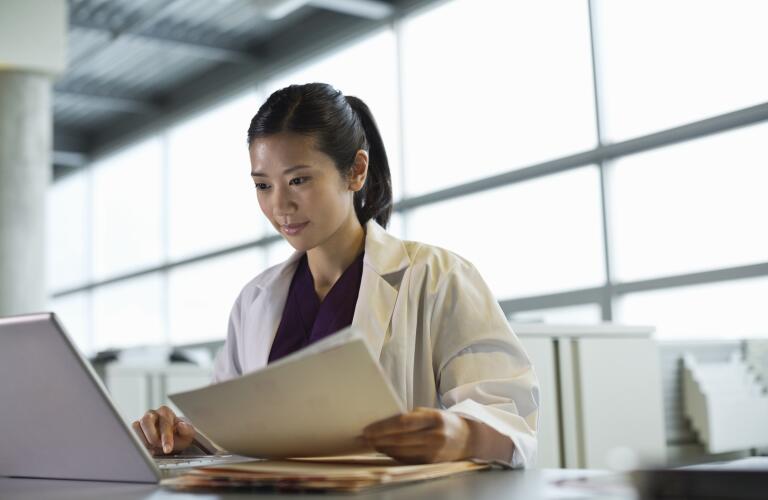 If you're in treatment for opioid addiction, you know how important regular contact with your doctor is to maintaining and promoting your continuing sobriety. But it's not always easy to get to your doctor's office when you need to. Fortunately, many doctors, including those specializing in addiction recovery, are offering telehealth services via phone call, text message, or most commonly, video chat.
Telehealth uses modern technology to connect you with your doctor from the privacy of your own home. Many people find that telehealth consultations are just as beneficial as an in-office doctor's visit. If your doctor is using telehealth to treat patients, you can help get the most out of your appointment using a few simple tips.
Generally, treatment for opioid use disorder involves a combination of medication and counseling or other behavior-changing therapies. This approach, known as medication-assisted treatment (MAT) has been shown to increase the likelihood of successful recovery, prevent relapses, and improve quality of life and the ability to handle stress.
While you can still get MAT in-person with your doctor or other addiction specialist, you might consider completing your opioid addiction treatment online. Even though you're not face-to-face with your doctor during an online appointment, you still receive the same quality of care from the licensed physician you already have a relationship with. Many people find these kind of telehealth appointments to be more convenient and, in many cases, less expensive compared to traditional office visits. Telehealth visits are covered by Medicare like in-person visits, although state Medicaid programs and private insurers may vary.
Doctors generally offer a variety of services using telehealth, such as:
Counseling, education, and therapy
Crisis and substance use assessments
Remote patient monitoring
Your doctor will tailor your telehealth appointment to fit your personal needs and goals for treatment.
Virtual doctor visits for opioid addiction recovery can be tremendously helpful as you change your life for the better. If you want to get the most out of your telehealth consultation, you'll need access to a strong, secure internet connection and technology that makes video conferencing possible, like a smartphone or computer. In some cases, a phone is all your need to conduct your telehealth appointment.
Prior to your virtual visit, you can prepare in order to get the most out of your time online. Before signing on for your virtual doctor visit:
Fill out your paperwork. Your doctor may provide you with the paperwork you'd typically fill out in the waiting room. Be sure to submit these documents online before your scheduled appointment.
Write down your concerns. It can be helpful to have a list of topics you want to cover during your virtual visit. Preparing this list helps you make sure you don't leave out any important information when speaking with your doctor.
Check your equipment. Double checking your equipment, such as your video camera and internet connection, ensures your visit runs as smoothly as possible.
Find a quiet place. Even though you're in your own home for your visit, it's still important to find a quiet location for your consultation. This helps you connect with your doctor while ensuring your privacy.
Jot it down. It can be beneficial to have a pen and paper handy to make any notes as you talk with your doctor. Writing down their advice is one of the best ways to make sure you remember everything from the conversation.
If your doctor offers virtual visits for opioid addiction recovery, talk with them about taking advantage of this service. Telehealth appointments ensure your care is uninterrupted and may be more convenient for you, which might help you stay on track to quit using opioids. Together with your doctor, you can determine whether telehealth is the best way to continue to receive your treatment.
Was this helpful?