Addiction Recovery During Social Distancing
Was this helpful?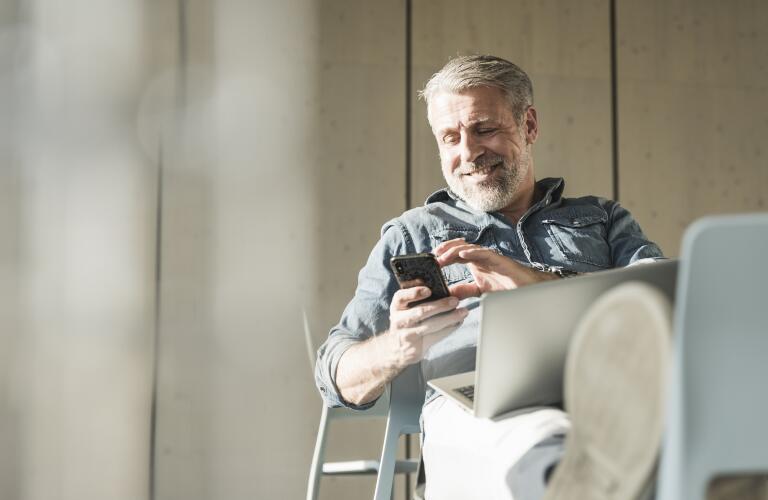 While the world struggles to maintain 'social distancing' during the COVID-19 pandemic, addiction survivors are worried about social connectedness, a critical component of their recovery journey. Luckily, in our high-tech world, it's easier than ever to stay connected and maintain support through online groups and forums. Though it may not be the same as a face-to-face conversation, or as timely as a supportive hug, it can be a lifeline for people recovering from addiction.
The risk of relapse, especially for those in the early stages of recovery, increases with isolation. And if you're additionally faced with health or financial stressors, it can lead to even greater struggle. You may be feeling fear, anger, sadness, confusion, guilt—even relief. Everyone reacts to a crisis differently. But it's important to pay attention to what you're feeling, and reach out for help before a relapse occurs.
Think of ways to stay connected to loved ones—through a call, Facetime or text. Don't be afraid to ask for help when you're feeling overwhelmed, even if it's just talking to a trusted friend to share how you feel. Most people want to help; they just may not know how.
If you find you can't go it alone, seek out professional help. Many counselors and addiction specialists are now offering telemental health counseling due to the COVID-19 pandemic.
If you are in quarantine, self-isolating, or practicing social distancing, there are a number of virtual ways to get support for addiction recovery. Many groups, such as local chapters of Alcoholics Anonymous (AA), have already moved their meetings online. Support groups are creating contingency plans by developing contact lists to help members stay in touch with sponsors and other members by phone, email or social media. Some addiction support groups are holding virtual meetings via digital platforms, such as WhatsApp, Zoom and Google Hangouts.
Talk to your group's organizer, or visit the group's website, to find out more about meeting alternatives, and how they intend to handle things like anonymity in an online format.
If you are looking for a group to join, there are a number of resources to help you locate a group or other recovery services in your area:
Alcoholics Anonymous (AA), an international fellowship of men and women who have had a problem drinking. AA offers virtual meetings conducted by phone, email, videoconference and 24-hour-a-day chat rooms.

Cocaine Anonymous (CA), a 12-step recovery program from cocaine and all mind-altering substances. Offers email and voice meetings.

Smart Recovery, science-based, self-empowered addiction recovery. The group hosts nearly 2,200 meetings in the USA including roughly 150 meetings in California and 30 in Washington—the states hardest hit by coronavirus.

Life Ring Secular Recovery offers online support meetings through Zoom and Adobe Connect.

In The Rooms has nearly 600,000 online members who participate in more than 130 recovery meetings a week. Remote access is available around the world.

SAMHSA (Substance Abuse and Mental Health Services Administration) National Helpline, 1-800-662-HELP (4357), (also known as the Treatment Referral Routing Service) or TTY: 1-800-487-4889 is a confidential, free, 24-hour-a-day, 365-day-a-year, information service for individuals and family members facing mental and/or substance use disorders. The service provides referrals to local treatment facilities, support groups, and community-based organizations.

Private Facebook Groups. Many people in recovery are connecting with one another by starting their own secret Facebook groups.
Many people, not just those in recovery, are finding it hard to adjust to a new 'normal' during the COVID-19 pandemic. You may find it's harder to sleep. You may feel more fatigued or bored, or out of your usual exercise routine because your local gym is closed. All of these adjustments can increase levels of stress and anxiety, making it more challenging to stay sober. In these times, it's more important than ever to practice self-care for good mental, as well as physical, health.
Here are some self-care tips:
Create and stick to a schedule for work, chores, meals, exercise and leisure time. It helps to have a routine to keep you feeling motivated and productive. Write it down (or use your favorite calendar/schedule app) to help you remember.

Keep a consistent sleep schedule, going to bed when you're sleepy and waking up at the same time each day.

Take prescription medicines as prescribed.

Try to reduce or avoid caffeine, which can increase anxiety.

Practice relaxation with yoga, deep breathing, or meditation.

Use the extra time at home to prepare healthy meals and connect with family in a meaningful way.

Keep track of yourself and what you are experiencing. Consider creating more in-depth journal entries.

Dig in the dirt if you have a yard. Replant overgrown flowers and shrubs or design and order a new flower bed online, if that's an affordable option for you. Digging in dirt has positive effects on the mind and body.

Get outside as much as you can, and stick to a regular exercise routine. Find a way to move every day, even if it's just a 20-minute walk. This will help improve your mood and overall health.
Was this helpful?