5 Tips for Talking with Your Teen About Medication Abuse
Was this helpful?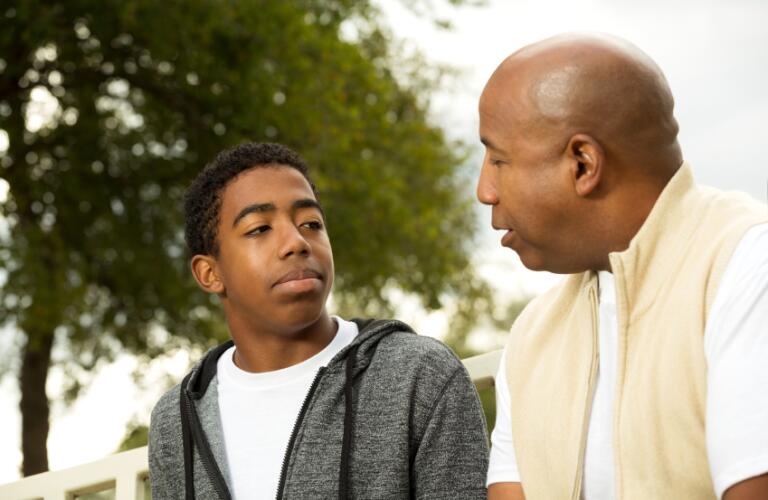 The abuse of prescription and over-the-counter medications—including the cough medicine dextromethorphan (DXM)—is a big problem among today's teens. But as a parent, you're far from powerless against the problem of medication abuse.
There's no guarantee your teen won't be tempted, but you're the strongest influence in your child's life. Choosing the right words can help you speak volumes to your son or daughter about avoiding this dangerous behavior.
1. Speak early, often, and clearly.
You don't have to wait for your child to become a teen before discussing prescription and over-the-counter medication abuse—start talking when they're preteens. Begin by emphasizing the importance of following the instructions on prescription and over-the-counter medicines. Discuss the dangers of abusing them, including dependence, health problems like irregular heartbeat, and even death.
Remember, talking itself isn't enough. Make sure communication goes both ways. Stay involved in your child's life and ask specific, open-ended questions about the daily highs and lows of adolescence. Let him or her know you're always there to listen, and compliment positive behaviors and activities.
Of course, while patience and understanding are important, teens also require strong guidance. Especially in the later years of adolescence, your son or daughter needs specific, direct details about the harms of abusing drugs. Emphasize how misusing medication can destroy relationships and keep him or her from achieving goals, such as getting into a certain college or landing a future job.
Also provide clarity about your household rules against medication abuse and the consequences of breaking them. Be consistent and explain that it doesn't matter what friends or their parents do—your family's rules reflect your values.
Your teen is bound to face peer pressure to abuse prescription drugs. It will be much easier to resist if he or she is prepared and has practiced what to say. Role-play several potential scenarios. Teach your child to say "no" firmly but kindly, give a reason, then change the subject or leave the situation.
Good lines to try: "No thanks—the swim meet is tomorrow and I need to be healthy. Let's go to the mall instead." Or, "No, my parents would be so mad if they found out. And somehow, they always find out! So, anyway, how did you do on the social studies test?"
Let your child know that friends who repeatedly ask them to abuse drugs likely aren't friends at all. Encourage them to spend time with peers who share the same values and are positive influences.
Your teen's browser history can be a clue to medication abuse. Some sites sell the raw, unfinished powder of DXM, for instance. Others list instructions for how to combine drugs purchased at drugstores or found in parents' medicine cabinets for a better high.
Ask what sites your child visits and who he or she communicates with online. Discuss which sources of information are reliable and which are harmful. You may want to snoop on your child's computer if you fear there's a problem—teens should have some privacy, but parents' responsibility to keep them safe means it's OK to exercise your parental rights.
4. Go with your gut—but avoid guilt or anger.
Don't ignore a nagging suspicion that your child is abusing medication. Bring it up even if you don't have proof.
When you do confront your teen, don't lash out. And don't try to talk with your teen when you think he or she may be under the influence. Wait for a calm moment, when your child isn't already angry, and explain why you're concerned. Give your teen a chance to respond.
Be prepared—your teen may admit to abusing medication and ask for help. If he or she denies there's a problem, don't take that as the final answer. Keep monitoring closely for warning signs, such as empty medicine packages or text messages about obtaining or sharing drugs.
Another phrase to avoid: "If you keep this up, you'll be letting us all down." Often drug users already feel guilty and ashamed. Focus instead on your concern and how you want to help him or her stay safe and healthy. Listening is one of the most powerful, most respectful gifts you can share with a young adult.
5. Get the pros involved.
The American Academy of Pediatrics recommends that doctors screen teens for alcohol and drug use. Talk with your child's doctor if you have concerns. He or she should know the types of drugs commonly used in your community—and the right words to find out if your child is using them.
Beyond physicians, there are others who can guide and inform you if you think your child has a problem. Consider consulting a trained counselor, nurse, staff at a community health center, or a local antidrug coalition.
Talk with your child about prescription and over-the-counter medication abuse. Emphasize the importance of following directions and discuss the dangers of abusing such drugs.

Role play with your child so he or she has practice responding "no" to abusing medication.

If you suspect your child may be abusing medication, confront your child but don't be angry. Focus on your concern and how you want to help. Trust your instincts and seek professional help is worries persist.
Was this helpful?