The Types of Rehabilitation You May Need After a Stroke
Was this helpful?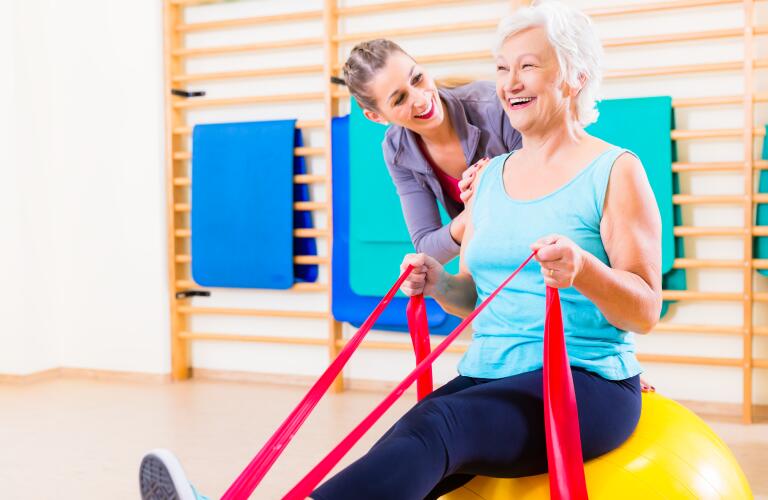 After a stroke, it's not uncommon to experience lingering problems with speech or everyday activities. Rehabilitation can help you speak clearer, move easier, and live more independently.
Rehabilitation typically begins as soon as you are physically stable. You might even start rehabilitation the day after your stroke. A nurse may encourage you to switch sleeping positions, for example, or lift your arm several times.
After this initial rehab, many stroke patients undergo a longer rehabilitation process. The type of rehabilitation you need depends on how the stroke affected you and your own preferences. The earlier you begin rehab, the better your chances of regaining function.
Physical therapy is the main type of rehabilitation most stroke patients can expect. The aim of physical therapy is to help with body movements, such as walking and sitting.
In physical therapy sessions, a trained therapist will lead you through exercises, stretches and drills. You'll work on improving your balance, coordination and mobility.
Occupational therapy is similar to physical therapy. Just like in physical therapy, you'll do exercises and other physical training. The goal of occupational therapy is to help you with everyday activities, such as showering and brushing your teeth.
A physical therapist, rehabilitation nurse, or occupational therapist may lead this type of rehab.
About one quarter of stroke survivors have some problems with speaking, writing or understanding language. That's because a stroke can damage areas of the brain that control language. Fortunately, this damage isn't necessarily permanent. Over time, other areas of the brain begin to take over and help with speech.
With speech therapy, many stroke survivors are able to improve or regain their communication skills. There are many proven techniques to improve speech, such as repeating a therapist's words or doing reading exercises. Like with all types of rehab, practice and repetition are key to making progress.
A professional known as a speech-language pathologist typically conducts speech therapy.
Stroke rehabilitation can also include mental health therapy. People who have had a stroke often experience depression, anxiety or anger. Some of these may be related to brain damage from the stroke. A psychologist, psychiatrist or professional counselor can help you understand and cope with these feelings.
Rehabilitation can occur in several locations including:
An inpatient rehabilitation facility where you stay overnight, typically for a few weeks
An outpatient facility, usually connected to the hospital, where you attend rehab several times a week
Nursing facilities, which are similar to nursing homes but tend to offer more rehabilitation services
Your home, if you only need limited rehabilitation services from one professional
Talk with your doctor about which types of rehabilitation could help you. You may also want to involve your family in the conversation. Most rehabilitation will require an order from your doctor.

Was this helpful?