What You Need to Know About Sports Physicals
Was this helpful?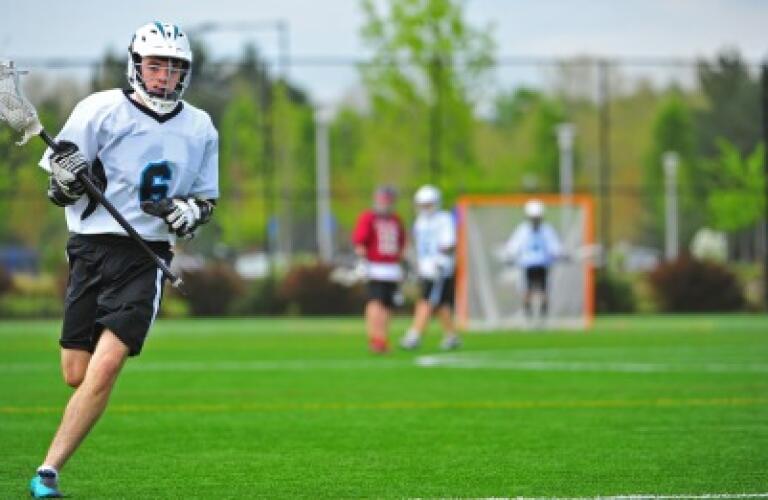 Sports are an important part of many kids' lives. Kids who play sports or exercise tend to be healthier and get better grades. They are also less likely to suffer from depression or regularly use cigarettes, alcohol or drugs. But it's important for kids to be safe in the sports or exercise programs they choose.
A sports physical screens your child for potential problems playing a sport.
A sports physical determines if it is safe for your child to play a particular sport. You may also hear the term "pre-participation physical exam" (PPE) to describe this exam. It is less comprehensive than an annual physical exam with a pediatrician or family practitioner, so it's important to continue yearly wellness visits.
The doctor looks for risk factors in an otherwise healthy child that could cause problems playing a particular sport. For a child with a medical condition, such as asthma, the doctor evaluates whether to change treatment to allow the child to play safely. In either case, the doctor can give your child advice for avoiding injuries and improving athletic performance. This can include guidance on nutrition, rest, proper stretching techniques, and improving endurance.
There are two basic parts of a sports physical.
The first is a thorough review of your child's medical history. The medical history will include questions about your child's personal medical history, the family medical history, past injuries and surgeries, and current symptoms, allergies and medications. The medical history reveals the vast majority of problems that could put your child at risk when playing sports. So it's vital to answer the questions honestly, even if you worry that your child may be medically disqualified from participating.
The second part of a sports physical is the physical exam. The doctor will take basic measurements, such as height and weight. But the exam will focus on the heart and lungs, nervous system, and musculoskeletal system. The doctor should talk to your child about performance-enhancing drugs, alcohol and other drugs, and weight-loss supplements. For girls, the doctor may ask questions about the female athlete triad. This syndrome is a combination of disordered eating, irregular periods or no periods, and thinning bones.
A sports physical is not the same as an annual exam.
It will not cover broader areas, such as developmental health, wellness, risk factors for diseases, and vaccinations. That's why it's important to get an annual physical exam even if your child has had a sports physical.
Schedule the physical at least six weeks before beginning sports.
State law defines the requirements for sports physicals or PPEs in public schools. States can also allow local school districts to set their own guidelines. In general, kids will need to start getting sports physicals whenever they begin participating in school-related sports. Even if your state or school does not require a PPE, it is still a good idea to get one before starting a sport.
Typically, a sports physical is good for one year from the exam date. This means your child only needs one per year regardless of how many sports he or she plays throughout the year. You should schedule a sports physical at least six weeks before the start of the season. This will allow plenty of time to address any issues that arise during the exam. It will also give you and your doctor time to fill out and return all necessary forms to the school.
Your child's regular doctor can perform a sports physical.
This is how many people get them and it makes sense to see a doctor who knows your child's history. Your child may also feel more at ease with a familiar doctor. If you don't have a regular doctor or you can't get an appointment in time, you could use a community-based clinic. Drug stores often have community clinics on-site that offer basic services, such as a PPE.
Another option is a school physical if it's available. Typically, these are mass physicals in the gymnasium or other large venue. Your child rotates through stations to complete the exam. For example, your child may start with a nurse taking vital signs, move on to a doctor taking medical histories, and then visit a series of physical exam stations. This approach offers less privacy and may not be as in-depth as an office exam. But you can always see your child's doctor afterwards.
You can also search here on Healthgrades.com for a pediatrician, adolescent medicine specialist, or family practitioner in your area.
You have options when it comes to paying for a sports physical.
Sports physicals are usually $50 or less. Expect to pay cash if you use a community clinic. Some school programs will also charge a similar fee. Other school programs include it in your sports participation fee. You should also expect to pay additional lab fees if your child needs blood tests or other lab tests.
Check with your insurance company before seeing your child's doctor for a sports physical. Most plans will only pay for one preventive or wellness exam per year. If this is the case for you, there are two options. You could schedule a full annual exam and request that the doctor include the sports physical as part of it. This will work if your child has not already had an annual exam for the year. If this is not possible, the doctor should bill you directly.
Complete disqualification from playing a sport is rare.
The goal of a sports physical or PPE is to allow your child to play sports safely. There are four possible clearances following a sports physical: 1) Clearance without restriction, 2) Clearance with recommendations for further evaluation or treatment, 3) Not cleared until completion of further testing or treatment, and 4) Complete restriction.
It is rare for a doctor to completely disqualify a child from participating in sports. In fact, research shows that doctors disqualify less than 1% of children after a sports physical. What's more, 13% of children or less even require any follow-up after a sports physical. So be honest with the doctor and allow enough time before the sport starts to take care of any issues.
If a problem comes up during the exam, don't panic. The doctor may just need to order a test or check your child again in a couple of weeks. Or your child may need to see a specialist. Often, seeing a specialist is necessary to help your child play better. For example, an asthmatic child may need to see a specialist, such as an allergist-immunologist or pulmonologist, to make sure treatment is optimal. You can search here on Healthgrades.com for specialists near you.
Schools and other organizations typically have their own PPE forms.
Because states and schools regulate sports physical or PPE requirements, you will likely need to use your school's specific form. Most states require you to file a PPE form with the school before try-outs or practice for a particular sport. The form is usually good for one year from the date on the form.
Was this helpful?