Spinal Compression Fracture Treatments
Was this helpful?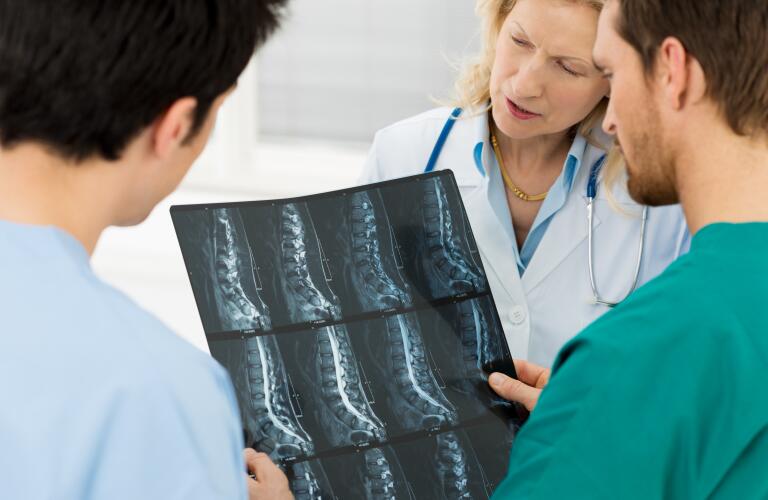 Most people with a spinal compression fracture don't need to worry about surgery. Most of these fractures heal on their own in about three months. You will have a list of dos and don'ts from your doctor to help your spine heal and help you regain strength and movement. But if it heals like it should, getting an operation won't be on that list.
However, some people do need surgery, especially if the pain lingers. If you need an operation, know that surgery today isn't what it used to be.
Early Treatment for a Spinal Fracture
Having a spinal compression fracture means one of the bones of your spine—your vertebrae—has cracked. The crack will heal, but you may have pain and stiffness. That's where treatment can help.
Your doctor may want you to rest in bed until your spine starts to heal. This will not be a long period of bed rest. In fact, it will be important for you to be up and moving as soon as your doctor says you can.
Other early treatments may include:
Getting physical therapy. This may include treatments such as massage, icing or heat. These will help reduce swelling and ease pain, too. Your physical therapist also might use electrical energy to stimulate healing.

Limiting activity that causes pain or puts stress on your fracture

Taking medicine to relieve your pain and relax your muscles

Taking a medication to strengthen your bones

Wearing a back brace to protect your spine
Your doctor and physical therapist will monitor your progress. When they decide you're ready, you will start some exercises. These may include:
Range-of-motion exercises to keep your back flexible so you can move it

Weight-bearing and strengthening exercises to help your back muscles and your spine get stronger

Posture exercises to take pressure off your back. This will make you less likely to have further damage to your spine.

Balance exercises to make you less likely to fall and injury your back
Surgery for Spinal Fractures
Sometimes people still have back pain after rest, medication, and physical therapy. That's when surgery becomes an option. Today, surgery for a spinal fracture is usually noninvasive surgery. This type of surgery works well for spinal compression fractures that are less than a year old.
Noninvasive surgery is different from major back surgery that was standard in the past. You can have the newer surgery without general anesthesia. Instead of sleeping through the procedure under general anesthesia, you will get a numbing medication in your back. Another difference? You may be able to return home the day of your surgery. You'll get back to your normal activities very quickly.
The two most common surgeries today for spinal fractures are:
Vertebroplasty: You will lie on your stomach. Your back will be numb. Your surgeon will use a small needle to inject bone cement into the fractured vertebra. The bone cement will harden and protect your vertebra from further stress and damage. This often relieves pain.

Kyphoplasty: This procedure is similar to vertebroplasty, but with one extra step. A spinal compression fracture can cause your vertebra to collapse and lose its height. Over time, this can shorten your spine and cause your spine to curve. During this procedure, your surgeon drills a hole into your vertebra. The surgeon inserts a tiny balloon into the vertebra and inflates it. This restores height to your vertebra. Then, the surgeon injects the cement.
Recent studies show that kyphoplasty may be the best treatment for reducing pain and increasing function after spinal compression fracture. However, the best treatment for you will depend on how severe your fracture is and how old it is. Your overall health will matter, too. Talk with your doctor about your treatment options.
Was this helpful?