Journaling Before Bed Can Help Ward Off Sleeplessness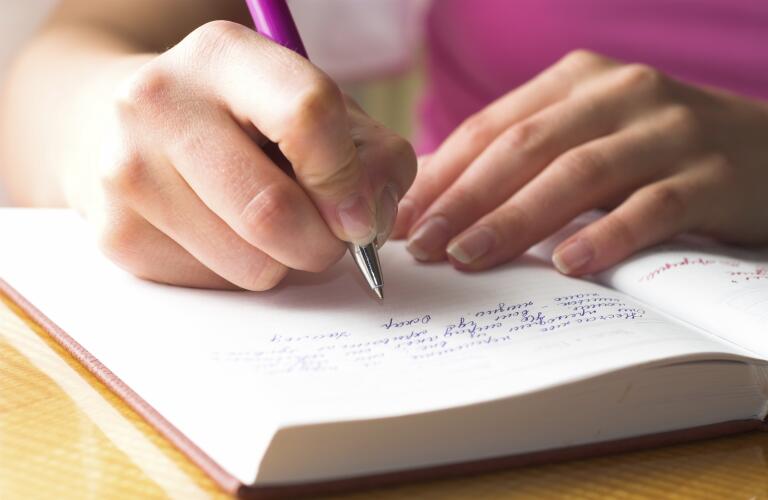 You're lying in bed ready for sleep, but instead of drifting off into a peaceful slumber, you begin fretting over a past mistake or worrying about a future problem. As the minutes tick by, your mind keeps circling around these thoughts, and sleep eludes you.
It's an all-too-familiar scenario for many people who have trouble sleeping. If this sounds like you, shifting your bedtime thoughts in a more positive direction may help. One simple way to do that is by writing in a journal, focusing specifically on positive events. Research shows that journaling this way at night may help you sleep longer and better.
Studies have shown that people who have trouble sleeping are prone to fretting and worrying at bedtime. These unwelcome thoughts produce stress and anxiety, which make people feel keyed up when they want to wind down. Ordering the thoughts to stop—and getting mad when that doesn't work—only makes the problem worse.
Gently steering your thoughts in a happier direction seems to be more effective. Journaling about positive experiences helps redirect your mind to the good things in your life. Committing your thoughts to paper may have a greater impact than simply thinking them in your head because writing requires a deeper level of psychological processing.
Of course, when you're worn out from not sleeping well, adding one more chore to your day might seem like the last thing you want to do. But journaling takes only 15 minutes or so. By improving your sleep, it can help you feel more energetic and alert the next day. You could wind up with a net gain in energy.
If you choose to journal right before bed every night, it can even become a soothing part of your bedtime routine. Over time, you'll come to associate taking out your journal with feeling relaxed, and that may also contribute to falling asleep more easily.
In one study, 41 college students plagued by bedtime worries were randomly assigned to self-help strategies. One group was asked to journal every night for a week. The study found journaling reduced bedtime worry and stress, increased sleep time, and improved sleep quality.
To try the technique used in the study, set aside 15 minutes each night for writing about a recent positive experience. Write about not only what happened, but also how you felt at the time. Forget what your high school English teacher would say about the grammar, punctuation and spelling; the journal is for your eyes only.
By the time you put away the journal, climb under the covers, and switch off the light, you'll be in a better frame of mind for drifting off into dreamland.
If you have trouble falling asleep at night, you can try writing in a journal, focusing specifically on positive events. This may help you sleep longer and better, according to research.

Stressing or worrying at bedtime can stop your body from winding down. Positive journaling can redirect your mind.

Journaling regularly can become a soothing part of your bedtime routine and could help you fall asleep more easily.
Was this helpful?