How Weighted Blankets Might Help Treat Insomnia
Was this helpful?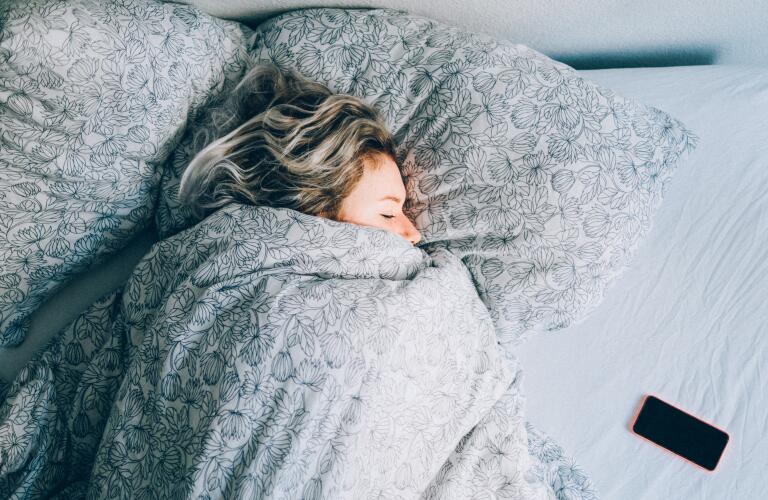 Many people associate calm, loving feelings with childhood memories of being tucked into bed by a parent. The pressure of a sheet and blanket stretched across the body seems to evoke universal feelings of well-being.
Perhaps that's one reason why some adults today enjoy using a weighted blanket for sleep. A weighted blanket–also called a gravity blanket or anxiety blanket–may find favor in the future as an insomnia treatment. For now, the actual science behind how (and if) weighted blankets work remains unclear. Here's what we know so far.
A weighted blanket is similar to a comforter that has been filled with plastic pellets or other stuffing to give it substantial heft. These blankets generally weigh between 15 and 25 pounds.
The concept of weighted blankets evolved from the use of weighted vests in sensory integration therapy for children with autism and other disorders. Around 30 years ago, occupational therapists began exploring the value of weighted vests to improve mental focus and reduce unwanted behaviors like fidgeting in these children, and the initial response was positive. However, subsequent research has not supported the therapeutic value of the vests in these populations.
Nonetheless, anecdotal evidence and feedback from some children who said they liked the feeling of wearing a weighted vest for periods of time led to the development of a weighted blanket for adults. Little research exists to substantiate claims that weighted blankets reduce anxiety or improve insomnia in adults, but the items have become very popular.
The idea behind weighted blankets is that they activate the parasympathetic nervous system (PNS) by applying deep touch pressure stimulation to the body. Activating the PNS reduces anxiety and stress, which logically might reduce insomnia and promote greater feelings of generalized well-being.
Deep touch pressure stimulation simply involves applying a squeezing pressure to a large area of the body, like when someone embraces you in a bearhug or when you swaddle babies to calm them. Weighted blankets operate on the theory that they perform the same function as bearhug or swaddling: cocooning the body to activate the PNS.
Can weighted blankets help you sleep better? No conclusive medical research exists to answer that question. One very small study of 31 adults with chronic insomnia found overall sleep time increased when the participants used a weighted blanket, and 80% of the participants reported they liked sleeping with the weighted blanket and felt more refreshed each morning. However, this study's findings have not yet been replicated on a large scale.
Anecdotally, you will find many adults report sleeping better when using a weighted blanket. People who have purchased and reviewed weighted blankets from Amazon say the blankets help them sleep longer, relieve pain, and even reduce the frequency of nightmares.
If you want to give weighted blankets a try, follow these tips:
Buy a blanket in a weight equal to around 10% of your body weight. For a 200-pound man, this would mean buying a 20-pound blanket. If you're between sizes, order the heavier blanket.

Consult your doctor before using a weighted blanket if you have been diagnosed with snoring or sleep apnea, as the pressure of a heavy blanket on your chest could make it more difficult to breathe.

Do not share a weighted blanket with someone who weighs much less than you do, and never share an adult weighted blanket with a child.

Never place a weighted blanket on an infant.
Whether or not the effectiveness of weighted blankets for relieving insomnia can be demonstrated through scientific research, people love the idea of the blankets. Because weighted blankets are safe for most people to use, it can't hurt to try out this novel therapy. You may find it gives you a non-chemical option for dealing with those sleepless nights.

Was this helpful?