How to Clean Your CPAP Machine
Was this helpful?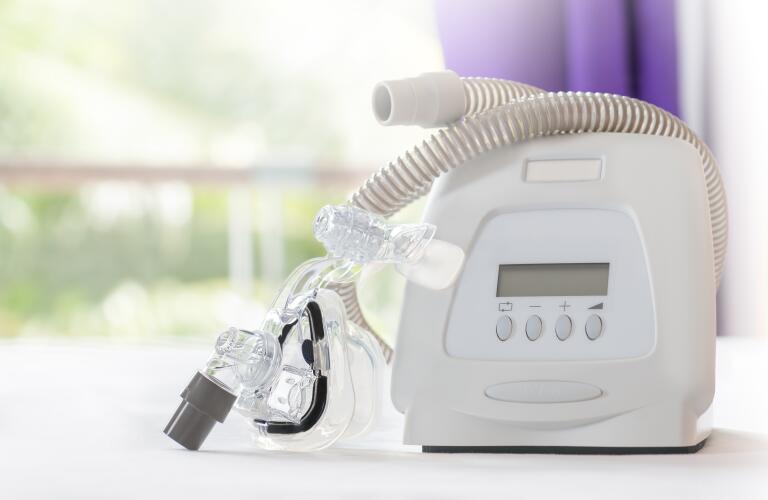 If you're one of the 22 million sleep-apnea sufferers in the United States, using a CPAP machine can prevent illness, such as heart disease, high blood pressure, and type 2 diabetes, and just in general help you feel better. However, your CPAP (continuous positive airway pressure) machine needs to be cleaned regularly or it could wind up making you sick.
Why a clean CPAP machine is crucial
Your CPAP equipment includes the main machine (with filter), mask, tubing and humidifier tank. All need to be cleaned, though how often depends on manufacturer recommendations.
Experts say that failing to follow these guidelines can lead to a variety of problems, ranging from illness to yucky smells that make you not want to use your CPAP. Bacteria and mold can build up in the water tank, tubing and mask, which can cause:

Lung irritations, such as pneumonitis
Skin irritation or infection (where the face mask touches your skin)
Even if your dirty CPAP doesn't make you sick, it can get smelly, which could lead to you turning your nose up at it. Avoiding your CPAP means you can't reap its rewards, but instead will face the health risks associated with uncontrolled apnea.
Another reason to keep your CPAP clean is to protect the health of the machine. If it gets clogged with dust or other contaminants, it could break down more quickly than expected, requiring replacement or repair. So, cleaning your CPAP also saves you money.
Best steps to a clean CPAP
Done regularly, it's actually pretty simple to clean CPAP equipment. You will need to check the instructions that came with your machine, because not all models are cleaned the same way. However, in general, here are common steps to clean your CPAP machine, mask, hose and other components.

Every day, rinse your face mask cushion, tubing and humidifier water tank with hot water—either plain or with mild soap added. (Note: Some manufacturers advise against using dish soap, as this can be too harsh and could damage the equipment.) Make sure the hose is submerged so that water runs through it.
Let these parts dry. To get the tube to dry out, hang it so that the water can drain out. You may also be able to use the CPAP machine itself to force dry air into the tubing. Ask your respiratory therapist to show you.
Refill the water tank with distilled water. Don't use tap water, because this can result in mineral buildup in the tank, where mold likes to set up shop.
On a weekly basis, disinfect your CPAP equipment, including your mask headgear (including its frame system), tubing and water chamber, with a vinegar solution. This step is needed even though you are already washing daily, because soap and water alone can't clear out all the germs. Soak everything in a solution of three parts distilled water to one part white vinegar, for about 15 to 20 minutes. (Some manufacturers suggest a stronger dilution: equal parts distilled water and vinegar.)
Follow this soaking with a distilled water rinse (never tap water). Allow to dry before reassembling.
If your machine has a reusable filter, clean it monthly and replace at least every six months. If the filter is disposable, replace monthly.
Replace the cushions on your face mask at least every three months. The entire mask may need to be replaced every six months, depending on the manufacturer.
Machines that say they can clean your CPAP for you
Several machines are on the market that promise effective cleaning of your CPAP device for you, using either ozone or ultraviolet light, at prices ranging from about $100 to $300. You just put your detachable equipment inside and push a button —a claim that sounds almost too good to be true. According to the U.S. Food and Drug Administration, this is indeed not to be believed.
The FDA warned consumers in February 2020 that it had seen no proof that such machines worked or were safe. In fact, some consumers using the ozone type complained of asthma attacks, headaches, and breathlessness after using them, which the FDA said could have been related to dangerous ozone leaks. The FDA also cautioned that it hadn't received safety assurances about ultraviolet light machines, which could produce unsafe levels of ultraviolet radiation.
Was this helpful?