6 Facts About CPAP Machines
Was this helpful?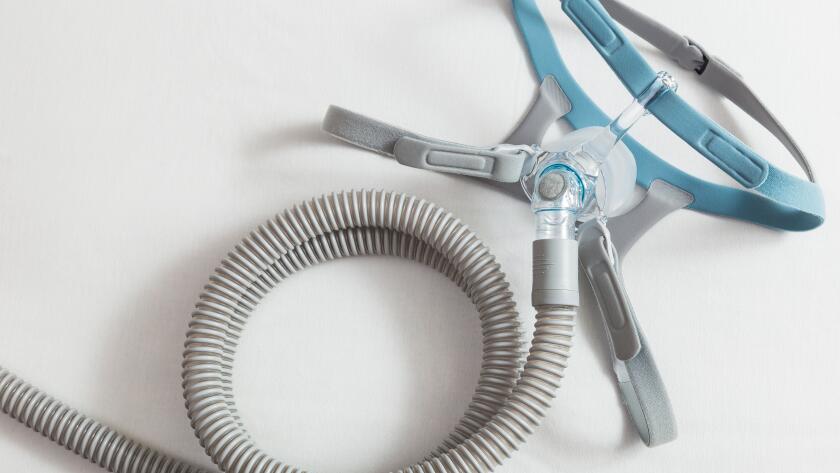 Continuous positive airway pressure machines, or CPAP machines, are the most common method of treating obstructive sleep apnea, a condition in which you repeatedly stop breathing for 10 seconds or longer while sleeping. CPAP machines are safe and effective for most people who suffer from obstructive sleep apnea, but there's a lot to know before choosing this route to get better sleep and treat sleep apnea.
1. CPAP machines don't cure sleep apnea.
CPAP machines are designed to keep your airways open, but this happens only while using the machine. If you stop using the CPAP machine, your sleep apnea will come back, along with all the symptoms and health risks. Be sure to use the machine any time you sleep, even during naps. And don't forget to bring it along when you travel.
2. CPAP machines are safe.
CPAP machines use regular room air to treat sleep apnea. Typically, the worst side effects people experience are sore eyes (due to air leaking from the mask), stuffy or runny nose, and dry throat. To prevent air from leaking, you might need to tighten the straps or adjust the mask. Some people may need to choose a different mask that better fits with their facial features and preferred sleeping position. To remedy nose and throat problems, try using a humidifier that attaches to the CPAP machine pump to moisten the air as you breathe. If you experience any pressure point soreness, make sure the straps aren't too tight and consider buying a special pillow made for people who use a CPAP machine.
3. There's a CPAP machine mask for every type of sleeper.
If you have a small nose, there's a mask for you. If you breathe through your mouth, there's a mask for you. If you get claustrophobic, there's a mask for you. There's a vast array of choices when it comes to getting a good-fitting CPAP mask, which can even depend on your facial features, so be sure to try on several kinds before settling on one you like. Traditional masks are the most commonly used and are beneficial for people who breathe through their nose. If you tend to feel claustrophobic with the large mask over your nose, try a pillow mask, which rests on your upper lip and doesn't lay on top of your nose. A full-face mask is best for people who breathe through their mouth while sleeping. And if you happen to be a side or stomach sleeper, try a pillow specially designed to accommodate CPAP masks.
5 Things You Didn't Know About Sleep Apnea
4. You have to clean the CPAP machine.
You'll get instructions for caring for the machine when you receive it, but be prepared to clean it regularly. In general, you'll need to wash the mask, tubing, and headgear with mild soap every week. Check the filter every month, and don't forget to rinse out the humidifier chamber daily if you use it.
5. People using a CPAP machine often enjoy better sleep right away.
CPAP machines, used properly, will end your sleep apnea immediately. You may start feeling more alert and energetic after just one restful night of using it. Make sure you know how to properly put on your CPAP mask so you can begin benefiting from a full night's sleep as soon as possible.
6. Getting used to using a CPAP machine often takes time.
As many as 50% of people just can't get comfortable with using a CPAP machine and give up on it. Some people may feel claustrophobic with the mask over their face all night. Others may get irritated skin or sore eyes, or they might be bothered by continuous forced air while they exhale. The durable medical equipment (DME) company that distributes the CPAP machine will usually work with you, making sure you have a well-fitting mask and troubleshooting any other problems you're having. Talk to your doctor if you still aren't feeling rested despite using the machine correctly. You might need more pressure from the air pump.
Was this helpful?