Your Skin Through the Seasons
Was this helpful?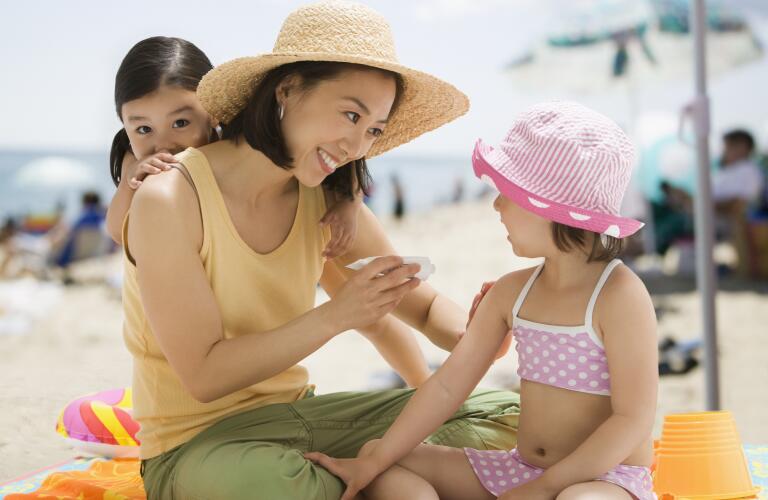 Do you save your sunscreen for the summer? You may think about your skin most during sunny, warm weather, but it needs year-round care to stay healthy.
UV (ultraviolet) rays from the sun are strong enough to cause skin damage year-round. No matter the season, slather on sunscreen. Apply a sunscreen with an SPF of at least 30 if you'll be exposed to the sun that day. Don't skimp on the moisturizer, either. For best results, apply it right after stepping out of the shower or bath, any time of year.
Follow these other strategies to keep your skin healthy in every season.
During the spring, you can help your skin recuperate from winter and get ready for spending more time outdoors. Here are a few tips:
Add humidity. The winter can leave skin chapped and irritated. Relieve dry skin with some humidity. A humidifier can help add some moisture to the air—and your skin.
Fill up on fruits and veggies. Produce is packed with nutrients that keep your skin healthy. For example, berries and broccoli are high in vitamin C, which can help you achieve glowing skin. Carrots and spinach contain vitamin A, another nutrient that benefits both your skin and your eyes.
Keep covered. Spring is a time of changing weather. Wear layers to warm up or cool down, and carry gloves with you to protect your hands on cooler days.
In most locales, summer is when we spend the most time outdoors—and when we see the most of our skin. Take time during this season to take extra care of yours. Here's how:
Choose protective clothing. The sun is strongest in the summer months, so you'll want extra protection to keep your skin safe from the sun's UV rays. Wearing a wide-brimmed hat and tightly knit shirts or shorts can give you extra protection. You can also look for special SPF clothing that offers an SPF of 30 or more.
Ease a sunburn. If you do get too much sun, use a lotion with aloe vera, or use pure aloe vera to soothe burned skin. But skip lotions that contain benzocaine, lidocaine or petroleum, since these products can irritate sunburned skin.
Fall Back into Healthy Skin
As summer turns into fall, get your skin ready with these tips:
Exfoliate. Now is the time to exfoliate your skin to remove dead skin cells before winter. Choose an exfoliating scrub or a mild over-the-counter product with no more than 2% salicylic acid or 10% glycolic acid.
Protect your hands. The drier, colder weather can make your hands dry and chapped. You can protect them by applying a moisturizer after every hand wash and before you go to bed.
Switch to a heavier moisturizer. As the weather changes, so should your moisturizer. If you use a lighter, lotion-style moisturizer in the spring and summer, now's the time to switch to a heavier cream.
Here are a few ways to keep your skin healthy through the colder months. To prevent dry, itchy skin before it happens:
Pamper your face. If your skin feels dry, wash it with a mild cleanser only once a day, in the evening.
Protect your lips. Lips can get dry too. Use a lip balm with petroleum jelly or mineral oil to keep lips supple.
Skip the hot shower. Hot water can dry out skin. Take a bath or shower using warm water instead. And limit your time in the tub or shower to 10 minutes at the most.
Was this helpful?