What Mobile Phones Do to Your Skin
Was this helpful?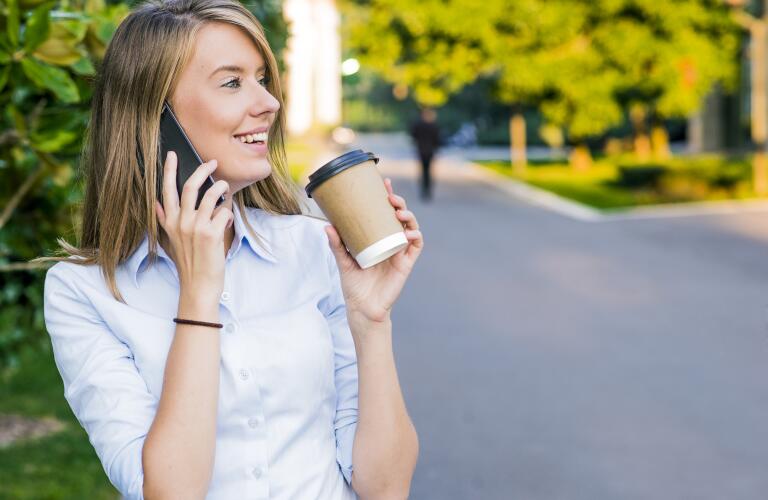 It shouldn't surprise you to learn that your phone isn't the cleanest thing around. Think about it: you take it almost everywhere you go: to the kitchen, the movies, and even (admit it) to the bathroom. You pass your phone to friends and strangers alike to show baby and vacation photos, and you accidentally drop it everywhere from parking lots to doctor's offices. Then you pick it up, pray the screen didn't break—and put it right against your cheek to make a call. From bacteria to burns, your cell phone can be less than kind to your face. By understanding how your phone affects your skin, you can take steps to keep skin healthy (and really ace that selfie).
Bacterial Infections and Irritation
We all drop our phones in unsavory places—and wiping them off on our jeans isn't quite enough to sanitize them afterwards. In one study, 92% of participants admitted they were aware their phones had bacteria on them, but only 38% reported that they actually cleaned their phones at least every week.
The fact is millions of bacteria call your phone "home, sweet home." This is even more likely for women, who are more likely to share their phones with others, which increases the chance of collecting bacteria, and who often carry their phones in purses, giving bacteria a dark, hot place to breed. The germs on your phone probably won't make you physically sick, but strains of E. coli and Staphylococci aren't uncommon—and the flu virus can live on your phone for several days. Worse, a study in the United Kingdom found that one in six mobile phones has fecal matter on it. Pressing your phone against your face allows any bacteria on the surface to mix with sweat, oils and makeup—a perfect recipe for acne or other skin irritations.
Kick germs off your phone by cleaning it every few days with an antibacterial wipe. Most phone manufacturers recommend purchasing wipes specifically made for this purpose, as alcohol wipes and standard antibacterial wipes may remove protective coating from the phone.
An Unexpected Allergic Reaction
Many people experience allergic reactions to different metals or materials, like nickel, cobalt, chromium, and silicone. If you've noticed a burning sensation or rash on your ear, cheek, or jawline, you could be allergic to the materials in your phone. Experts call this emerging condition "mobile phone dermatitis."
The most common allergen found in phones is nickel; ten to 20% of Americans have a nickel allergy, according to the Centers for Disease Control and Prevention (CDC). And one study found 90% of flip phones contain nickel in their cases or buttons. The problem occurs less with smartphones, but leading smartphone manufacturers do report traces of nickel have been found in their products. Even if there's not a lot of nickel in a phone, and even if you're not severely allergic, your chance of a reaction increases the longer you have the phone to your face.
If you're trying to figure out where the rash along your jawline came from, see your dermatologist—you may have an allergy to the materials in your phone. Keep in mind different phone cases may also contain these materials. On the other hand, purchasing a phone case free of allergens can cover up the problematic areas of the phone and allow you to use it without a reaction.
Phones are already known for burning up your time, money, and energy. But when your phone has been directly in the sun, on the charger for a while, or just used for too long, its surface can get very hot. When your phone emits heat next to your skin for a long period of time, it can interfere with the production of melanin, resulting in dark spots or splotchy skin.
Avoid discoloration by talking on speakerphone or a headset during long calls. You can treat dark, blotchy spots by applying correcting serums recommended by your dermatologist.
Was this helpful?