SOCIAL VOICES

Soothing Sensitive Skin in Every Season

Was this helpful?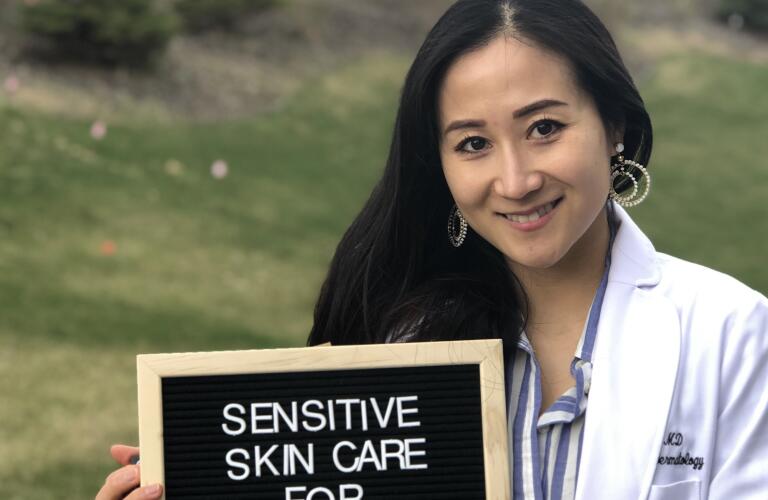 Just as the seasons change, so should your skin care. People with sensitive skin can be especially affected by extreme temperatures and seasonal changes, so it's important to know how to best care for skin all year round.
Here's what you need to know for healthy and beautiful skin, no matter the temperature outside.
Summer is all about enjoying your time in the sun, and some natural vitamin D is good for you. But remember, sun protection is key. Although it's tempting to lay out by the pool on a hot summer day, getting a tan, or worse, getting sunburned, means you've damaged your skin. Always wear water-resistant broad-spectrum sunscreen with SPF 30 or higher. For sensitive skin, choose a mineral sunscreen that contains nothing but zinc oxide or titanium dioxide; other chemical-based options may cause irritation. And make sure you're using enough! Adults should slather on one ounce (or a full shot glass) of sunscreen over their entire body. Reapply every two hours if you're active outside, and don't forget your sun-protective clothing and a broad brim hat.
As the weather starts to cool down, it may be time for you to switch to a thicker moisturizer and a gentler cleanser. Gentle cleansers rid the skin of oil, makeup, and dirt without harshly stripping away natural oils. Losing those natural oils can cause dryness and irritation, which are already common in colder months. Stay away from cleansers that foam up and look for products labeled as "cleansing lotions" or "gentle on skin" to keep your skin protected and hydrated.
Summer humidity might give you a bad hair day, but it's great for hydrating skin. In winter months, though, the cooler temperatures and low humidity can cause your skin to dry out, increasing discomfort and making it more likely you'll experience a flare-up of eczema. Keep skin hydrated and healthy by adding moisture to your home with a humidifier, avoiding super-hot water in showers and baths, and applying a moisturizer right after bathing. When choosing a winter moisturizer, look for products containing ceramides or even petrolatum—both are thick oils that can restore the skin's integrity. Lastly, if you have a stubborn patch of red, itchy, and flaky skin, see your dermatologist. Often, a short course of topical steroids will help to solve the issue so you can get back to focusing on playing in the snow with your kids or getting cozy with some hot cocoa by the fire.
Spring is a time of renewal, even for your sensitive skin, and it's a good time to freshen up your routine. Your skin won't be as dry during this season, so I recommend swapping heavy moisturizers for lighter ones. And spring cleaning isn't just for your home–remove dead skin and get a healthy glow by gently exfoliating once or twice a week using cleansers containing alpha hydroxy acids, such as glycolic acids. Avoid scrubs that contain sand or bead-like material, since the abrasive nature can further irritate sensitive skin. And when enjoying warmer days and more time spent outside, don't forget your sunscreen!
Sensitive skin can be hard to manage, but learning what you can do year-round to care for your skin is one way to take control. With the right tools and knowledge, you can protect and nourish your skin, regardless of the season.
Was this helpful?