Caring for Your Skin After Pregnancy
Was this helpful?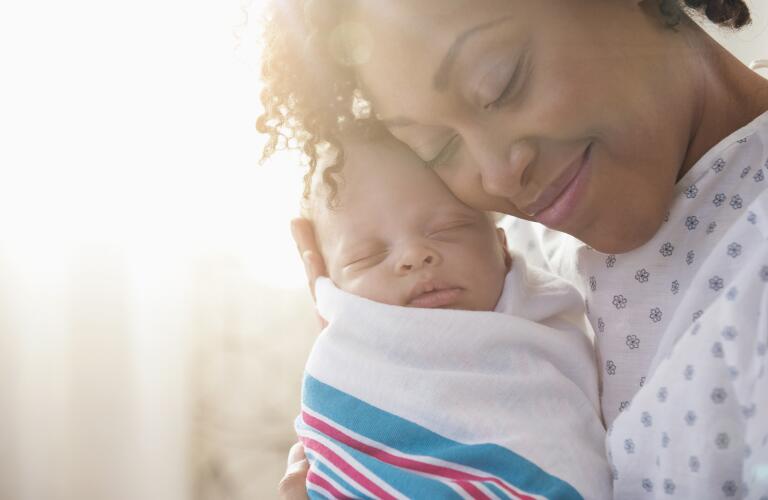 During and after pregnancy, it's common for a woman's skin to change. You may not feel great about these changes, but they are caused by shifts your body needs to make for a healthy delivery and recovery. Some changes naturally reverse shortly after you give birth. Others may require a little time, patience, or treatment. And others might just have to be accepted byproducts of bringing your amazing new human into the world. Knowing what to expect after you're expecting can help you take the best care of yourself; here's what you need to know.
The most common skin problem for pregnant women is called pruritic urticarial papules and plaques of pregnancy (PUPPP). It's an extremely itchy rash that looks like hives and usually starts on the belly where the skin has been stretched and spreads. PUPPP tends to go away within 15 days of delivery, but many women need relief before then. Cold compresses and oatmeal baths can help. Your doctor may also recommend a corticosteroid cream to ease symptoms.
Did your pregnancy glow turn into an "oh, no"? While you're pregnant, your body produces more oil and speeds blood flow, producing up to 50% more blood. This causes a "glow" but can also lead to acne. Unfortunately, during pregnancy, this acne can usually only be safely treated with non-prescription options that may not be as effective as prescription medications. The good news? Acne that begins during pregnancy should go away soon after delivery. If it doesn't, a wider variety of alternatives is likely now available to you. Ask your doctor what's safe to take if you're breastfeeding. You may need to see a dermatologist, a medical doctor who specializes in skin conditions, for more comprehensive care.
Nearly half of all pregnant women develop dark patches on their faces, typically the forehead or cheeks. This is commonly known as the "mask of pregnancy," also referred to as melasma or chloasma. This darkening should lighten back up within a few months of delivery. If it doesn't, a dermatologist may prescribe creams containing lightening agents such as hydroquinone or exfoliating agents such as glycolic acid. Cosmetic procedures such as microdermabrasion, chemical peels, or laser therapy may also be recommended.
Thanks to the hormonal changes associated with pregnancy and childbirth, your skin may lose hydration, especially when it comes to your face. This can lead to dry, red, sensitive patches of skin. Fortunately, you can rehydrate by regularly applying oil-based moisturizers like creams and ointments, using mild cleansers, and sticking to laundry detergents and cleaning products without fragrances, preservatives, or additives.
When skin stretches relatively quickly, like with pregnancy and childbirth, stretch marks can develop. The same thing happens when skin shrinks. Stretch marks are actually a sign of healing after the collagen and elastin in our skin tears.
Stretch marks can be caused not only by pregnancy, but by gaining and losing weight, building muscle, or growth spurts as a kid. Unfortunately, stretch marks can't be erased completely, but they do tend to fade naturally over time. If the look of stretch marks really bothers you, some of the same treatments for minimizing pregnancy mask can help minimize stretch marks: microdermabrasion, chemical peels, and laser therapy. You can also try applying shea butter or cocoa butter to the area daily.
During and after pregnancy, your body can change in ways you might expect—and ways you never did. Most skin problems resolve on their own, but you shouldn't hesitate to reach out to your doctor for help.
Was this helpful?