SOCIAL VOICES

Back to School With Sensitive Skin

Was this helpful?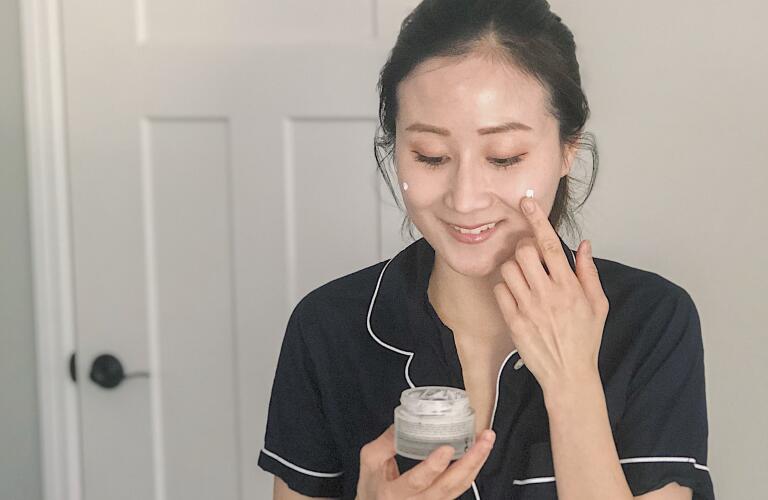 For many students, the excitement and anxiety of heading back to school can be overwhelming. Skin care is probably one of the last things on your pre-teen or teen's mind, but everyone wants to look good for the first day of class.
For those with sensitive skin, stress and summer sweat might cause breakouts, redness, and irritation; as a dermatologist, I'm familiar with the end-of-summer appointment rush as patients try to clear up their faces before the new school year. Here's what you need to know so your child can put their best face forward.
1. Add a benzoyl peroxide cleanser to your skincare routine.
Benzoyl peroxide (BPO) is a very effective anti-inflammatory and anti-microbial ingredient, commonly used by dermatologist to treat acne. The problem is, it can cause burning and skin irritation for those with sensitive skin. But don't fret–your kid can still get the benefits by using the cleanser form of this product, which tends to be better tolerated compared to the cream form. Look for cleansers containing 2 to 5% BPO as the active ingredient. I recommend using it once daily and leaving it on for at least a minute before rinsing the face with water.
2. Use non-comedogenic moisturizers.
Children and adults with sensitive skin can sometimes be prone to clogged pores, which is why non-comedogenic moisturizers can be a lifesaver. A non-comedogenic product is specially formulated with ingredients that are not known to clog pores and cause acne. As fall sets in and weather turns cooler and dryer, your teen may want to start using a heavier moisturizer on the face and body to prevent dry skin and acne-related irritation. Look for a moisturizer with "non-comedogenic" on the label in order to avoid them heading into the classroom with annoying acne spots.
3. Dress your kids in comfortable clothes.
When you're back-to-school clothes shopping for your children, choose items made of cotton and silk instead of synthetic fabrics like nylon and polyester, which can irritate their skin. Before they wear their new clothes, wash them in a laundry detergent specially formulated for sensitive skin to ensure they'll be itch-free. Sometimes new clothing can contain preservatives or dyes that can bug sensitive skin, so always throw them in the washer before your child wears them.
4. Remove makeup before sleeping.
For teens and college students exhausted from pulling an all-nighter, make sure to always remove makeup and wash the face before sleeping. Makeup, dirt, oil, and bacteria that have collected throughout the day can cause pores to become congested, which can lead to acne breakouts. Consider "double cleansing" with a gentle makeup remover first, followed by a gentle cleansing lotion; this will effectively clean the face but won't leave the skin dry or irritated.
5. Avoid picking and touching your face.
It can be extremely hard for teens (and even adults!) to resist popping a pimple when that red, angry zit is staring back at you in the mirror. Believe me, I'm super guilty of this, and I think most people can say the same. But poking and probing at pimples can lead to scarring, unwanted discoloration, and worsening of acne–especially with sensitive skin. If a painful zit starts to develop, see a dermatologist as soon as possible, since a small, almost-painless cortisone shot into the affected area will quickly take care of the issue.
6. Stay away from sugary, processed foods.
What kid can resist cookies, chips, and candy? These easily accessible and comforting snacks were no doubt major staples of my diet during my high school and college years. But eating excessive amounts of sugar can inflame and flare up acne, and this is doubly true for people with sensitive skin. For clear, glowing skin all year round, it's important to avoid eating too much of those sugary, processed foods. Stock your pantry and fridge with healthy (but yummy!) foods your kid can grab when hunger strikes after school.
7. Treat yourself to self-care Sundays.
Doing well in school is important, of course, but it's key to encourage your kids to take care of themselves, too. Help them reserve some time every week to decompress, whether by applying a sheet mask together, practicing some yoga, running, or another activity that helps them escape for a little while. Studies have shown exercise and stress-relieving activities help lower levels of cortisol (the stress hormone) in the body, which translates to less inflammation and healthier skin.
Was this helpful?