6 Ways to Prevent Eczema Flares in the Winter
Was this helpful?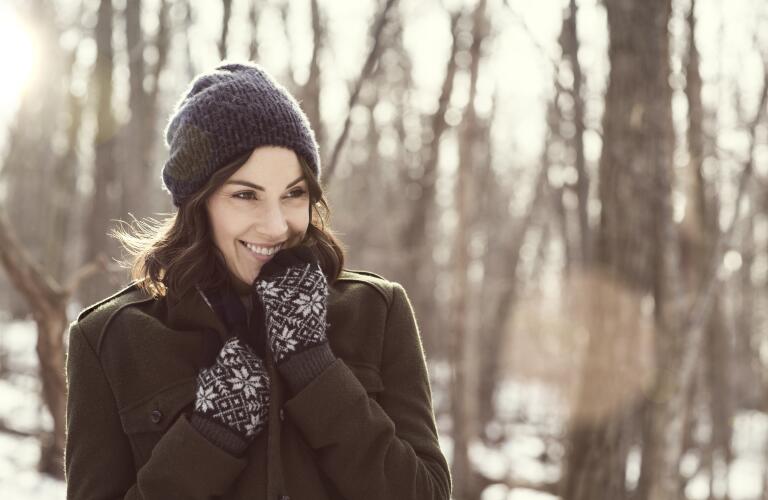 When you have eczema (atopic dermatitis), your skin can't retain as much moisture as it needs. This leads to dryness, redness, cracking, and itching that can get worse with certain triggers like harsh soaps, abrasive fabrics, dust, sweat, and dry air.
The weather outside is also a trigger for many people, and it's normal for symptoms of eczema to change with the seasons. In winter months, as the temperature falls, air contains less moisture. This drier, lower-humidity air can irritate skin and cause eczema to flare. Learn what you can do for eczema prevention in cold weather.
A humidifier adds moisture to dry air; it's like ointment for your atmosphere. Instead of a humidifier, you can also try putting a bowl of water near a vent in every room. Just be sure to change the water daily so bacteria doesn't grow. And if your eczema does flare, try not to scratch or rub it, as this can make symptoms worse.
5 Things You Didn't Know About Stubborn Eczema
2. Don't skip the sunscreen.
Sunscreen is just as important in winter as in summer to help prevent dryness and sunburn. Before you venture out, coat your face, hands, neck, and any other exposed skin with a broad-spectrum sunscreen that has a sun protection factor (SPF) of 15 or higher. Look for moisturizers with sunscreen built in to make sure you're giving your skin the moisture and protection it needs.
3. Moisturize for the weather.
If you're not already using an oil-based moisturizer, consider trying one for winter. The more oil a moisturizer contains, the more moisture it holds in your skin. Avoid using it on areas of your body that tend to sweat, such as the underarms. This can make eczema symptoms worse.
Aim to moisturize daily and within three minutes of a shower or bath while your skin is damp. Try to resist the temptation to turn up the hot water, as warm water is more gentle to the skin. Protect your lips from drying, too, with petroleum jelly or hypoallergenic, fragrance-free lip balm.
4. Dress for winter with eczema in mind.
Along with overheating, sweat is a leading trigger of eczema flares. Wearing layers is another good way to avoid sweating, since you can remove layers as needed. When you go outside, use soft gloves made of non-irritating materials to protect your hands from dry, cold air. If you're worried about keeping your hands warm enough, try wearing a pair of cotton or silk gloves with wool or synthetic gloves over them, but not touching your skin. If your gloves, shoes, or clothes get wet, take them off as soon as you can. Some people also find it helpful to wash all new clothes before wearing them.
Cold and flu season can also be eczema season. Among the most common infections is staphylococcus aureus ("staph"). Everyone has some staph bacteria on their skin, but people with eczema tend to have more. Get in the habit of using tissues to catch bacteria whenever you cough or sneeze and always wash your hands afterward.
6. Re-evaluate your eczema treatment.
Taking care of your skin and avoiding triggers is the best way to prevent eczema flares at any time of year, but many people need additional help. A wide range of effective treatments are available, including:
Non-prescription creams with a steroid, cortisone, to help ease itching, redness, and swelling

Prescription-strength steroid creams

Topical immunomodulators (TIMs) that help reduce the skin's reaction to triggers, typically prescribed for moderate and severe eczema that doesn't respond well enough to steroids

Antihistamines

Phototherapy with ultraviolet light
If your prevention efforts or current treatments aren't reducing your eczema symptoms, talk with your dermatologist about trying something new.

Was this helpful?